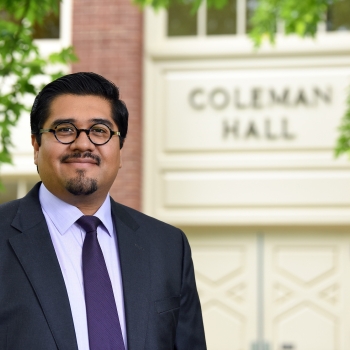 Obed Lira
Assistant Professor of Spanish
About Obed Lira
Obed Lira's scholarship focuses on Colonial Latin American Literature, primarily 16th and 17th centuries, Classical Nahuatl literary and visual culture, and post-colonial and subaltern studies. He is currently spearheading the Florentine Codex Project, a collaborative Digital Humanities project that consists of a scholarly digital edition of Bernardino de Sahagún's Historia general de las cosas de Nueva España.  Prof. Lira is also completing a book project that centers on the emotive rhetoric of humanitarian friar Bartolomé de las Casas.
Educational Background
Ph.D, Harvard University

A.M, Harvard University

B.A. St. John's College
Courses 
Latin American Cultural Traditions
Feeling the Spanish Conquest
Latinx Literature in the U.S.

Sor Juana: Poet, Thinker, Icon
Research Interests 
Colonial Latin American Literature              
Classical Nahuatl Literary and Visual Culture                       
Early Modern Spanish Literature                              
Affect Theory
Postcolonial Theory
Digital Humanities
History of Science and Mathematics
Selected Publications
"Cloistered Infinity: Sor Juana and the Metaphor of the Infinite Sphere." Colonial Latin American Review, vol. 28 issue 4, 2019, pp. 538-555.
"New World Barbarians in Rinconete y Cortadillo" in Cervantes Transatlántico/Transatlantic Cervantes. Eds. Francisco Ramírez Santacruz and Pedro Ángel Palou. Ibérica. Peter Lang Publishing, 2019, pp. 33-47.
"Bartolomé de las Casas, un lenguaje." Public History Project of Instituto de Investigaciones Históricas - NOTICONQUISTA, Universidad Nacional Autónoma de México (UNAM), 2019.
"Wonder and the Ethics of Proximity in Las Casas's Apologética historia sumaria." Hispanic Review, vol. 87 no. 3, 2019, pp. 309-331
Further Information