Class of 2020 President Arianne Evans
Class of 2020 Commencement remarks, delivered by Class of 2020 President Arianne Evans, May 21, 2022.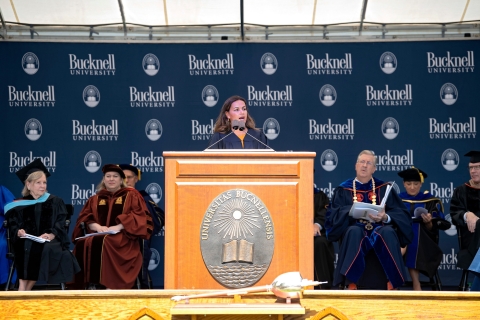 Commencement Address 
Thank you President Bravman, Provost Mermann-Jozwiak and the Commencement Committee. I'm honored to say good morning to our extraordinary and dearly missed Bucknell faculty, families, friends, and the one and only, legendary, history-making, resilient, brave, and mighty Class of 2020!
I am deeply grateful to Bucknell for honoring its commitment to bringing our class back for an in-person Commencement and celebration. And I am overwhelmed with pride that over 60% of my fellow 2020 graduates chose to return to Lewisburg this weekend to finally give our belated goodbye hugs to our inspiring classmates, share firm and genuine "thank you" handshakes with our wise professors, and to watch one last dazzling sunset over on the Malesardi Quad.
It's been 26 months and 15 days since we left Bucknell for what turned out to be the longest Spring Break of our lives. As I thought about what to say today ⁠— the day we've hoped and waited for for so long — a quirk song that I learned over six years ago while attending a marine-research program at The Island School in The Bahamas kept getting stuck in my head. The words go a bit like this: "I'm an egg. I'm cracking. Trying to fly. I'm flying. I'm falling. And then ultimately, I'm OK." (There's a whole dance that goes with it too, but I'll save that for Towney T later tonight.)
I spent a long time trying to quiet this nagging tune as I thought it distracted me from finding the words I wanted to share with you all on this surreal morning. But then it dawned on me that the cycle of incubating, hatching, learning, failing, succeeding, and then finally landing on one's two feet encapsulated the phases I have undergone the past several years. From the morning I was enthusiastically greeted outside McDonnell Hall by my overly-caffeinated O-mom and O-dad on first year move-in day; to the evening I packed up my eerily quiet senior year gateway apartment at the onset of the pandemic; to this moment, as I stand here with a sense of not only flying but soaring alongside my classmates in the time since we virtually graduated from our living rooms scattered across the globe.
For nearly four years, Bucknell served as our "safety nest" — a place where we were sheltered and fostered. The lessons instilled in us during that "incubation phase" ultimately prepared our class to navigate the trials and tribulations we each faced after we prematurely "hatched" in March 2020. It was the critical thinking and questioning encouraged by our professors, the collaboration and creativity we pursued with our peers, and the vulnerability and humility embraced by our mentors… that helped us find our footing in a world clouded with uncertainty and unexpected turbulence. Those lessons continue to serve us now as we chart our flight paths forward.
That's not to say our paths are or will be similar. This class — made up of Buckwild leaders, Division I athletes, Residential Advisors, Fulbright scholars, and Bull Run trivia night champions — is dynamic and diverse. And just like our Bucknell journeys, our take-off moments are unique to each of us.
Mine came in the form of a message I received in July 2020 from a woman I met while I was studying abroad in East Africa. That one message then turned into us starting a social enterprise dedicated to supporting single mothers and craftswomen in Jinja, Uganda. For others, take-off may look like getting that acceptance letter to your dream grad program, finally receiving a phone call from that company that had "ghosted" you after several rounds of interviews, or earning a prestigious fellowship that allows you to deepen your understanding. In many cases, feeling the wind beneath your wings comes from building meaningful relationships, pouring yourself into new interests, fighting for a cause that lights a fire within you, or simply spending time bettering yourself. Maybe you're still waiting for your moment or have fallen a time or two just when you felt you were finding your way.
But at the end of it all — after the cracking, trying, flying, and falling — comes the best part: the landing, and the sense of "I'm OK."  Now, I can't say I have gotten to this point, but I am filled with peace and confidence in knowing that the perseverance, resourcefulness and adaptability we each learned here will carry us to our destinations. Thank you, once again, to Bucknell for bringing our unbeatable class back together again. I'm proud that now when we look back on our final memories as once students and now alumni of Bucknell, that we will remember a time of reunion rather than separation from the people and place that continue to be the wind at our backs in the world beyond the home of the orange and the blue.
Congratulations to the Class of 2020, and 'ray Bucknell!