Bison Café & Bison C-Store
Elaine Langone Center, Ground Floor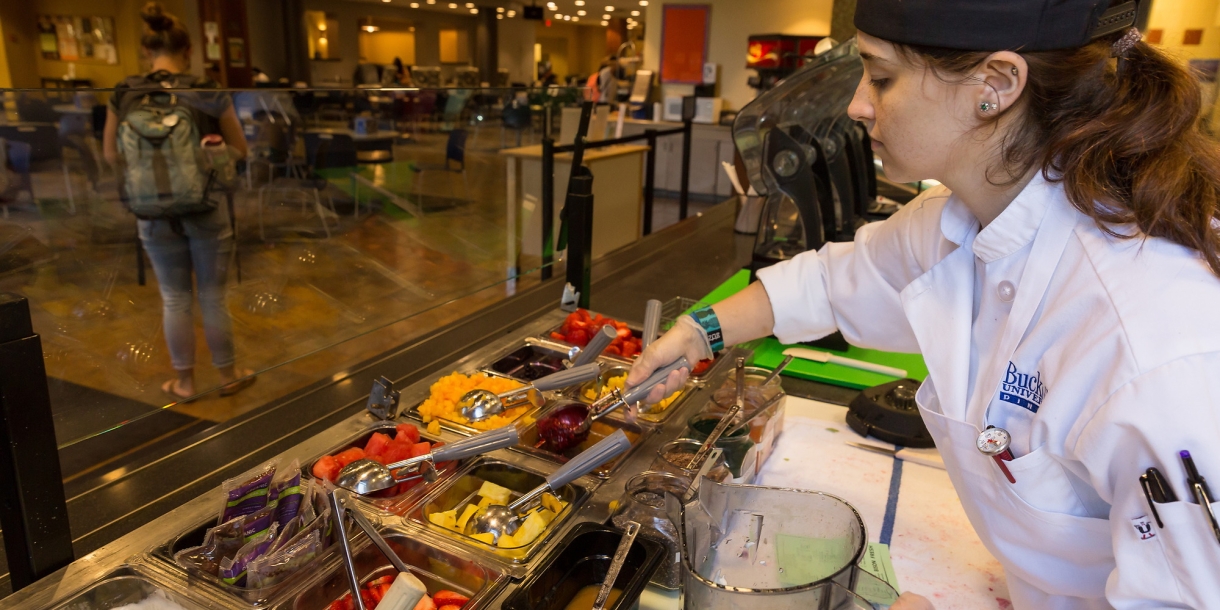 Located in the heart of campus, the Bison Café is a hub for à la carte dining and student get-togethers. We also offer grab-and-go options for students on the move at our Bison C-Store.
Hours of Operation
Sunday–Friday, 7:30 a.m.–11 p.m.
Saturday & Sunday, 9 a.m.–11 p.m.
Meal Stations
Bada Basil
Bada Basil features Italian-inspired pasta bowls, made and sautéed to order. Guests can create their own meal from fresh ingredients, including pasta, sauces and a variety of veggies and protein.
Fresh Stock
Our unique and hearty soups are made from real stock and fresh ingredients. We pride ourselves in offering a wide variety of cream- and broth-based soups, along with daily vegetarian options. You can also create your own salad with a selection of seasonal greens and other toppings, including vegetables and house-made dressings.
East Street Deli
Our East Street Deli offers made-to-order subs, sandwiches and wraps, including gluten-free options. Every item prepared at East Street Deli is always stuffed with fresh, high-quality ingredients of your choice.
Bison Fresh
Bison Fresh is a complete station of fresh, healthy and portable food. Open Monday through Friday until 8 p.m., this is where you can build a smoothie, yogurt, grains bowl or stir fry. You can also have fruits and veggies juiced or build your own gourmet toast.
Firehouse Grille
Firehouse Grille offers high-quality foods made-to-order and hot off the grill. Featuring fan-favorites like chicken tenders, mozzarella sticks and Philly-style cheesesteaks, the Grille is also home to our popular and locally-sourced burger. Breakfast sandwiches, omelets and other à la carte breakfast items are served all day.
Spoon & Fork
Spoon & Fork is open Monday through Friday, 11 a.m. to 1:30 p.m. and 5 p.m. to 8 p.m. Both lunch and dinner periods feature a complete meal at a modest price, like a spaghetti or ham dinner.
Fresh Mexican
Fresh Mexican is the place to order "South of the Border" fare, with a variety of build-your-own Mexican options, including fajitas, burritos and bowls.
Starbucks
The Bison offers a variety of Starbucks blend coffees, Tazo Teas, bottled sodas, juices and specialty drinks.
On the Go
Stop by our On the Go section to pick up a quick meal on your way to a class, lecture or study group. These pre-packaged items include everything from salads and sandwiches to fresh pre-cut produce and yogurt parfaits. We even offer cold-pressed juices, made and bottled right here on campus.
C-store
The C-store is a convenience store featuring key essentials for students, faculty and staff. You'll find everything from snacks and grocery items to personal care items, school supplies, and cleaning and paper products. There is also a variety of gluten-free and organic snack choices.