Bostwick Marketplace
Langone Center, First Floor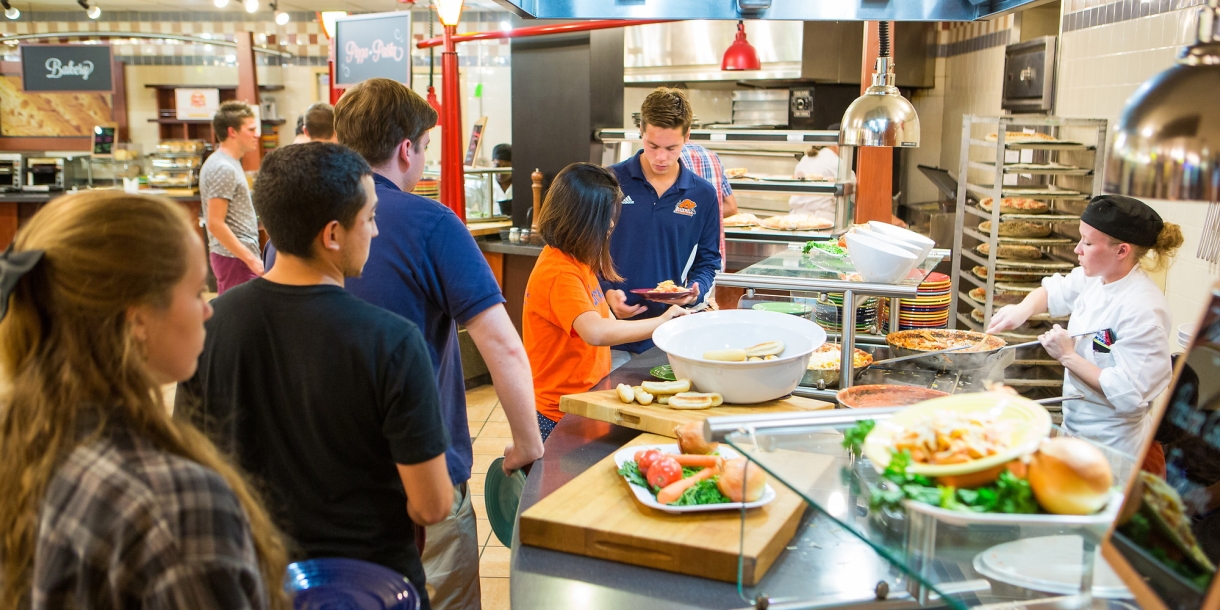 Located on the first floor of the Elaine Langone Center, Bostwick Marketplace offers continuous, all-you-care-to-eat dining from morning to midnight. Each day's menu features delicious handmade foods, including vegan and made-to-order options.
Hours of Operation
Monday–Friday, 6 a.m.–midnight
Saturday–Sunday, 8 a.m.–midnight
Meal Periods
Hot breakfast (Monday–Friday), 6 a.m.–11 a.m.
Continental breakfast (Saturday–Sunday), 8 a.m.–10 a.m.
Hot breakfast (Saturday–Sunday), 10 a.m.–11 a.m.
Lunch, 11 a.m.–5 p.m.
Dinner, 5 p.m.–9 p.m.
Late night, 9 p.m.–midnight
Meal Pricing
Breakfast: $10.25
Lunch: $12.50
Dinner: $14.80
Late night: $11.25
Themed meals: $16.50
Stations
Soup & Salad
Our hearty soups are made from real stock and fresh ingredients. We pride ourselves in offering a wide variety of cream- and broth-based soups, along with daily vegetarian options. You can also create your own salad with a selection of seasonal greens and other toppings, including seasonal vegetables, toppings and house-made dressings.
Grill
The grill station offers classic grilled items, like hamburgers and grilled cheese sandwiches, along with daily selections of specialty sandwiches. Fresh cut french fries and other delicious rotating favorites are also available here. During late night, the Grill station provides made-to-order breakfast sandwiches — a crowd favorite
Entrée
Our entrée station offers traditional dishes made from scratch. We serve fresh vegetables, homemade mashed potatoes, and sauces to complement each meal. Here you'll find classics such as stuffed peppers, meatloaf and chicken pot pie.
Deli
Have your sandwiches and wraps made to order with the highest-quality roasted meats and cheeses, sliced fresh daily. Choose from a wide variety of freshly baked bread, rolls and wraps, and press it with one of our panini presses. Look for locally grown produce and the freshest ingredients to add the finishing touch.
Oven
Our chefs are known for their fresh dough and made-from-scratch pizza, and each day they prepare a variety of fresh pizzas, calzones and strombolis. But a pizza oven can cook much more, so this station also serves other hot items, including old fashioned tuna melts or a hot chocolate chip cookie. There's also a daily pasta option featuring classic pasta favorites along with a continual rotation of house made sauces and pastas.
V2
The V2 station features vegan and vegetarian entrees prepared by our experienced food service professionals. Our menu items include a variety of composed salads, sandwiches, casseroles and other hearty protein, starch and vegetable options.
Egg Bar
Made-to-order eggs are available for breakfast, lunch and dinner. Choose from an array of fresh vegetables, meats and cheeses, and watch while a chef prepares your personal omelet.
Sauté
The sauté station offers rotating customizable dishes made in individual sauté pans. Weekly themes include stir fry, pasta bar, noodle bowl, mac and cheese, and more.
Dessert
Desserts are our passion! We offer freshly baked muffins and pastries to start your morning off right, and our homemade pies, cakes and cookies will satisfy any sweet tooth. And don't forget about our daily offerings of hand-dipped ice cream and selection of soft serve flavors.
Allergy Friendly Zone
The expanded allergy friendly zone increases selections and further separates allergen-free products into three groups: gluten free, soy and nut free, and egg and dairy free (vegan). Each area has a labeled refrigerator, toaster, storage containers, utensils and cutting boards. Items stocked here include bread, cereals, cheese and spread alternatives, condiments, snack foods, desserts, non-dairy milks and no-nut butters.