Bostwick Marketplace
Langone Center, First Floor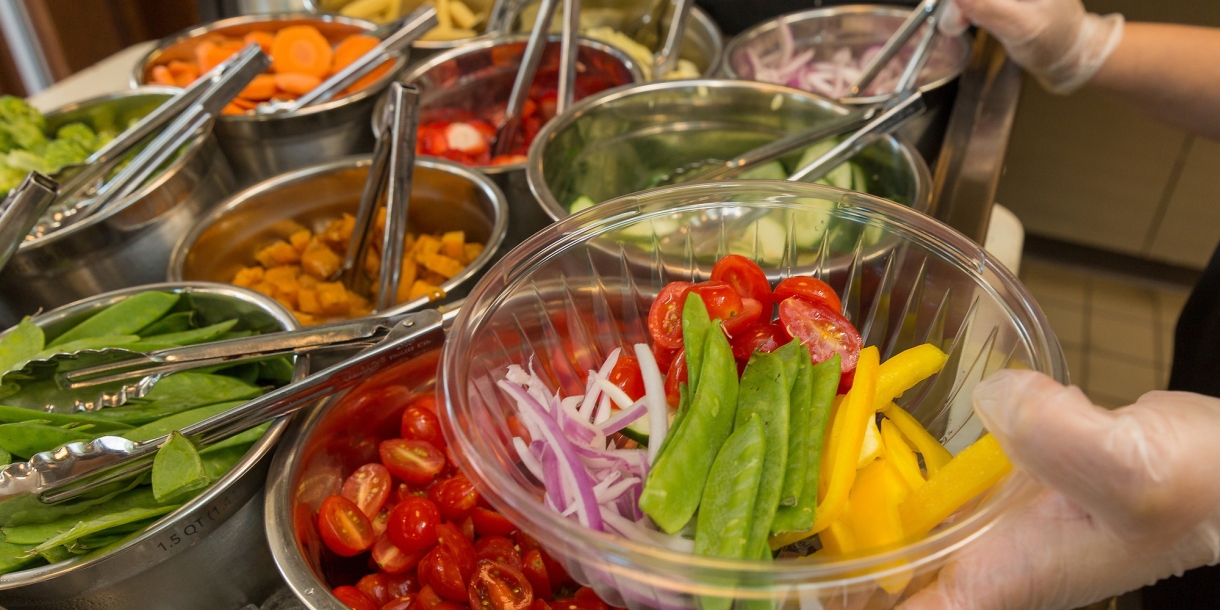 Located on the first floor of the Elaine Langone Center, Bostwick Marketplace a daily menu of delicious handmade foods, including vegan and gluten-free options.
Hours of Operation
Breakfast: 8 a.m.–9 a.m.
Lunch: 11 a.m.–1 p.m.  
Dinner: 5 p.m.–7 p.m.
Summer Dates of Operation
During Summer 2021, Bostwick will be open for the following dates and meal periods. If a date is not listed below, Bostwick will not be open on that day.
June 27: Dinner only
June 28–30: Breakfast, lunch and dinner
July 1: Breakfast only
July 11: Dinner only
July 12–13: Breakfast, lunch and dinner
July 14: Breakfast only
July 16: Dinner only
July 17–18: Breakfast, lunch and dinner
July 19: Breakfast only
July 20: Dinner only
July 21–22: Breakfast, lunch and dinner
July 23: Breakfast only
Meal Pricing
Breakfast: $10
Lunch: $13
Dinner: $13
Stations
Baked Goods
We offer freshly baked muffins and pastries to start your morning off right and homemade goodies that will satisfy any sweet tooth. 
Egg Bar
Eggs your way! Farm fresh shell eggs made to order with a variety of fresh cut toppings. Featuring omelettes, scrambled eggs, eggs over easy and egg sandwiches.
Entrée
Our entrée station offers traditional dishes made from scratch. We serve fresh vegetables, homemade mashed potatoes, and sauces to complement each meal. Here you'll find classics such as stuffed peppers, meatloaf and chicken pot pie. Choose from a daily entrée with two sides, a pasta entrée or a vegan option.
Grill
The grill station offers classic grilled items, like hamburgers and grilled cheese sandwiches, as well as specialty sandwiches. A new special is offered each day of the week. 
Deli
Offering made to order sandwiches and wraps featuring freshly sliced deli meats, vegetables and house made dressings.
Honest Eats
Honest Eats offers daily entrées for lunch and dinner for guests with dietary needs, including allergy-friendly and gluten-free options. Here you'll find an equivalent to each meal's entrée made without gluten or six of the Big 8 allergens, as well as a daily grill and deli item made with gluten-free bread or pasta. Packaged foods from facilities certified to be nut and gluten free are also available.
Pasta
Build your own pasta! Your choice of pasta and sauce. Also serving a daily feature. Cooked on the station in personal batches.
Pizza
Fresh, hand-tossed dough topped with your choice of topping and baked fresh. Served by our team.
Salad Bar and Soup
Full salad bar served by our "Greens Gurus" for lunch and dinner. For breakfast, this station will feature fresh fruit, yogurt and granola.
Sauté
A rotating station featuring weekly themes such as our mac and cheese bar, stir fries fried rice and noodles, all made to order and customizable.
V2
Offering made to order grain bowls, made from assorted grains, fresh vegetables and plant-based proteins, all customizable with a selection of house made sauces
Contact Details
Dining Services
Location
Elaine Langone Center, 1st floor