COVID-19 On-site Employee Testing Program
As Bucknell continues efforts to protect the health and safety of students, faculty and staff, the University will partner with Genetworx to conduct employee testing. This partnership should supplement the vigilance already exercised by faculty and staff in monitoring symptoms of COVID-19 and in following the advice of health care providers.
In addition to helping to prevent the spread of COVID-19, Bucknell's employee testing program is free for employees and does not require a doctor's order. Paid release time will be provided as necessary, and turnaround time for test results is expected to be faster than many other testing programs.
Testing Options 
Bucknell's on-site testing program does not preclude employees from seeking testing elsewhere or under the direction of their health care provider or public health officials.
For those covered under Bucknell's health insurance plans, co-pays, coinsurance and deductible expenses associated with COVID-19 testing elsewhere will be waived.
Employees who are tested elsewhere and have positive results must contact Human Resources by completing a COVID-19 intake form. This form is also available in the Absence worklet in Workday. If assistance is needed, contact Danielle Kraus at 570-577-1710 or dkraus@bucknell.edu.
---
Who Should Be Tested 
A COVID test is required for all employees who are planning or required to be on campus at any time during the 2020-21 academic year with the following exceptions:
If your presence on campus will be limited and your work will be primarily remote, please speak with the OMG leader responsible for your department for a possible exemption from the initial test.
Any employee who has been tested after Aug. 2 outside of Bucknell's testing program does not need to be retested.
Anyone who has previously tested positive for COVID-19 does not need to be retested.
---
Testing Dates and Times
Testing information for the Spring 2021 semester will be available soon.
NOTE: Please schedule your test at least 48 hours in advance so that Genetworx can prepare labels for processing. Additionally, employees who are experiencing symptoms the day of their scheduled test should not go to the testing site. They should stay home, contact their health care provider and notify their supervisor.
---
Testing Location
Tests will be conducted at Upper Stadium, Lot 65. The site will be tented with free airflow and three drive-thru lanes to support five employees every 10 minutes.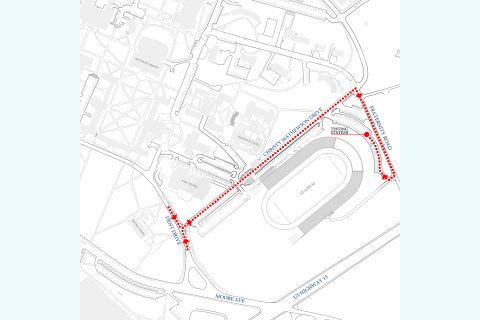 Employees should drive to the testing site at the time of their scheduled test. If unable to drive to the site, please arrive on time for limited walk-in testing.
---
Testing Process
All employees have received an email from Cindy Bilger, director of HRIS and benefits (cbilger@bucknell.edu), with a personal link to either schedule an appointment or to indicate that they will not be on campus during the 2020-21 academic year. As part of the testing process, employees will be required to complete a release form allowing test results to be shared with Bucknell. Results will be used to confirm test completion and to allow Human Resources to appropriately support employees with positive results.
Frequency of tests will be administered based on the employee's level of contact with others, as determined by the most current position description and defined below:
Employees with a high level of contact with others on campus

An initial test with follow-up testing planned for every two weeks throughout the semester

Employees with a moderate level of contact with others on campus

An initial test with one additional test planned for mid-semester

Employees with a low level of contact with others on campus
Employees will receive their group assignment during the scheduling process. Employees who believe they have been incorrectly assigned to a group should proceed with their initial test and then contact hr@bucknell.edu to be correctly identified for subsequent tests. Employees with self-identified high-risk factors can opt into the high-contact group by contacting hr@bucknell.edu.
---
Test Results
Employees with positive results will be contacted by a University contact tracer. Employees enrolled in the Aura app can also access their results in that app. Individuals whose results are positive will also be contacted by the Pennsylvania Department of Health for contact tracing. Employees with positive results should contact their health care provider for directions on treatment and care. Human Resources will contact the employee to support them with appropriate workplace assistance, including but not limited to absence management, remote work, reasonable accommodations and eventual return to work. Human Resources will also notify those whose results are negative.
As a reminder, outside of the scheduled testing program, any employee who has symptoms (such as fever, cough or shortness of breath) should stay home, contact their health care provider and notify their supervisor. Sick employees should follow the instructions of their health care provider, including when it is safe to return to work.
FAQs
Faculty and staff are reminded to check their Bucknell email for important University notifications. We will continue to add FAQs to this page as they are available.