Face Coverings & Social Distancing
The virus that causes COVID-19 is thought to spread person-to-person mainly through respiratory droplets produced when an infected person coughs, sneezes or talks. These droplets can land in the mouths or noses of people who are nearby or possibly be inhaled into the lungs.
It is possible for a person to spread the virus even when they do not know they are infected (pre-symptomatic or asymptomatic). Cloth face coverings provide a layer of protection to help prevent respiratory droplets from traveling through the air and onto other people.
Face Coverings
As outlined in Bucknell's facemask policy (login required), we expect all members of the campus community to protect each other by vigilantly wearing face coverings and maintaining social distance to the greatest extent possible. The limited science that is available suggests that these two commitments alone will greatly reduce the transmission of the coronavirus.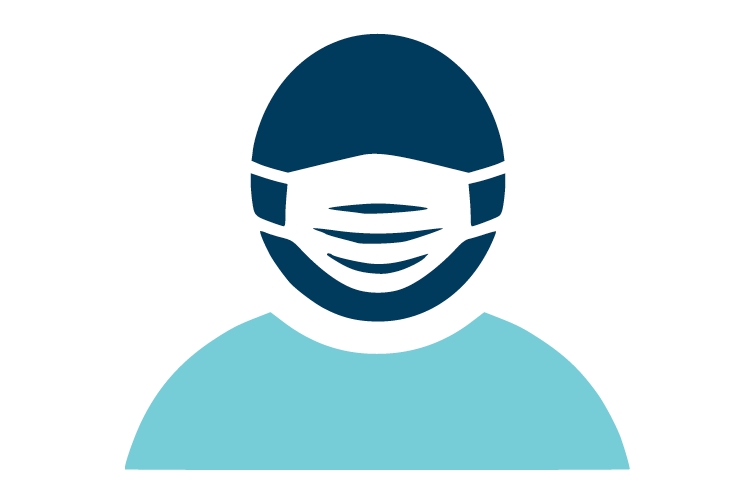 Face coverings must be worn by all members of the Bucknell community when in shared indoor spaces, including classrooms, labs, hallways, offices, restrooms and common areas. Face coverings are not a substitute for physical distancing and should be worn even when staying 6 feet apart, especially in indoor spaces. Face coverings must also be worn outside.
Each Bucknell student will receive two face coverings upon arrival. It is recommended that each student provide their own face coverings as well.
If you have a medical condition that prevents you from wearing a face covering, you will be able to request an accommodation through the Office of Accessibility Resources in accordance with the University Disability Accommodation Policy for Students.
How to Put On a Face Covering
Wash your hands before putting on your face covering.
Put it over your nose and mouth and secure it under your chin.
Try to fit it snugly against the sides of your face.
Make sure you can breathe easily.
How to Remove a Face Covering
Untie the strings behind your head or stretch the ear loops.
Handle only by the ties or ear loops (don't touch the front of the face covering).
Wash cloth face coverings after each use. Disposable face coverings should be discarded daily.
Be careful not to touch your eyes, nose or mouth when removing your face covering, and wash your hands immediately afterward.
Social Distancing
We have developed a new social distancing policy (login required), which requires all individuals, including visitors, to maintain social distance to the greatest extent possible when living, working, visiting or engaging in any other activities on the Bucknell campus. This requirement applies to all academic spaces, office spaces and other work spaces, all recreational spaces including locker rooms, all common areas in any University facility, any spaces reserved for dining, and any auditoriums, stadiums or grandstands. Except in situations recognized in the University facemask policy (login required), all individuals on campus must wear a face covering even when maintaining social distance.
As noted in the Community Responsibility Agreement, physical distancing of at least six feet is expected in all spaces, when feasible. This includes classrooms, labs, hallways, offices, restrooms, common areas and outdoor spaces. Additional signage will provide directional flow through some buildings and reinforcement of behavioral public safety measures. Safer dining operations that promote social distancing include "swipe-in" venues, take-out meals and limited seating occupancy in dining venues. Plexiglass shielding or barriers have also been installed in some indoor spaces where there's a higher rate of face-to-face interaction, including at Bursar Services, Card Services and Student Mail Services.