Isolation & Quarantine
Preventing the spread of COVID-19 on campus will require the entire Bucknell community to make considerable adjustments to our daily lives in order to prioritize safety and health. This includes the possibility of quarantining in your residence or moving to off-campus isolation housing provided by the University.
Quarantine separates people who are believed to have been exposed to the COVID virus but who are not symptomatic from others who have not been exposed. 
If you have had close contact with someone who tests positive for COVID-19 or has symptoms, you will be asked to quarantine.

Isolation separates people who are known or reasonably believed to have been infected with the COVID virus from those who are not infected.
If you test positive for COVID-19, with or without symptoms, you will be moved to isolation housing.
Full details about quarantine and isolation protocols and what you must do if you test positive for COVID-19 or have been in close contact with someone who has can be found in the Student Guide to Quarantine, Isolation, & Contact Tracing.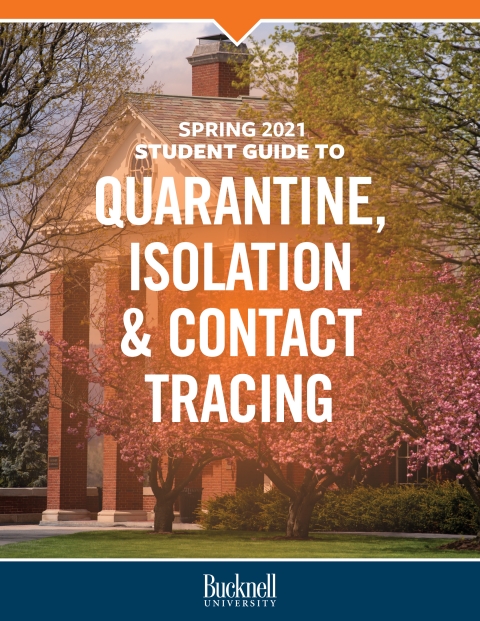 Read the guide to learn about: 
How you should prepare now in case you need to quarantine or move to isolation housing
When you might be asked to quarantine or move to isolation housing
What to expect if you are asked to quarantine or move to isolation housing
When you might be contacted for contract tracing, and what to do
Isolation
If you test positive for COVID-19, you will not be permitted to immediately return to your assigned residence space. You must remain in isolation for at least 10 days from the onset of symptoms or, if you do not have symptoms, from the date of your first positive COVID-19 test. You must remain in isolation until symptoms improve and you are fever-free for three days without the use of a fever reducer. All cases of COVID-19 will be reported to the Pennsylvania Department of Health.
You have two options during this isolation: 
Return to your home or to a permanent place of residence. You must be accompanied by a family member or friend if you choose this option.
Stay at Bucknell. In this case you will proceed directly to isolation housing provided by the University. Bucknell Student Health will provide daily check-ins via telehealth until you have recovered and are released from isolation. University staff will retrieve personal items (computer, books and other essentials) from residence hall rooms and deliver three meals a day to students in isolation housing.
To prepare for the possibility of isolation, keep important school work and other necessary belongings in one organized place, in case you are not able to return to your room to retrieve them. You should plan on online learning as you are able while recovering from COVID-19. 
Quarantine
If you are identified as having close contact with someone who shows symptoms of or who has tested positive for COVID-19, you will:
Be quarantined for 14 days. In most cases you will be moved to isolation housing for quarantine.
Notify your professors that you will be switching to studying online. You do not have to provide a reason. You may return to in-person classes following the 14-day quarantine period. 
Students in quarantine will use a daily symptom-checker app and receive referrals for on-campus resources. University staff will deliver three meals a day.
Exemption for Vaccinated Students
Beginning two weeks after their final dose, students who have been fully vaccinated and have been identified as close contacts of someone who has tested positive for COVID-19, but do not have symptoms of COVID-19 themselves, will not be required to quarantine. The contact tracer will check your documentation with Student Health.
Why 14 Days?
The quarantine period of 14 days is based on recommendations from the Centers for Disease Control and Prevention (CDC) and the Pennsylvania Department of Health. Both bodies have updated their guidelines to provide an option for reduced quarantining periods for individuals where a 14-day quarantine may cause an undue burden. However, the CDC notes explicitly that congregate settings, in particular college dormitories, carry special considerations regarding density and transmission risk factors. Following the 14-day option remains the most protective and the best overall strategy for effectively reducing disease transmission. Per the CDC's 14-day recommendation, to prioritize health and safety and to keep our standard consistent across our community, Bucknell will continue to follow the 14-day quarantining guideline for all students. As conditions continue to evolve, The COVID-19 Response Team will monitor and rely on data and updated guidance to inform any necessary changes to this protocol.
Guest Policy
Guests are not permitted in any room or suite where students are quarantining or isolating, whether on campus or in isolation housing. This includes other students who are also in quarantine or isolation. If you are quarantining, you may not have guests, regardless of whether or not they are also in quarantine. 
Removal From Assigned Space
At any time, Bucknell may request or require you to leave campus when your continued presence in the housing community poses a health or safety risk for community members. Residential students are required to comply with requests from the University to leave their assigned space due to COVID-19 or other public health emergencies. Failure to do so is a violation of the Student Code of Conduct and may subject you to emergency removal from your assigned space. 
Not all residential rooms or halls are appropriate for isolation or quarantine. In those situations where a student is informed they must isolate or quarantine, students may not be permitted to continue residing in their residential space and will be provided alternative housing arrangements as needed. Removal from a residence hall room to isolate or quarantine does not constitute a termination of your housing contract.