Testing & Contact Tracing
In order to prevent the spread of COVID-19 on campus, Bucknell is implementing a rigorous testing and contact tracing program for all who live, work and study on campus, including students. 
Students will be tested for COVID-19 both before and after their arrival at Bucknell. There is no charge to students for these tests or shipping. 
More details about the testing process and contact tracing are below. A full description of what to expect if contact tracers call you can also be found in the Student Guide to Isolation, Quarantine & Contact Tracing.
Testing Before You Arrive
All students taking classes in person, whether they live on or off campus, will be required to take two self-administered COVID-19 tests prior to arrival on campus using kits provided by Bucknell and shipped to students. The associated costs for this testing process will be fully covered by the University.
Your test results will be available in the Herd Health section of the Bucknell App.
Please refer to the messages you received from Dean Amy Badal and Dr. Catherine O'Neil for details about pre-arrival testing. Bucknell faculty and staff will also be tested prior to returning to campus.
All students must have two negative COVID-19 tests to be permitted to move into their residence hall and/or attend in-person classes. Until you have two negative tests, you will not be allowed to move in or be present on campus. 
Spring 2021 Pre-arrival Testing Dates and Forms
In December, the University will mail two test kits to the address you provide using this form. Tests must be taken on Jan. 14 and Jan. 21 and returned via UPS. Tests taken prior to these dates will not be accepted. More detailed information regarding testing will be shared in January.
COVID-19 test kit address form
Tests cannot be shipped internationally. If you are living abroad or will be traveling abroad during the break and will arrive in the United States after Jan. 14, please submit this form as soon as possible so that we can determine your COVID-19 testing plan. 
COVID-19 test kit form — abroad over winter break
Sequential COVID-19 testing will be available until Nov. 17. Please continue to schedule your tests approximately every 10 days until that time.  
---
Testing After You Arrive
Bucknell will employ an extensive testing process including:
Symptomatic testing on the day you arrive at Bucknell
COVID testing on average of every 10 days throughout the semester
COVID tests are required and will be offered in staggered, ongoing appointments on weekdays scheduled through the Bucknell App.
Do not get tested more frequently than every 10 to 14 days unless directed to do so by Student Health. Additional tests are not medically necessary and do not mitigate the need to follow consistent health and safety practices. If you are experiencing any symptoms of COVID-19, please do not go to the testing site. Instead, call Student Health at 570-577-1401 to immediately arrange a test.
Instructions for Scheduling Your Test and Getting Results
Open the Bucknell App and click the Herd Health icon on your mobile device.
You will be prompted to install the iOS/Android native Aura app.
Sign in using the Sign in with Google option, and use your Bucknell email credentials.
Use the app to schedule your initial test as soon as possible.
COVID tests will be mid-nasal tests administered and processed by Genetworks, with results expected within 48 hours. Check-in for testing will take place in the lobby of Sojka Pavilion.
You will receive results via the app about two days after each test. (If you test positive, you will be contacted by Bucknell Student Health with further instructions.)
The app will remind you to schedule additional tests in the weeks ahead. 
For help, please refer to these frequently asked questions or contact techdesk@bucknell.edu.
---
Contact Tracing
Bucknell is implementing a contact-tracing program to provide timely notification to those who have been in close contact with persons with confirmed cases of COVID-19. You may be contacted by phone by Bucknell's Contact Tracing Team or other health authorities by phone and directed to quarantine. These calls may come from numbers you do not recognize. It is important that you answer calls to your cell phone and follow the instructions contact tracers provide.
Bucknell will coordinate its own contact tracing program in order to avoid straining state resources as well as to stay informed about exposure to illness on campus to be able to make critical decisions for University operations. For a variety of reasons, Bucknell's contact tracing program will not extend beyond our campus community, and we will be unable to contact those who are not University students or employees.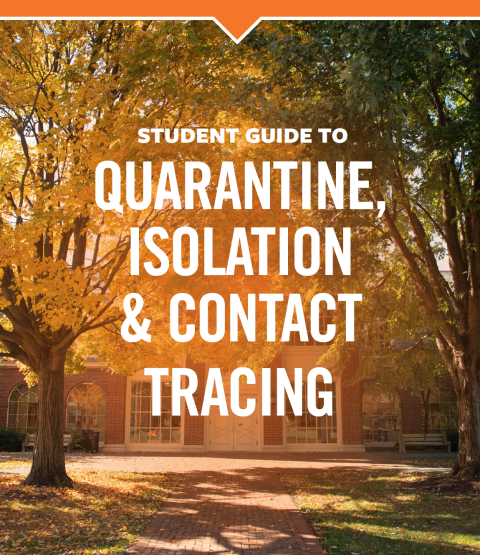 Full details about Bucknell's Contact Tracing Program can be found in the Student Guide to Quarantine, Isolation, & Contact Tracing. Read the guide to learn: 
When and why you might be called by contact tracers
What you will be asked about, and what other information they'll provide
What to do next
Be prepared by reading the guide in case a contact tracer calls you.
Contact Tracing Process
The Contact Tracing Team is notified of a positive test, either by the Bucknell community member who was tested, a testing service authorized to release results or the state health department.
The Contact Tracing Team contacts the Bucknell student or employee who tested positive and makes sure they are receiving the appropriate care and, importantly, are isolating.
The Contact Tracing Team interviews the Bucknell student or employee to determine with whom on campus they may have come into close contact.*  The team will also have access to GPS data collected from the Herd Health app (from those who choose to use it), as well as WiFi connectivity point data from the campus network.**
Based on this information, the Contact Tracing Team will contact potentially exposed Bucknell students and/or employees to notify and instruct them on next steps as appropriate.
*In this context, "close contact" is defined as being within 6 feet of an infected person for at least 15 minutes during the two days prior to the positive test result.
**This data will be accessed only for contact tracing purposes. Bucknell contact tracing efforts will maintain privacy and confidentiality.