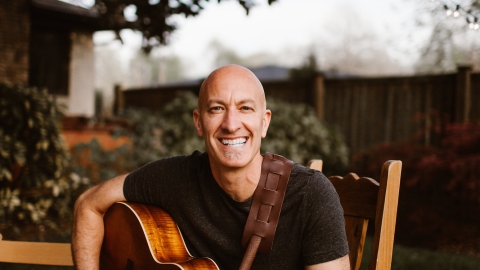 Christopher Williams '92, Religion
June 25, 2019
I love what I get to do. Traveling and bringing music to people is a joy.
Back when Starbucks was a Pacific Northwest coffeehouse chain just making headway into the national market, Christopher Williams '92 honed his craft as a singer, songwriter and musician by performing in its Seattle stores.
He was compensated for the gigs, but not in cash. 
"I was paid in a pound of coffee, which is hilarious, because I don't like coffee at all," says Williams, who would offer the coffee to friends in exchange for them coming to see him perform.
Fresh out of Bucknell, where he majored in religion, Williams was drawn to Seattle and its burgeoning music scene. "I kind of felt like I was supposed to go there," he recalls. So he drove across the country, landed a few odd jobs and soon decided to pursue a career as a touring acoustic singer songwriter.
It was a leap of faith he was prepared, in part, to make because of his time at Bucknell.  
As a member of the student activities board, Williams initiated a student coffeehouse show, where he and friends showcased their original songs and played covers every Wednesday night. He organized a semi-regular acoustic series that brought in established professional musicians, from whom he was able to gain a lot of wisdom about the business side of the industry. He also sang in an a cappella group and had meaningful conversations with his religion professors and classmates, which helped him grow his faith and form his worldview.
"That obviously influenced me as a songwriter and what I chose to do," Williams says. "All of that helped shape who I was at that point, which is part of the journey of how I got here." 
Like all musicians, Williams has endured dramatic shifts in the industry over the past quarter-century, but he is still cranking out albums and traveling to more than a hundred performances per year. 
"I've been able to build a life out of this, which has been amazing and a blessing that it continues to go on," he says. "A lot of people don't get the gift of doing what they love to do. I love what I get to do. Traveling and bringing music to people is a joy."