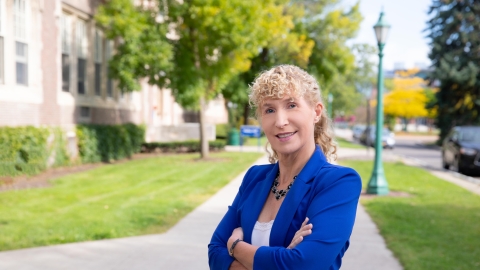 Bucknell Welcomes New Vice President for Communications Gail Glover
September 23, 2019
Following a nationwide search, Bucknell President John Bravman announced Sept. 18 that the University has hired Gail Glover as its new vice president for communications. Glover will join Bucknell on Jan. 6.
Glover brings 25 years of higher-ed marketing and communications experience to her role at Bucknell, where she will lead the University's Division of Communications. That experience includes work in both the public and private sectors, from large state universities to smaller colleges that, like Bucknell, offer a rich mix of liberal arts and professional programs. 
"I'm excited to join an institution that is investing in its future through infrastructure and expansion that is strategic and thoughtfully implemented," Glover says. "And I'm thrilled at the prospect of working with a talented team that has done a wonderful job of laying the groundwork of a communications approach that is similarly strategic and thoughtful."
Her hiring follows a national search led by a team of Bucknell faculty and senior administrators in collaboration with search firm Storbeck/Pimentel & Associates. Glover emerged in that search as the "clear choice in a talented and competitive candidate pool," says President Bravman.
Param Bedi, vice president for library & information technology and chair of the search committee, says the committee was "deeply impressed with Gail's experience and track record on strategic communications, and we know that she is an excellent fit to lead a strong communications team at Bucknell. Gail is a seasoned communications, branding and marketing expert and will help us build on the strong foundation that is already in place."
Glover comes to Bucknell from the State University of New York at Geneseo in western New York, where she serves as chief communications and marketing officer. In that role, she has overseen a rebranding campaign that included the design and rollout of a new university logo as well as a new parent communication strategy. 
She previously served as senior director of communications and marketing for Union College in Schenectady, N.Y., a liberal arts college offering programs in engineering where she gained an appreciation for the interplay of liberal arts and professional programs. Prior to that, she worked for 13 years in public relations and communications at her alma mater, Binghamton University in Binghamton, N.Y., in areas of increasing responsibility. 
Originally from South Africa, Glover holds a master's degree in social sciences and bachelor's degree in applied social sciences, both from Binghamton University. She is a member of the University & College Designers Association, the American Marketing Association and the Public Relations Society of America.
At Bucknell, Glover will oversee a multifaceted division that creates and executes communications strategies across channels, including printed media, direct mail and email, the University website, a quarterly magazine, media outreach, video and social media. 
In the past two years, the Division of Communications has spearheaded a comprehensive University branding campaign, overseen a complete redesign and restructuring of the University website, redesigned the University magazine, enhanced print production capabilities, implemented a new admissions communications strategy, and expanded Bucknell's marketing efforts. 
Glover says she is eager to build on those accomplishments and further elevate Bucknell's reputation for audiences of current and prospective students, their families and alumni, as well as in the national discourse.
"We need to look carefully at how to really differentiate Bucknell amid the other choices that students and their families have," Glover says. "Students are investing in their futures, and it's our job to communicate the value that a Bucknell education offers."
She will take over for Interim Chief Communications Officer Heather Johns, who will resume her role as senior director for content strategy. Johns succeeded former Chief Communications Officer Andy Hirsch, who is now vice president of communications at Swarthmore College.