English — Film/Media Studies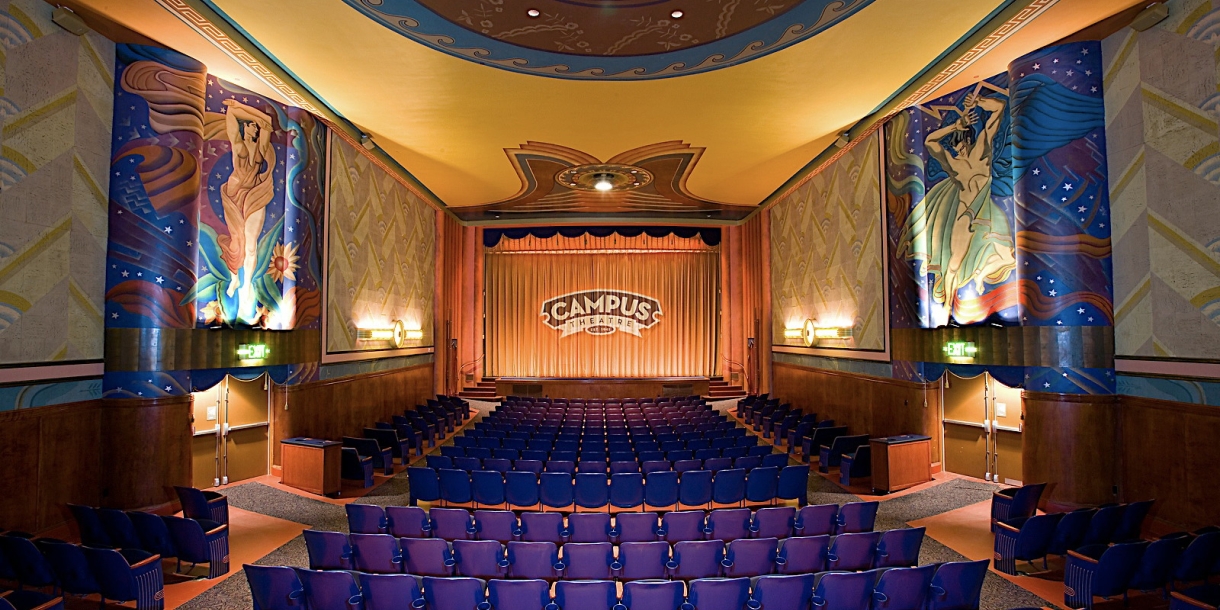 Strengthen the analytical, artistic and communication skills you'll need to succeed in the film/media industry and many other careers.
Take courses that range from Documentary & Avant Garde Cinema to Film Exhibition & Programming. Watch screenings at the Campus Theatre, a 1941 art deco movie house with 35mm film capacity. At Bucknell, you'll research, travel to film festivals, and bring your own vision to life with professional-level cameras, light kits, audio gear and post-production facilities.
Graduate prepared for jobs in fields such as film production, publicity and visual effects — or in areas as diverse as academia and marketing.
Arts Merit Scholarships are available to prospective students.
See detailed major & minor requirements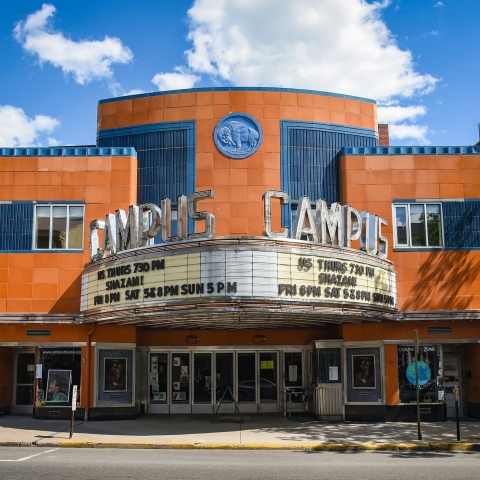 See What's Happening at the Campus Theatre
Experience classic cinema as it was meant to be seen in a beautiful, historic Art Deco movie theatre. Film/Media Studies courses host weekly screenings at the Campus Theatre in downtown Lewisburg throughout the academic year. All students and the public are welcome to attend. 
Film/Media Studies Events & Opportunities
Get information about film festivals, internships, collaboration and more.
Campus Theatre Internship
The Film/Media Studies Program offers students the opportunity to learn about historic and contemporary film exhibition while earning class credit.
The internship, based at the historic Campus Theatre in downtown Lewisburg, focuses on film and digital cinema projection. After learning their way around a projector, interns are responsible for curatorial research, producing promotional materials and delivering state­-of-­the-­art projection. This experience is valuable for students looking to pursue a career in film and media production.
Learn more about the Campus Theatre Internship
Arts Merit Scholarships
Bucknell offers merit scholarships to applicants who have extraordinary talent in the arts. Students studying creative writing, literature, film/media studies, art & art history, music and theatre are eligible for scholarships that range from $2,500 to $20,000 per year.
Bucknell Film/Media Production Studio (003 Marts Hall)
Fall 2021 Open Lab Hours
Monday: 9 a.m. – noon, 2 - 5 p.m.
Wednesday: 9 a.m. – noon, 2 - 5 p.m.
Friday: 9 a.m. – noon, 2 - 5 p.m.
Contact Details
English — Film/Media Studies
Location
121 Vaughan Literature Building