English — Film/Media Studies
Learn how to deeply engage with, understand and produce moving images. Challenge yourself to think historically, theoretically, and analytically about a wide range of audiovisual media, including cinema, television, new media and radio. Apply your knowledge to creative work made in our production classes.
Take courses that range from "Film Noir" to "Montage to MTV," from "Audio-Vision" to "Practicum: Animation."
Watch films at the Campus Theatre, a 1941 Art Deco movie house with 35mm film and state-of-the-art digital cinema capability. At Bucknell, you'll research moving image media's past, travel to film conferences and festivals, and bring your own vision to life with professional-level production equipment and post-production facilities.
Graduate prepared for jobs in fields such as film production or film exhibition — or in areas as diverse as academia and marketing.
Arts Merit Scholarships are available to prospective students.

See detailed major & minor requirements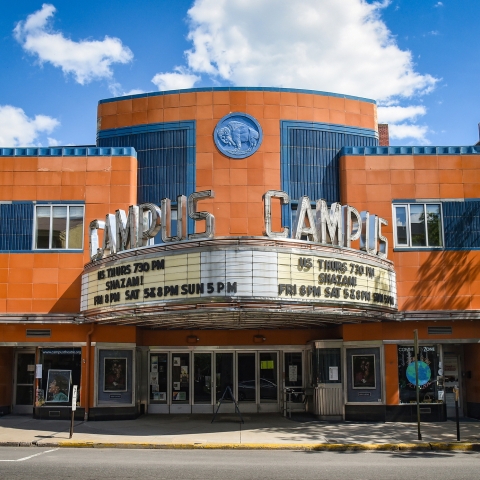 See What's Happening at the Campus Theatre
Experience classic cinema as it was meant to be seen in a beautiful, historic Art Deco movie theatre. Film/Media Studies courses host weekly screenings at the Campus Theatre in downtown Lewisburg throughout the academic year. All students and the public are welcome to attend. 
Arts Merit Scholarships
Bucknell offers merit scholarships to applicants who have extraordinary talent in the arts. Students studying creative writing, literature, film/media studies, art & art history, music and theatre are eligible for scholarships that range from $2,500 to $20,000 per year.
Contact Details
English — Film/Media Studies
Location
121 Vaughan Literature Building