Faculty & Staff
Resources and Information for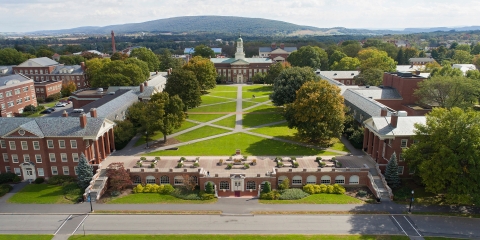 Introducing the New Bucknell.edu
Bucknell's newly redesigned website is live! Your patience has been invaluable throughout the process of building the new site — and it will be appreciated even more as bugs and errors are addressed over the next one or two months.
This bucknell.edu site looks and feels different, but it's different in another important way, too. Instead of launching a brand-new website every few years, you'll see regular releases of new features, improvements and enhancements — just like an app updates on your phone. Some of these releases will include an enhanced calendar function and new content showcasing labs and learning spaces on campus.
Check the website blog for news about features and releases 
This beautiful new website won't go away in a few years. It'll just keep getting better, with your help.
Throughout the fall semester, Communications will schedule meetings with each campus department to go over your new web pages and discuss your needs.
See the website feedback meeting plan
Before your meeting with Communications, make notes in a Google Doc about what you'd like to discuss. You'll need to share the Google Doc with your Communications representative at least one week before the scheduled meeting so the appropriate colleagues are included in the discussion.
Questions? Check out the FAQ below.
Website Goals
Inform and inspire prospective students to apply and enroll.
Inform and inspire alumni, parents and friends to support the University.
Help facilitate daily operations for faculty, staff and current students.
Inform and inspire prospective employees.
Inform the local community about University operations and events.
Web Content Criteria
High-quality, impactful photography and video.
Informative, succinct, accurate, relevant and current information.
Directly supports one or more of the stated purpose(s) of the website (as listed above).
Demonstrated capacity to keep content current (i.e., no dated materials).
Fits into the structure of the new website.
Is required by law or contractually obligated to be on the website.
Family Weekend
Campus Events
Family Weekend is an annual fall tradition when families can visit their students, explore our newest buildings, meet other Bucknell families and get an inside view of their student's life at Bucknell.