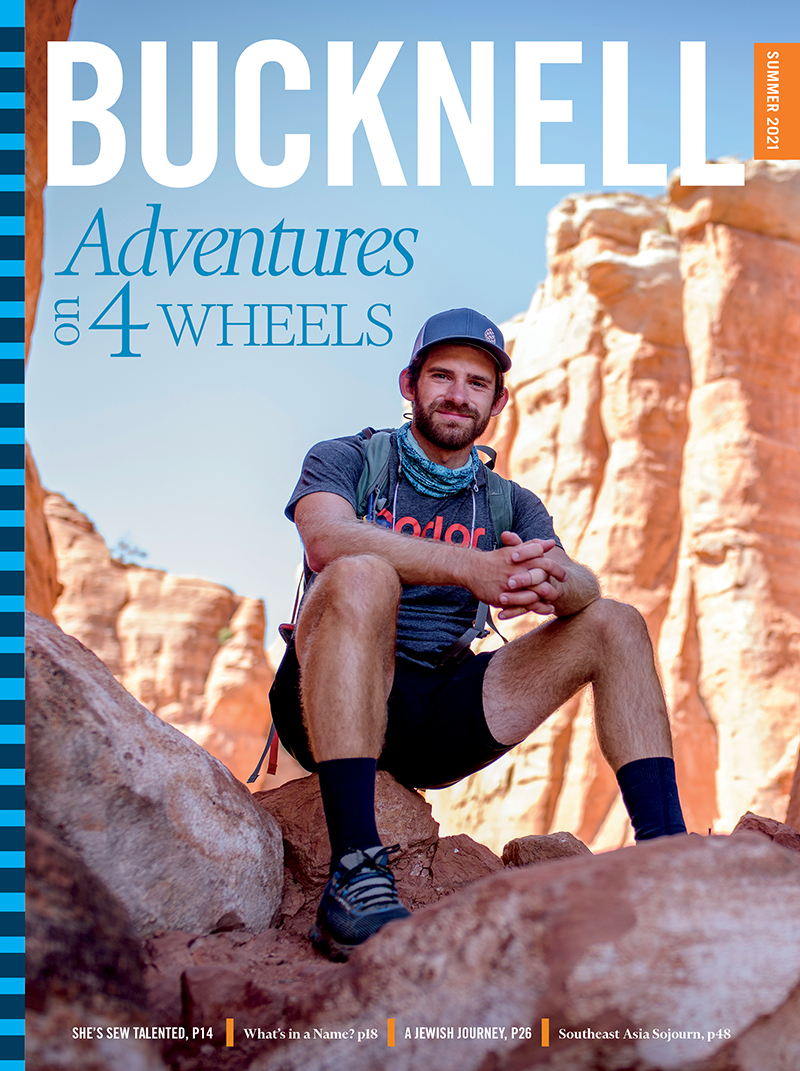 The award-winning Bucknell Magazine is published quarterly for more than 50,000 alumni, parents, faculty, staff, students, friends and donors. It aims to engage its readers, inspire pride in the University and cultivate a sense of shared experience and purpose.
Loving the RV Life
America has always had its wanderers, from de Tocqueville to Kerouac. But as recent movies and social media suggest, wanderlust is a craving that has taken hold of more and more people in recent years. In the Summer 2021 cover story, meet several Bucknellians who've gone all in on that call to the open road. They range from retirees to current undergrads, traveling in vans or RVs, Jeeps or trailers and sleeping in every situation imaginable.
You'll meet another group of intriguing Bucknellians in our "Faces Behind the Places" feature. Did you know the namesake of Bertrand library raised and showed champion dachshunds or that the Bostwick Dining Hall honors a man who directed blood donations for the Red Cross during World War II? You'll meet these folks as well as the donor whose name graces Bucknell's newest building, Holmes Hall.
As part of our focus on Bucknell history during our 175th year, we also bring you an evocative portrait of the campus — and Jewish life — during the 1940s, from the point of view of 97-year old Joe Blaustein '47.
Click on the cover image above to read these stories and more in our summer digital edition.
By Way of Bucknell Photo
Order this photo
The technicolor break in a stormy sky showers good luck on the Ellen Clarke Bertrand Library.
If you would like a reprint of this photo, please fill out our form. We will send you a complimentary 8 x 10 print.
Alumni Galleries
Catch up with Bucknellians in pictures.
In Memoriam
Find a listing of recently deceased classmates, faculty, staff and friends.
Remember your friends, family, classmates and others by posting a comment on our Book of Remembrance.