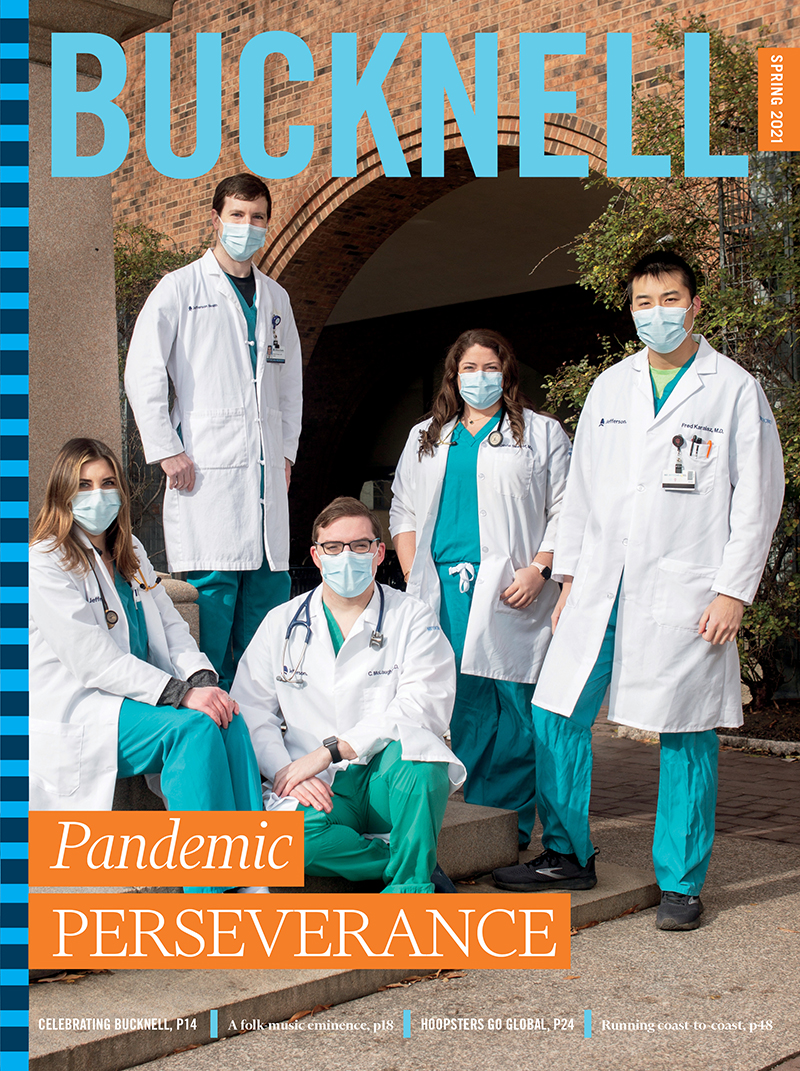 The award-winning Bucknell Magazine is published quarterly for more than 50,000 alumni, parents, faculty, staff, students, friends and donors. It aims to engage its readers, inspire pride in the University and cultivate a sense of shared experience and purpose.
Powering through the Pandemic
Training to be a physician is challenging during normal times, but during a raging pandemic, the usual stressors for young docs are compounded. In the Spring 2021 issue of Bucknell Magazine, meet several Bucknell graduates who are in training at the same Philadelphia hospital. Seeing a friendly face from their college days helps to make the tough times more bearable.
Bucknell as folklore advocate? Well, yes. As part of our yearlong salute to Bucknell history, we share the story of George Korson and the Pennsylvania Folk Festival at Bucknell during the mid-1930s. We all know that Bucknell excels at developing basketball talent. Meet the women and men who have found spots on the pro circuit in Europe.
Click on the cover image above to read these stories and more in our spring digital edition.
By Way of Bucknell Photo
Order this photo
The Malesardi Quad cherry trees are bursting with blossoms and knitted hearts in the springtime.
If you would like a reprint of this photo, please fill out our form. We will send you a complimentary 8 x 10 print.
Alumni Galleries
Catch up with Bucknellians in pictures.
In Memoriam
Find a listing of recently deceased classmates, faculty, staff and friends.
Remember your friends, family, classmates and others by posting a comment on our Book of Remembrance.