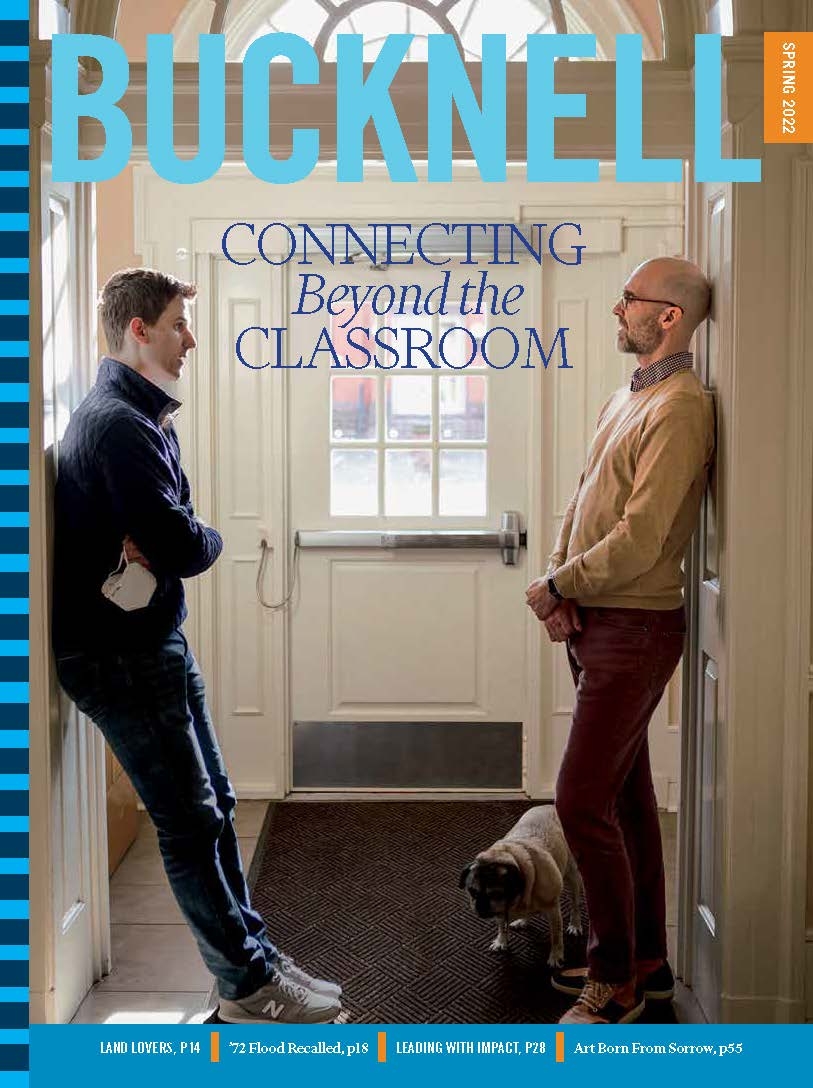 The award-winning Bucknell Magazine is published quarterly for more than 50,000 alumni, parents, faculty, staff, students, friends and donors. It aims to engage its readers, inspire pride in the University and cultivate a sense of shared experience and purpose.
Connecting Beyond the Classroom
In this issue of Bucknell Magazine, survivors recall the deadly impact of the 1972 Agnes flood through a Bucknell storytelling project that sought to capture local memories 50 years later.
You'll also meet an ensemble of alumni who believe that education is one of the strongest driving forces for change in our world. Read about how they're using their Bucknell experience to transform the future of higher education, from community colleges to liberal arts universities.
Meanwhile, at Bucknell, students share residential space with a surprising neighbor — Spanish professor Collin McKinney. As Bucknell's first professor-in-residence, McKinney (along with his family and adorable pet pug) bridges the gap between the common room and the classroom.
Click on the cover image above to read these stories and more in our spring digital edition.
By Way of Bucknell Photo
Order this photo
It's spring at Bucknell, and the blossoms are a-poppin'.
If you would like a reprint of this photo, please fill out our form. We will send you a complimentary 8 x 10 print.
Alumni Galleries
Catch up with Bucknellians in pictures.
In Memoriam
Find a listing of recently deceased classmates, employees and friends of the University.
Remember your friends, family, classmates and others by posting a comment on our Book of Remembrance.