This video does not contain audio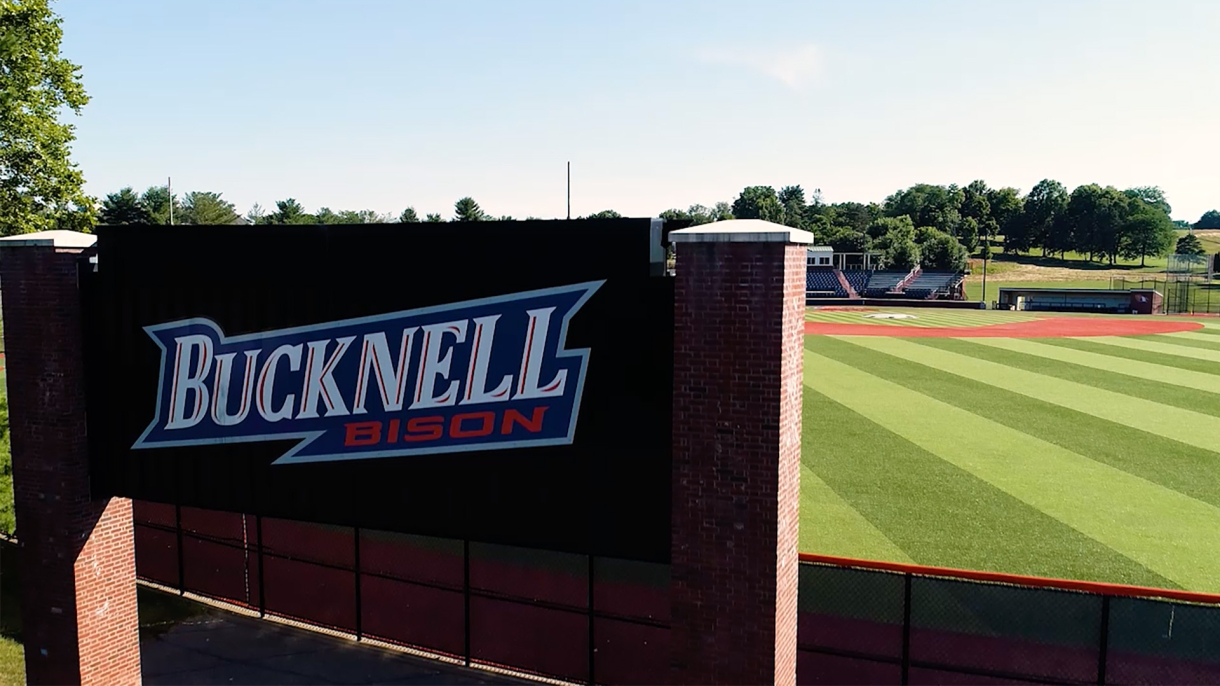 Whether you want to compete at the highest level in collegiate athletics, join a pick-up league on the weekends or try out a group fitness class, Bucknell will keep you moving.
With 27 teams competing in Division I, we have one of the largest varsity athletics programs in the country. Our more than 700 student-athletes are recognized for their success in competition, where we've won the Patriot League Presidents' Cup more times than any other school, and in the classroom, where we rank among the top schools in the U.S. in student-athlete graduation rate and Academic All-Americans.
True Student-athletes
According to the U.S. Department of Education's graduation-rate standards, Bucknell ranks sixth nationally with a four-class average of 89%.
Teams and Programs
Men's Sports
Basketball (varsity, intramural)
Crew (club varsity)
Cross-country (varsity)
Dodgeball (intramural)
Flag Football (intramural)
Floor Hockey (intramural) 
Football (varsity)
Golf (varsity)
Indoor Soccer (intramural)
Kickball (intramural)
Racquetball (intramural)
Rugby (club)
Soccer (varsity, club, intramural)
Softball (intramural)
Spikeball (intramural)
Squash (club, intramural)
Swimming & Diving (varsity)
Tennis (varsity, club, intramural)
Track & Field, indoor and outdoor (varsity)
Ultimate Frisbee (club, intramural)
Volleyball (club, intramural) 
Wrestling (varsity)
Women's Sports
Basketball (varsity, intramural)
Cross-country (varsity)
Dodgeball (intramural)
Flag Football (intramural)
Golf (varsity)
Flag Football (intramural)
Indoor Soccer (intramural)
Kickball (intramural
Racquetball (intramural)
Rowing (varsity)
Soccer (varsity, club, intramural)
Softball (varsity, intramural)
Spikeball (intramural)
Squash (club, intramural)
Corecreational Sports
Basketball (intramural)
Cheerleading (club)
Cycling (club)
Dodgeball (intramural)
Equestrian (club)
Flag Football (intramural)
Ice Hockey (club)
Indoor Soccer (intramural)
Kickball (intramural)
Racquetball (intramural)
Sailing (club)
Softball (intramural)
Spikeball (intramural)
Squash (intramural)
Tennis, mixed doubles (club, intramural)
Volleyball (intramural)
Find a Group Fitness Class and More
Recreation Services
Recreation Services offers recreation and fitness programming, including:
Aquatics
Climbing wall
Club and club varsity sports
Equipment orientations
Fitness consultations and programming
Group fitness classes
Intramurals
Incentive programs
Take a closer look at the personal health & wellness
Contact Details
Athletics
Location
Kenneth Langone Athletics & Recreation Center
Lewisburg, PA17837
United States