Families of Prospective Students
Resources and Information for
In many ways, your student's college search journey is also your journey. As you work with your student to explore college options, we're here to work with you to answer your questions about Bucknell.
Our admissions deadlines for the Class of 2028 are as follows:
Early Decision I: Nov. 15, 2023
Early Decision II and Regular Decision: Jan. 15, 2024
Welcome to Bucknell, Class of 2027!
Let Bucky the Bison show you the exciting experiences and amazing community that await. Then head to the application portal to enroll and begin your Bucknell journey!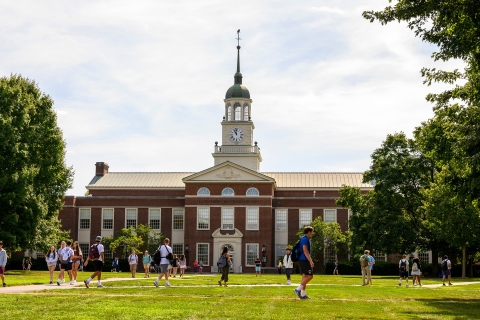 Who is Bucknell?
As one of the nation's preeminent liberal arts universities and Division I schools, we offer a world-class learning experience where your student will be mentored by outstanding, award-winning professors. With a low student-faculty ratio (9 to 1) and campus where high-tech labs far outnumber lecture halls, our priority is personalized, experiential learning.
Three colleges, endless possibilities: With more than 60 majors across three colleges — Arts & Sciences, Engineering and the Freeman College of Management — your student can explore many different interests and graduate with an array of in-demand skills. Our highly accessible academic advisers are ready to help them navigate their educational journey.
Research that matters: At Bucknell, we'll pair your student with the funding and faculty support they need to complete and publish undergraduate research. Perhaps your student will develop a way to filter carbon out of the air, slowing the spread of global warming. Or uncover a financial trend before anyone else. Or engineer a cheaper way to bring clean water to communities in need. We'll give your student the tools and guidance to make a better world.
Safe and supported: We are a safe, walkable community with strong connections to quaint downtown Lewisburg, which is just a short walk away. On-campus Public Safety and confidential health-care services provide an open door to around-the-clock support. Whatever your student's needs, we rise up to support your student's well-being and success.
Bucknell at a Glance
Faculty:

360+

Average class size:

20

Worldwide Alumni:

56,000

Academic Majors:

64
Student-faculty ratio:
9:1
Classes taught by faculty:
100%
Cost Breakdown for 2023-24
Tuition:

$64,418

Housing:

$9,956

Approximate Meal Plan Cost:

$6,162

Activity Fee:

$354
Total comprehensive cost*:
$80,890
Average Total Need-Based Package†:
$51,600
*Represents fees before financial aid and grants. Keep in mind that this comprehensive fee may not represent the true cost to your family. For the 2023-24 academic year, the cost of attendance budget is $84,650, which includes the direct charges listed above plus an allowance of $900 for books/supplies, $2,800 for personal and travel expenses, and $60 for loan fees, if borrowing.

†Represents average total need-based package for a student who demonstrates financial need (Class of 2027 Admitted Student Data as of 08/14/23). The total need-based aid award can include a combination of Bucknell need-based grant funding, federal grants, state grants, federal work-study and a federal subsidized student loan. We evaluate income, untaxed income, assets and other family information from both the custodial and non-custodial parent to determine financial aid eligibility.
Where They'll Go From Here

Outcomes

You've been there since the beginning. In high school, you encouraged them to embrace their curiosity and reach for academic and extracurricular success. In college, you want them to be supported, challenged and equipped with all the tools they'll need for life.

A Bucknell education prepares students for whatever comes next. For some, that's a meaningful career in an in-demand field. For others, it's postgraduate work at the nation's leading medical schools, law schools and graduate schools. They all join a worldwide alumni network ready to help fellow Bucknellians succeed.

Explorers, Leaders, Innovators

Student Stories

Our students aren't waiting to begin improving the world around them. They're making the most of Bucknell's immersive undergraduate experiences to express their artistry, become successful entrepreneurs and make scientific breakthroughs.
Contact Details
Office of Admissions
Location
Hours
Monday – Friday:
8:30 a.m. – 4:30 p.m.