Meet Bucknell
Bucknell University is redefining the college experience, and we're ready to show you how. 
We're a life-changing university in central Pennsylvania where liberal arts and professional programs complement each other through the intersection of our three nationally recognized colleges: Arts & Sciences, Engineering and the Freeman College of Management.
At Bucknell, you can choose from more than 60 majors and 70 minors — giving you the freedom to pursue your interests and combine fields.
Our alumni include an English major who's a top stem-cell researcher and an engineering major who has won two Academy Awards for visual effects. With a Bucknell degree, you'll be prepared for a flexible and daring career and a fulfilling life.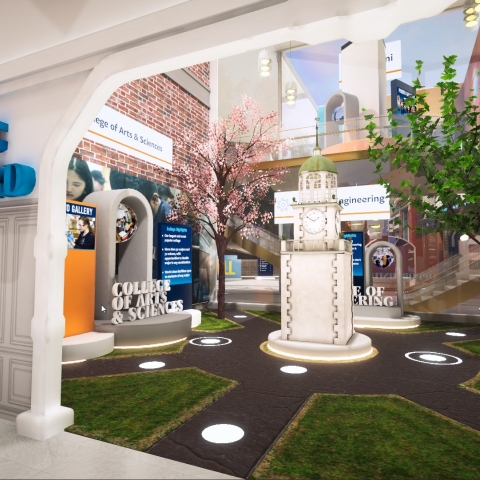 Virtually Limitless
You control the action inside the Bucknell Virtual Experience — the newest way to explore Bucknell using your computer, smartphone or an Oculus virtual reality headset.
Who We Are
Bucknell is about more than picturesque buildings and high-tech equipment. For more than 170 years, the community of Bucknellians — students, faculty, staff, donors and alumni — have defined our character.
In our "Bucknell stories" collection, you'll meet a biomedical engineering major who's researching ways to make playgrounds safer, a management professor unlocking hidden truths about online privacy and a theatre alumnus working at MSNBC's Morning Joe.
Where You'll Go From Here
Whether you arrive at Bucknell with a clear goal in mind or are still undecided, one thing is certain: As a Bucknell graduate, you'll leave here ready to conquer whatever comes next.
For some of our graduates, that means an interesting career with a company like Deloitte, ESPN, Google, L'Oréal, NBC Universal, PwC or Yelp. For others, it's admission into a top graduate school, law school or medical school. No matter your dream, Bucknell will help you get there.