Tuition, Fees & Financial Aid
Your Bucknell education is a transformative investment, and we're here to help.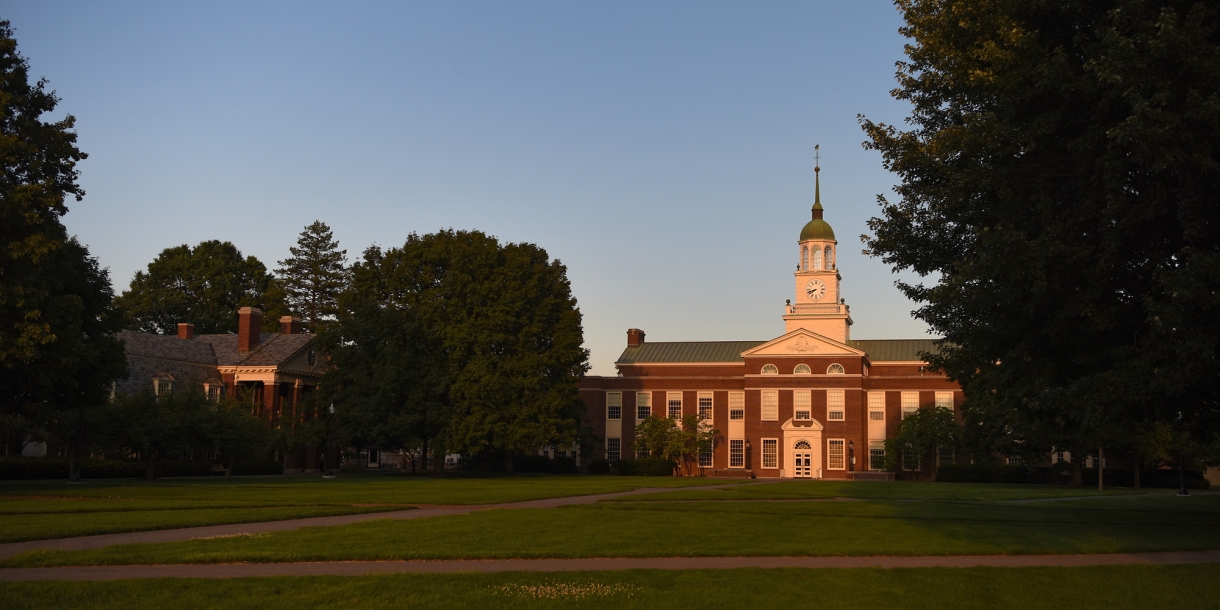 College is an investment, but it's not one you have to make alone.
In a 2020 analysis of four-year colleges, U.S. News & World Report called Bucknell one of the top 20 "colleges with the best return on investment." 
Our Office of Financial Aid staff is here to help every step of the way. More than half of our students receive financial assistance. We'll help you understand all of your options and guide you through the process of applying for grants, loans and work-study opportunities. 
Together we can explore all available aid options at Bucknell and help you on your way to becoming part of the Bucknell family.
Bucknell Announces 2020-21 Tuition Freeze
In light of the financial toll that COVID-19 has taken on many students and their families, Bucknell has frozen our tuition at the 2019-20 rate for all students, which will mean a savings of more than $2,000 per student over our previously announced rate.
The freeze applies to tuition only, meaning the cost of room and board will stay at previously announced rates. Visit our Tuition, Fees & Financial Aid page for more details and a full cost breakdown.
If you have questions about your aid, please reach out to the Office of Financial Aid at finaid@bucknell.edu or 570-577-1331.
Federal Work-Study Replacement Grants for Remote Students
Due to the COVID-19 situation, for the Fall 2020 semester, Bucknell's Office of Financial Aid will determine grant aid replacement amounts for Federal Work-Study awards for students who choose to study remotely.
The replacement will be based on level of financial need, with our focus on students who are receiving a Federal Pell Grant.
For returning students, we will focus on Federal Pell Grant recipients who worked during the Fall 2019 semester.
For first-year students, we will focus on Federal Pell Grant recipients who have been awarded Federal Work-Study as part of their financial aid package for Fall 2020.
Cost Breakdown for 2020-21
Tuition:

$57,882

Housing:

$8,946

Approximate Meal Plan Cost:

$5,500

Activity Fee:

$250
Total comprehensive cost*:
$72,578
Average Total Need-Based Package†:
$41,000
*Represents fees before financial aid and grants. Keep in mind that this comprehensive fee may not represent the true cost to your family. We evaluate each family's financial circumstances to determine financial aid eligibility. †Represents average total need-based package for a student who demonstrates financial need (Class of 2024 data).
Other Fees and Charges
Please direct questions about these fees and charges to the Bursar's Office at 570-577-3733 or bursar@bucknell.edu.
Audit fee (nonrefundable): $150 per course
Credit by examination (nonrefundable): $225 per course
Private music lessons (nonrefundable): $492 per semester
Orientation fee: Waived for 2020/2021
Single-course rate (subject to tuition refund policy): $6,353
Fees are subject to change without notice. Some academic departments may charge fees or require deposits separate from those listed here.
Monthly Payment Plan
Many families find it easier to spread payments over 10 months rather than receiving bills twice per year. The Bucknell Monthly Payment Plan offers an alternative to lump-sum payment.
Students who receive need-based financial aid from Bucknell

Students who receive financial aid of some kind

Average federal student loan debt for graduating seniors in the Class of 2020 who borrowed (compared to about $30,000 nationally)