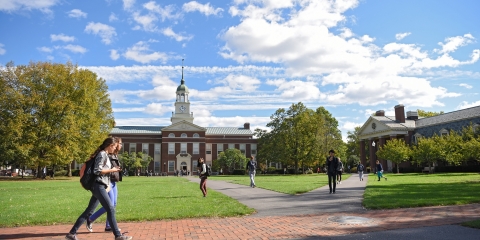 If you've been admitted to Bucknell, it means you're highly qualified, both academically and personally, to become part of a 173-year tradition of transformative undergraduate education on one of the most beautiful campuses in the country.
Below, we've collected information to prepare admitted students for their journey to Bucknell.
Early Decision I & II Admitted Students
Welcome to the Class of 2024!
Please log in to your application portal to complete the necessary forms.
Regular Decision Applicants
Regular Decision applicants will receive decisions by April 1, 2020.
Update About Spring Visits
Bucknell is continuously tracking the status of the coronavirus (COVID-19) and working to mitigate potential risks it poses. The safety of students — both current and future — as well as our faculty and staff is our top priority.
As such, we have cancelled:
Enrolled Student Day (March 21)
Admitted Student Day (April 18)
On-campus visits, including tours and preview programs, through April 30, at which point we may adjust our policies to reflect the status of the public health situation
We know this news will be disappointing to you and your fellow members of the Class of 2024. We're disappointed, too. But please make note of two important points:
Our preparations continue for your arrival this fall. We encourage you to watch your email for regular updates about class registration, housing, Pre-Orientation and Orientation programs, and more. 
While our in-person experience has been cancelled, we look forward to launching B2B: Bison to Bison, our admitted student network that will allow you to connect with faculty, learn more about life on campus, communicate with current students and get your questions answered. We'll share more information soon.
The Coronavirus and Your Final Semester of High School
We understand the circumstances surrounding the coronavirus pandemic may have changed the trajectory of your academic year. It has affected us, too.
Please send your transcripts to us as soon as you can, but know that we understand there are currently a lot of unanswered questions.
While we generally expect the remainder of your senior year of high school to be consistent with the academic and personal record presented in your application, rest assured that no matter what happens, we will work with you and be flexible.
Office of Admissions
Hours
Monday – Friday:
8:30 a.m. – 4:30 p.m.