Residential Colleges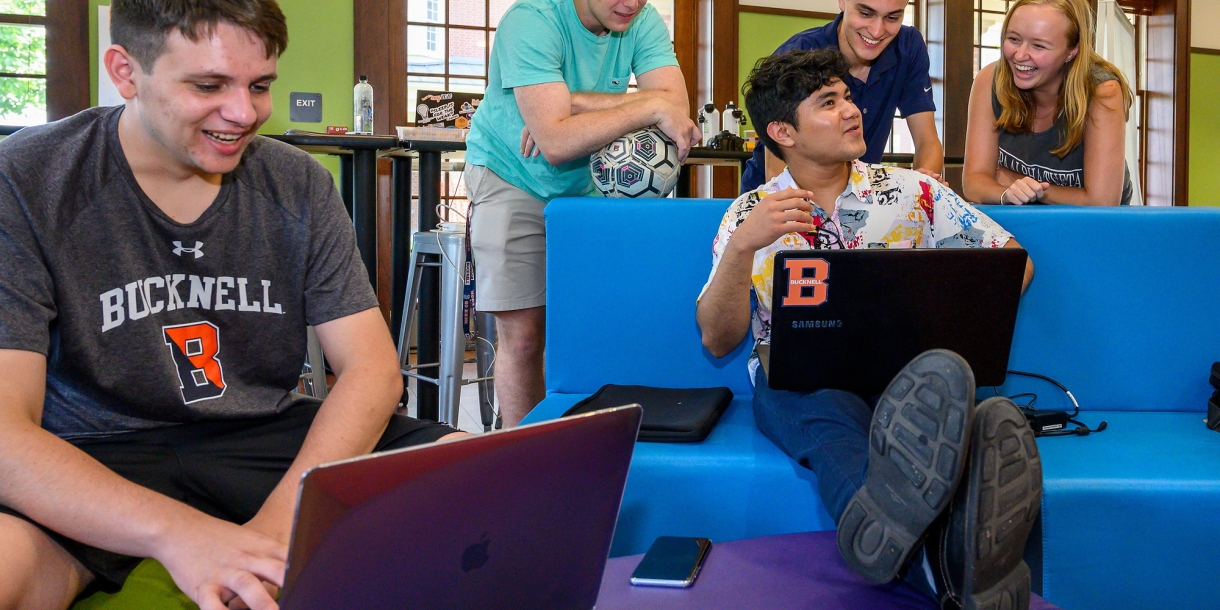 Get a jump-start on your Bucknell experience from your first day on campus. Discover the Residential Colleges, our signature academic program for first-year students, and quickly connect with people and resources that will help you get the most from every moment at the University.
Each of our themed living-learning communities offers the perfect opportunity to pursue your passion, deepen your knowledge, and get to know classmates and faculty who share your interest. Thousands of Bucknellians have enjoyed this tradition for nearly four decades — it's part of the reason Bucknell is ranked among the Top 10 Schools for Learning Communities by U.S. News & World Report.
In addition to unlocking exciting opportunities across campus, you'll also earn credit toward your degree.
What You'll Do
If you crave high-impact intellectual adventure that goes beyond textbooks, you'll thrive in the Residential Colleges, where you'll enjoy a fully engaged experience that explodes classroom boundaries with immersive learning.
As a member of a tight-knit community of students who share your interest, you'll live on the same hall and learn side-by-side in your common fall semester Foundation Seminar taught by faculty known as Senior Fellows. At the same time, you'll take your curiosity across campus and beyond to explore related topics through field trips, special events, research projects, "common hours" with faculty mentors, service projects, social activities and much more. Each college has Junior Fellows — older students who plan events and assist with programming. You'll gain instant introductions to people, programs and academic resources that will develop your leadership skills and accelerate your journey to success.
Whom They're For
Residential Colleges are open to all first-year students — it doesn't matter what you plan to major in. Whether you want to be an engineer, an artist, a business leader, a writer, a physician or anything else, you can sign up to join whichever Residential College interests you.
Diversity abounds, even within individual Residential Colleges, which brings interdisciplinary perspective to your experience. While you'll share a broad common interest such as social justice or technology, you'll meet classmates from across the country and around the world, with a wide variety of backgrounds.
For instance, recent Food College members include mechanical engineering and music education majors. You could meet a physics or management major in the Humanities College, find friends studying electrical engineering and chemistry in the Arts College, and connect with education and cell biology majors in the Languages & Cultures College.
Professors from different disciplines often collaborate in individual colleges, too — so you might find economics and computer science professors working together in the Society & Technology College, or biomedical engineers and psychologists teaming up in the Discovery College.
How to Sign Up
The program is part of your academic journey, so you sign up for a Residential College by selecting a Foundation Seminar when you register for your first-semester courses in May. Your housing assignment will follow, placing you with hallmates who'll accompany you throughout your first year — and form the beginning of lasting Bucknell friendships.

Residential College Options
Take a Closer Look at Housing and the Res Colleges