About Residential Colleges
If you're curious, motivated and eager to seize every opportunity in your college career, join a Residential College — a one-stop shop for getting the most out of Bucknell.
Why Join a Residential College?
Blend Life and Learning
The Residential Colleges program is based in academics, so you'll take a Foundation Seminar with students interested in the same topic as you — then take your learning further by living on a hall together. You'll explore your shared interest inside and outside of class, forge lasting friendships, and connect with professors and older students who'll become your mentors. You'll go on trips, serve your community and broaden your perspectives.
Think a focus on one theme sounds limiting? Think again. Students can sign up for any Residential College, regardless of their major, so you'll meet classmates with a variety of outlooks, experiences and plans for the future.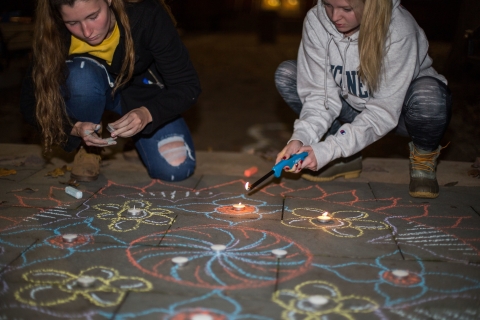 Venture Beyond Campus
Students in the Residential Colleges travel off campus to visit sites related to their coursework and discussions. Group trips might include taking in a museum, exhibit or performance in a nearby major city; exploring the region around Bucknell through outdoor excursions; or visiting historic sites such as the Gettysburg National Military Park.
Meet Mentors
Faculty members known as senior fellows lead each Residential College, guiding weekly common hour discussions, traveling off campus with students and joining students in informal conversations. "Junior fellows" who are Bucknell sophomores live on the Residential College halls with first-year students and help them plan activities and get to know campus. These early connections often form the foundation for lifelong friendships.
Connect with Campus Resources
There's a lot happening during your transition to college life, and the Residential Colleges can play a big part in ensuring the best possible experience. When you participate in a Res College, you'll be introduced to people, places and programs that can help you maximize your Bucknell experience from day one. You'll quickly connect with valuable resources and find out about opportunities in and out of the classroom.
These new connections will set you up to explore even further. Students in the Residential Colleges say they are more likely to:
Participate in service-learning opportunities
Perform undergraduate research
Take leadership positions on campus
Attend art exhibits and performances
Talk about ideas and career plans with faculty
Work with faculty on projects outside of coursework
Try to better understand someone else's views
How to Sign Up
You sign up for a Residential College when you register for fall semester courses in May. Select the Foundation Seminar associated with your choice of Residential College on your course registration form. Residential College courses are coded RESC.
Residential Colleges Staff
Meet the faculty and staff advisers who can answer your questions about the Residential Colleges.