This video does not contain audio
Freeman College of Management
At Bucknell's Kenneth W. Freeman College of Management, real learning comes from real experiences. Inside and outside the classroom, we empower our students to innovate and experiment by immersing them in the real business landscape of today. Our students explore their futures by going inside the New York Stock Exchange and Silicon Valley's leading tech firms, starting their own companies with Bucknell seed money, and managing a portion of the University's endowment valued in the millions. These experiences — and the powerful network they build along the way — are one reason our graduates are highly sought after by the world's leading companies.
About the College
Meet the innovative educators and researchers on our staff, learn more about how we push the boundaries of management education, and explore our commitment to training responsible leaders in a global economy.
Majors & Departments
Explore all five of our highly regarded, innovative management majors, which prepare students to succeed in the offices, trading floors and boardrooms of today and tomorrow.
Accounting
Business Analytics
Finance
Management & Organizations
Markets, Innovation & Design
Take a closer look at the management
Poets&Quants Undergraduate Business School Rankings
RANK FOR CAREER OUTCOMES:

22nd

RANK FOR ACADEMIC EXPERIENCE:

24th
RANK IN UNDERGRADUATE ADMISSIONS:
22nd
2023 OVERALL BUSINESS SCHOOL RANK:
19th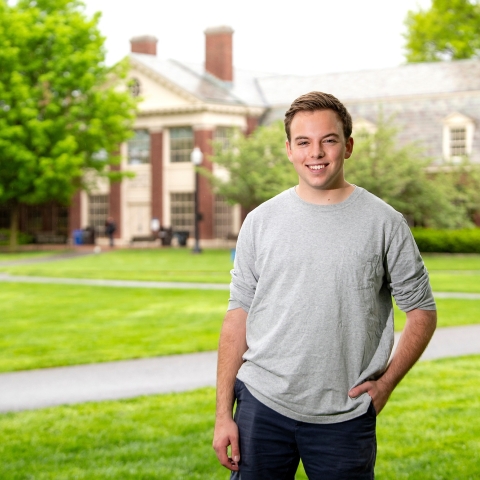 I didn't believe it when people said it could happen, but I knew at first sight that Bucknell was right for me. Following that feeling has been one of my greatest decisions so far.
Paul Danenberg '23, finance
Signature Management Programs
Management 101 empowers students to create and manage their own companies, with all profits invested in an accompanying service project. This popular, innovative course has been replicated by more than 20 colleges and universities around the world.
The Student Managed Investment Fund entrusts nearly $3 million of the University's endowment in the hands of juniors and seniors, offering an irreplaceable immersion in the real-world investment industry.
Go Beyond the Classroom

Experiential Learning

Explore Silicon Valley's culture of innovation at the headquarters the tech titans. Step onto the floor of the New York Stock Exchange. Find a mentor at one of the world's leading investment firms who's eager to guide your future. And meet the industry movers and shakers who'll come right here to talk to you. Our experiential learning programs will deepen what you learn in class and drive your desire to keep exploring.

Launch a Startup with Funding from Bucknell

BizPitch Competition

Bucknell's annual BizPitch Competition gives student entrepreneurs a chance to win seed money to launch their ventures. Students connect with advisers, tap into Bucknell's active entrepreneurship ecosystem, and secure membership in StartupLewisburg, Bucknell's home for innovators in downtown Lewisburg.
Contact Details
Freeman College of Management
Hours
08:30 a.m. - 04:30 p.m.