Alumni
Resources and Information for
We are Bucknellians.
We are a community of doers, of innovators and earth-shakers more than 54,000 strong.
We blaze diverse and diverging paths, but we're united by a shared identity and quiet confidence shaped at Bucknell — an understanding that what we do, matters.
In every corner of the globe, we are making change happen in our companies, communities and the world.
The Bucknell spirit lives in all of us.
The Bucknell University Alumni Association Board of Directors invites you to look back on your Bucknell experience, and consider making a gift to create opportunities for today's students and future generations of Bucknellians on their path to becoming the change-makers of tomorrow.
Thank you for passing along the pride, the hope and the promise of the Bucknellian spirit.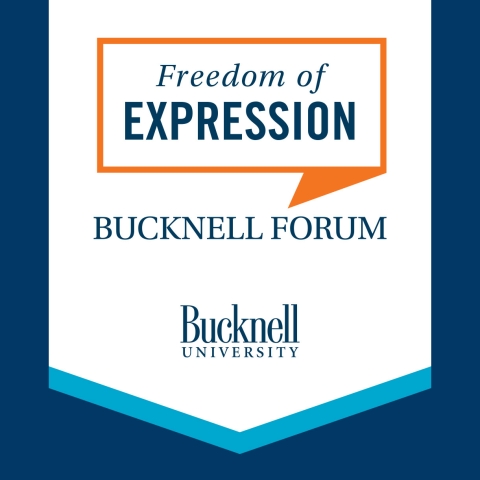 The Bucknell Forum
2023-24
The 2023-24 Bucknell Forum will discuss the theme "Freedom of Expression." The five Forum events will feature conversations between Bucknell President John Bravman and guests including Washington Post columnist George Will, novelist Jodi Picoult, and Academy Award-winning actor and activist Jane Fonda.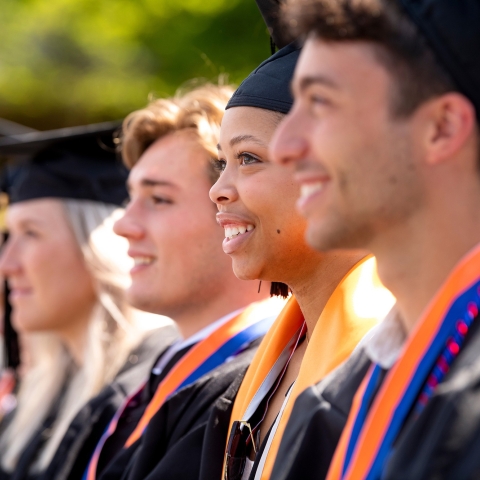 Bucknell's 173rd Commencement
CLASS OF 2023
Bucknell University's 173rd Commencement ceremony took place on Malesardi Quadrangle on Sunday, May 14, 2023. Relive the day and continue celebrating the graduates' accomplishments with photos, video highlights and the full ceremony livestream video. Congratulations, Class of 2023!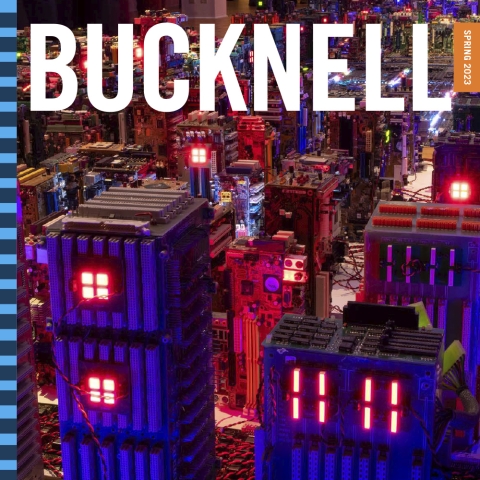 Bucknell Magazine
SPRING 2023
To be prosperous, sustainable and equitable, cities of the future will require social and technological innovation. In this issue, you'll meet Bucknell alumni who are identifying and conquering ultramodern urban challenges. Learn how Detroit's chief of infrastructure is reenvisioning transportation in the Motor City, why hyperlocal policies are the key to community prosperity and the ways infrastructure can hinder a city's most vulnerable residents.
Forever a Bucknellian
The Center for Alumni & Family Engagement
Reconnect with your alma mater and classmates, on campus and around the country, every month of the year. Learn more about how you can get involved with life after Bucknell. 
Join Your Local Herd
Join fellow Bucknell alumni and parents at events in your local area to celebrate all things Bucknell.
Advance Your Career
Our career assistance and advising doesn't stop at your first job — it's for life. Alumni Career Services offers advice and exclusive resources to help you search for jobs, build your network and plan your next move. 
Mod Memories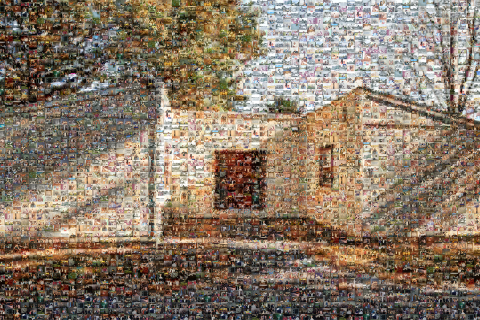 This winter, Bucknellians joined one another in reflecting on the unforgettable experiences and memories made across Route 15 in the Mods. Whether you said your farewells by sharing your memories, submitting a photo as part of the special compilation or participating in the building placard auction, we thank you for keeping the memories of Mods alive as we close one chapter and embark on an exciting new one! Don't forget — you can monitor daily progress on the construction of four new Bucknell West residence halls by viewing the live webcam.
Mods Project Webcam
Click the window above to begin viewing the live stream.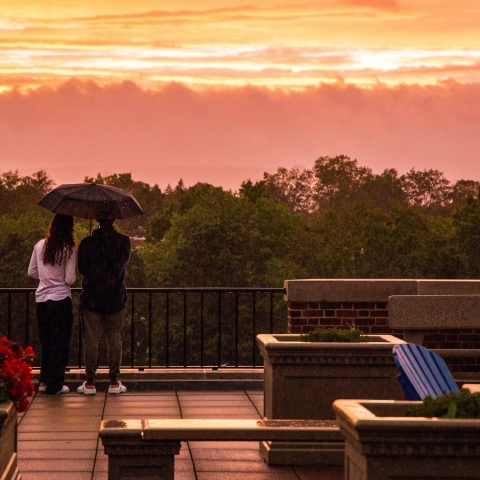 A Profound Impact
Support Bucknellians
The Bucknell experience is a life-changing journey — one that empowers exploration, encourages curiosity and prepares graduates for a life of meaning and impact. Your gift to Bucknell creates opportunities for today's students and future generations of Bucknellians on their path to becoming the change-makers of tomorrow.
Nominate a Bucknellian!
The Bucknell University Alumni Association (BUAA) is seeking nominations to join its board.
BUAA Board of Directors
The BUAA Board of Directors is a diverse group of passionate alumni who care about maintaining a strong bond between alumni, the University and its students. It seeks representatives from varying class years, backgrounds and geographic locations to ensure all our alumni communities are represented.
Alumni Stories
Bucknellians are all over the world, pursuing their passions and creating change in countless different ways, but they can all trace their steps back here. Learn about the trails they've blazed and how Bucknell has helped them throughout their journey.
2022-23 Bucknell University Report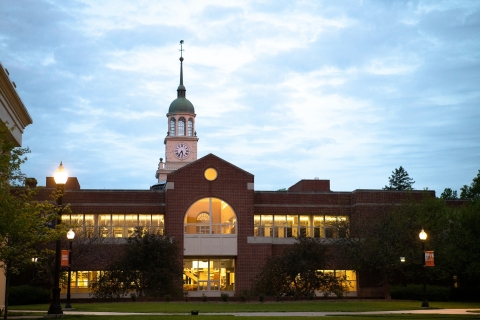 We Are Living Bucknell's Mission
Every day at Bucknell, we are working toward the fulfillment of The Plan for Bucknell 2025. The inaugural University Report details notable accomplishments and new programs driven by our strategic commitments, and provides evidence of progress toward the pursuit of our vision: To ensure a thriving, sustainable and inclusive future.
Contact Details
The Center for Alumni & Family Engagement
Location
Alumni House
90 University Avenue

Hours
8:00 a.m. – 4:00 p.m.