This video does not contain audio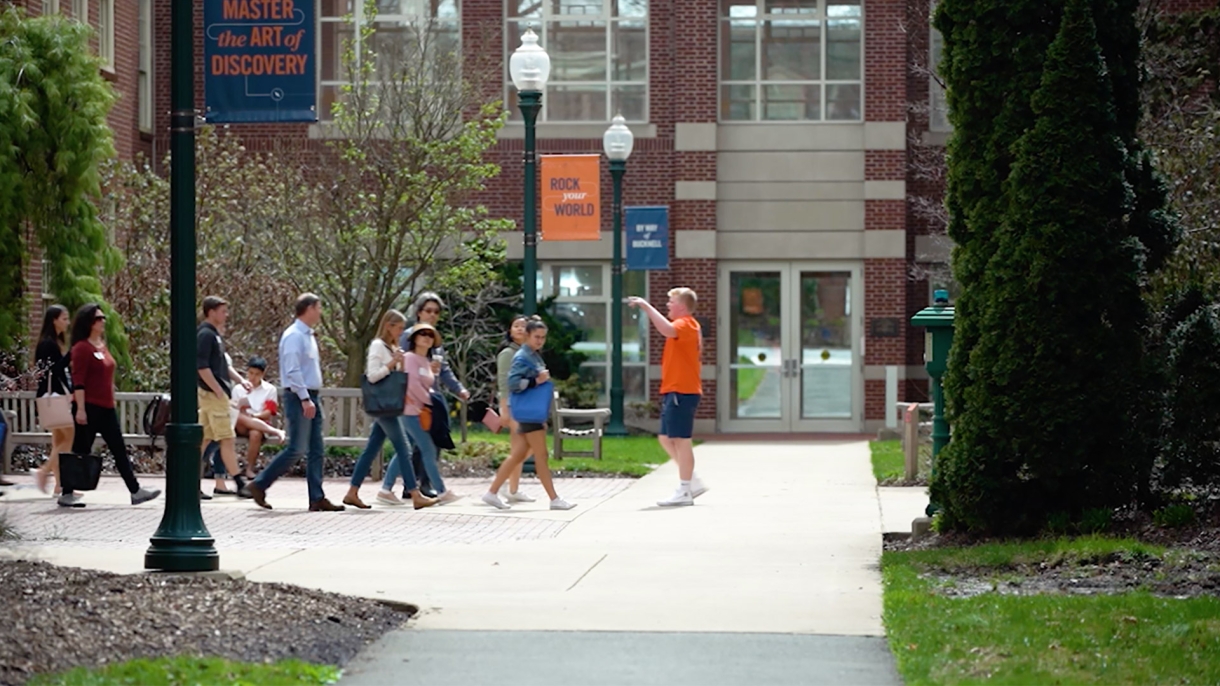 When you visit campus for a preview session and guided tour, chat with our student ambassadors, or experience an interactive virtual tour of campus, you'll have a front-row seat as you explore this place we call home.
This combination of in-person and virtual visit offerings means you can learn more about Bucknell in the way that fits you and your family best.
Find the visit experience that's right for you below. We hope to see you soon — either on campus or online.
In-person Visit Options
Your on-campus visit might include one or more of the following:
Preview Session
Kick off your visit with a short and sweet overview of what Bucknell has to offer.
Student-Led Campus Tour
Join our student ambassadors to explore some of our favorite spots on campus.
Engineering or Athletics Student-led Facilities Tour
Take a closer look at the facilities you may use as a student.
Open Houses
Tour state-of-the-art facilities, meet professors and students and get answers to your most pressing questions.
Self-guided Walking or Driving Tour
The tools to explore Bucknell on your schedule.
Group Visits
Groups of 15 or more high school students can request a campus visit. Requests should be made by registering for a date on the group visit calendar at least three weeks in advance of your requested visit date. Group visits are offered on Tuesdays and Thursdays at 11 a.m. or 1 p.m. and Wednesdays at 1 p.m. only. After submitting a request, a member of our team will reach out via email to confirm or clarify your request as needed.
School Counselors
School Counselors, College Counselors and Independent Counselors supporting high school students in the college application process are welcome to attend any of our in person visit options. To schedule your visit to Bucknell, please email admissions@bucknell.edu.
Virtual Options
Visit our Virtual Welcome Center to find our virtual tours, interactive campus maps, digital admissions materials and the Bucknell Virtual Experience.
What You'll Experience in Lewisburg
Contact Details
Office of Admissions
Hours
Monday – Friday:
08:30 a.m. - 04:30 p.m.