At Bucknell, we value the journey just as much as the destination. That's why understanding where graduates go after Bucknell begins with understanding how they got here.
Students from across the country — and around the world — arrive at Bucknell ready to innovate, explore and solve problems they didn't create.
While here, they make scientific breakthroughs, embrace new ideas and work shoulder to shoulder with our impressive faculty. The setting makes a difference, too. Bucknell offers the resources of a large university but in an intimate, highly personalized environment where students are free to live, learn and grow.
As it turns out, a Bucknell education doesn't just prepare students for the real world. It is the real world.
Class of 2022: secured opportunities within nine months of graduation*
Class of 2022: average starting salary
Bucknell's ranking among liberal arts colleges for alumni mid-career salary
Percentage of students who graduate within six years
*Reports being employed, in graduate school, both employed and in graduate school, preparing for graduate school or volunteering.
Prepared for a Career
Life doesn't happen in a straight line. That's why a Bucknell education equips students to follow the career path they choose — regardless of their major. Our interdisciplinary approach prepares graduates from all academic areas for a wide variety of industries.
Here's a sampling of where some members of Bucknell's Class of 2022 are working:
Accenture

AlphaSights

AT&T

Bank of America

BNY Mellon

Clark Construction

Deloitte

Epic

EY

Fast Enterprises

Goldman Sachs

Guidepoint
Johnson & Johnson

J.P. Morgan

KPMG

MITRE

Morgan Stanley

Oracle

PwC

RSM

UBS

Veeva

Whitting-Turner
Prepared for Further Education
Four years at Bucknell provides a powerful foundation for postgraduate work. Our graduates have earned advanced degrees from some of the nation's top medical schools, law schools and graduate schools.
You'll find Class of 2022 Bucknellians at these graduate schools (and many more):
Boston University

Carnegie Mellon University

Columbia University

Cornell Law School

Duke University

Harvard University

George Washington University, School of Medicine and Health Sciences

Johns Hopkins University

New York Film Academy

New York University

Penn State University

Penn State Dickinson Law
Stanford University

Trinity College Dublin

Tufts University

University of California Berkeley

University of Chicago

University of Michigan

University of Notre Dame

University of Pennsylvania

University of Texas at Austin

University of Virginia

Vanderbilt University

Virginia Tech

Wake Forest University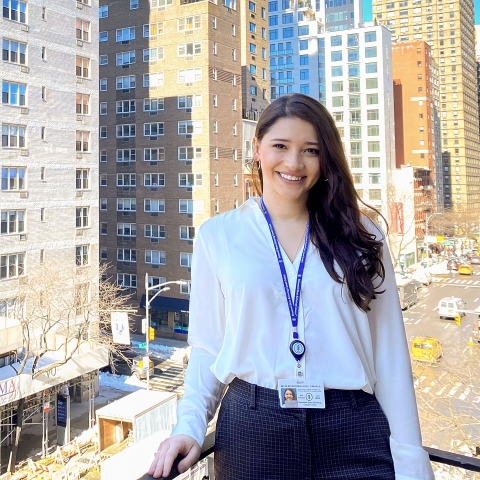 The Power of Bucknell Connections
HEALTH CARE
On her path to a career at Memorial Sloan Kettering Cancer Center in New York City, Gissell Botero Rodriguez '19 tapped into Bucknell's pre-health advising offerings and alumni network.
Prepared for Success
External Comparisons
In a 2020 survey, Bucknell seniors said their college experience gave them the skills and knowledge employers are looking for. That includes these areas:
Critical thinking
Complex problem solving
Written communications
Oral communications
Quantitative reasoning
Teamwork in diverse groups
External comparisons dashboard
What Alumni Say
In 2020, Bucknell alumni were surveyed about their first jobs after graduation. Respondents said, at an above-average rate, that their jobs were meaningful, well-paying and used skills they learned at Bucknell.
Financial Indicators
Students graduate from Bucknell with less student loan debt than average and are much less likely to default on their loans.
Prepared for Support
Around here, we like to say that you're Bucknellian for life.
Bucknell graduates join a supportive alumni network of more than 55,000 Bucknellians. These alumni live around the world and represent nearly every industry you can imagine. They're ready to help fellow Bucknellians succeed.
I didn't realize how many soft skills I had gained in college — from managing deadlines and balancing multiple projects to communicating my ideas clearly. I really felt confident stepping into a professional setting based on the things I learned at Bucknell.
Julia Carita '20, gallery assistant at Bridgette Mayer Gallery in Philadelphia