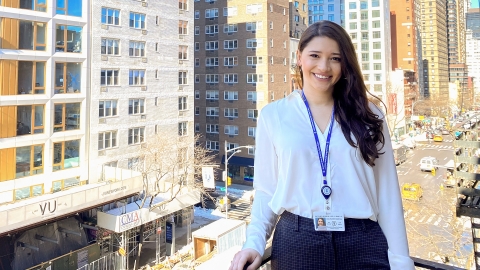 Gissell Botero Rodriguez '19, Neuroscience
February 5, 2021
I realized a significant part of my American dream at Bucknell: higher education. All the freedoms and opportunities that people dream about when they come to this country — I'm living every single ounce of that.
Before the sun rises every Thursday, a group of experts maps out a plan to save lives.
The goal of these 6 a.m. weekly meetings at Memorial Sloan Kettering Cancer Center in New York City is to use the combined brainpower of doctors, nurses and clinical researchers to develop the best treatment plan for cancer patients with the most complicated cases.
Clinical Research Coordinator Gissell Botero Rodriguez '19 has earned her way into that room.
With tenacious research skills, natural curiosity and tireless compassion, Rodriguez works on cancer studies funded predominantly by organizations like the National Cancer Institute. Some of her most noteworthy responsibilities involve educating patients on available research studies and assisting in the operating room during clinical-trial cases.
Sometimes the work also requires her to ask highly personal questions to people living with cancer, to assess their quality of life. It serves as a reminder that behind every staggering cancer statistic is a real person with hobbies, and a career, and loved ones.
Every clinical trial represents the opportunity for a patient to have a successful treatment. Every bit of grant-funded research brings Rodriguez and her colleagues one step closer to an effective cancer treatment that is unlikely to be generally available for years. The key is personalization, because two similar patients with the same form of cancer might respond differently to the same treatment.
"It's really compelling, in terms of the bare science, but it's also so personal," Rodriguez says.
While the dream of a cure seems closer than it once did, the patients need help now. That's the goal of those Thursday morning meetings: brainstorming solutions. During the pandemic, these meetings are now on Zoom and allow for more than 200 clinicians to collaborate on each case.
"There are so many people working together for one patient's chance at life," she says. "Just being part of a team that's so dedicated to individuals is incredible."
It Began at Bucknell
Rodriguez has seen this all-hands-on-deck approach to solving problems before. She went to Bucknell, where students and professors prove that success feels best when shared with others.
"At Bucknell, everybody wanted to support each other and help each other grow," she says. "I think that was a result of having smaller classes and closer relationships with your classmates and professors."
Rodriguez took full advantage of the pre-health advising resources offered by Bucknell's Center for Career Advancement. Advisers helped her build an academic plan that would give her the best shot at medical school while still allowing for the customization that's a signature part of the Bucknell experience. While many pre-health students major in biology, Rodriguez chose neuroscience — a major that better aligned with her interests.
But Rodriguez's preparation for a medical career wasn't limited to her neuroscience classes. Every Bucknell experience was preparing her for a career full of unexpected changes.
"Science is always evolving, and the field is always changing," Rodriguez says. "That's something the professors at Bucknell are really aware of."
Rodriguez says those professors made the material interesting, interactive and fun. These weren't facts to be memorized but experiences to be lived.
Take physics class. After she graduated from Bucknell, Rodriguez took a graduate course in physics in New York City. The class's format, involving textbook reading and practice questions, stood in stark contrast to her physics class at Bucknell.
"We got this big pack of toys at the beginning of the semester — catapults and balloons and light bulbs," she says. "It was really fun and hands-on — a holistic approach to learning that really helped me."
Helping People, Every Day
Rodriguez, who emigrated from Colombia when she was 12, says she never dreamed of going to college at a place like Bucknell or working at a leading cancer institution.
"My mom brought me to this country so I could get a higher education," she says. "I never assumed I would be going to an elite university like Bucknell."
Rodriguez worked hard throughout high school to get into Bucknell and continued that level of effort throughout her four years of college. As graduation approached, she contacted a Bucknell alum at Memorial Sloan Kettering through Bucknell's alumni app.
"I said, 'Hey, I know that you work for this institution, and I would love to know more about any opportunities there,' " Rodriguez says. "And she really helped me. She called me as soon as there was an opening, and not long after we found ourselves sitting in cubicles next to one another and working on projects together."
Rodriguez started the job just a few weeks after graduation. She quickly realized that the work she'd be doing at the Sloan Kettering Institute— including breaking down primary research literature — was a continuation of work she'd done at Bucknell.
"I was able to really dive into it and dissect it right away," Rodriguez says.
The other side of Rodriguez's job can be just as challenging and much harder to quantify. Her interactions with patients require tact — someone with enough compassion and grace to enter a room and ask personal questions to a young woman living with ovarian cancer.
It's difficult work, but it must be done. Lives depend on it.
"The most rewarding part is knowing that I'm part of a team that is actively looking for the best way to help someone," Rodriguez says. "I feel like my job is truly important."