Prospective Students
Resources and Information for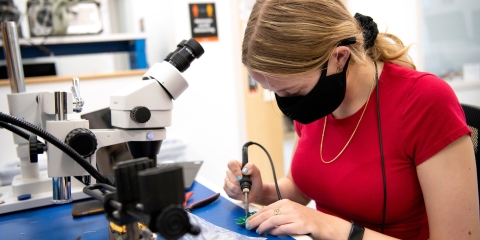 It probably started when you were a kid. 
You started questioning why things work the way they do. You began taking apart electronics to see if you could put them back together. You reshot your favorite movie scenes, performed kitchen science experiments or ran a business in your front yard.
In short, you stepped off the beaten path to find your own way. That journey of learning, and all the experiences and discoveries along the way, has been leading you to something great. At Bucknell University, we're ready to help you get there.
How to Apply
You'll apply to Bucknell using either the Coalition Application or the Common Application — it's your choice. 
Our application opened Aug. 1, and the first deadline (Early Decision I) is Nov. 15, 2020. We'll review each application personally, looking far deeper than test scores and GPA to find students who are engaged in the world around them and passionately in pursuit of their own distinct purpose.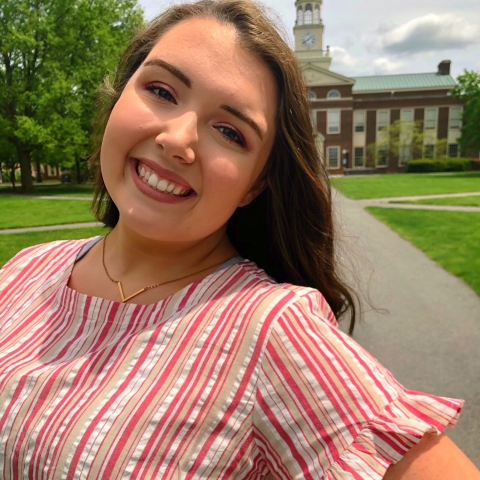 Get a Student's View of Life at Bucknell
Each week on @iamraybucknell, our student-run Instagram account, a different student takes over to give you an unfiltered look at life at Bucknell. This week, meet Lainey Lavelle '22, an early childhood education major from Scranton, Pa.
Expert Admissions Advice, Now in a Podcast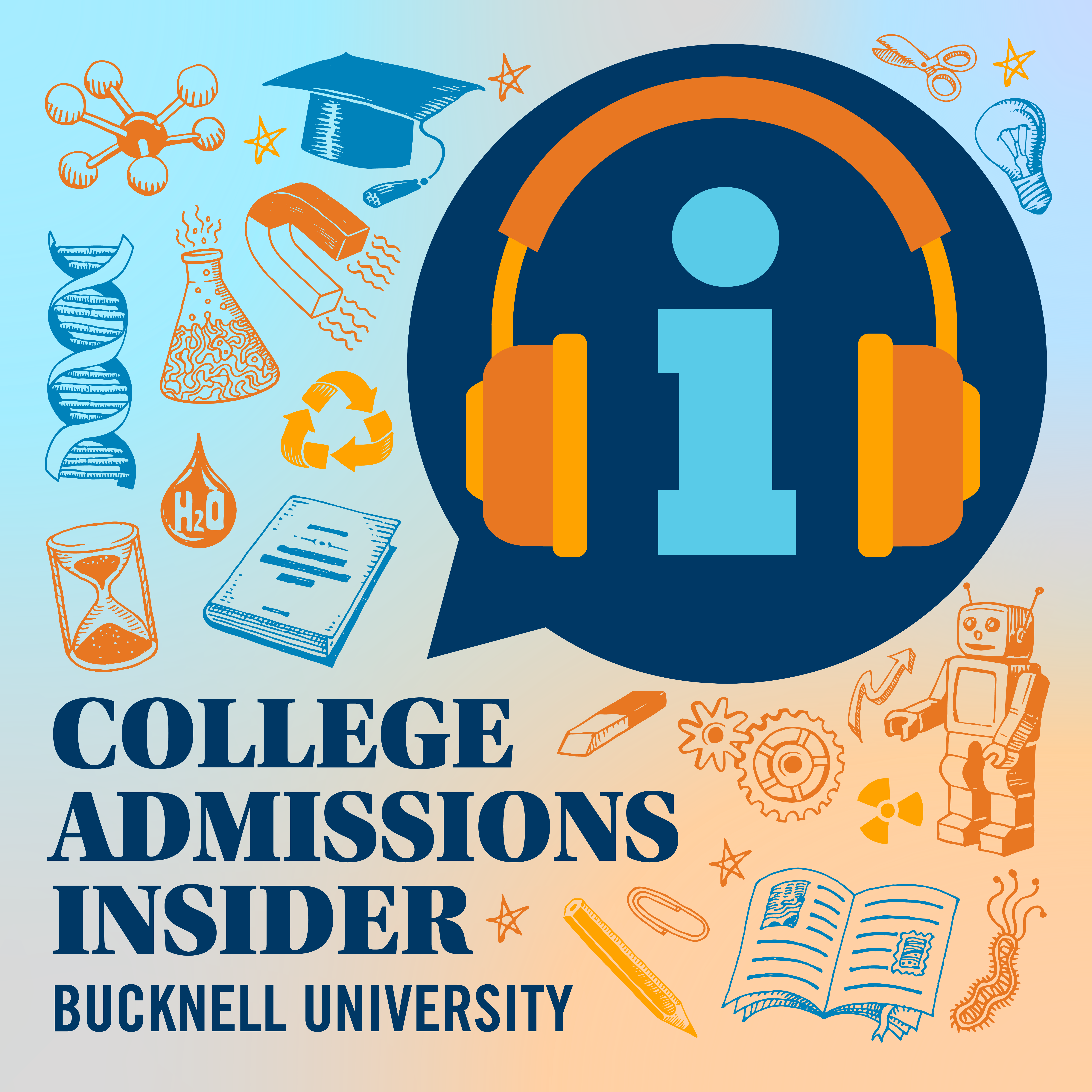 Listen to College Admissions Insider, the podcast that delivers helpful strategies for each stage of your college search. Guests include experts in Bucknell's Office of Admissions, but the advice is designed for students interested in any school. New episodes drop every two weeks. Available everywhere you listen to podcasts.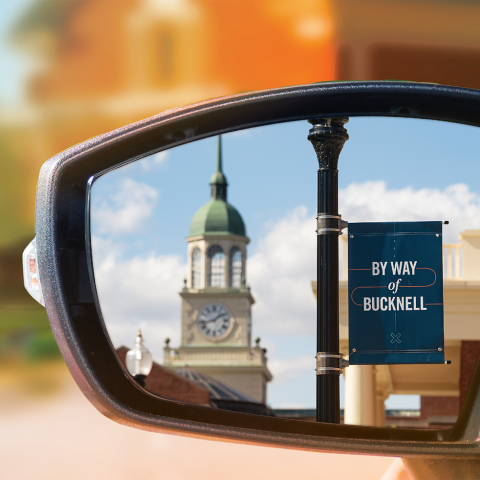 Take Our Driving Tour
Explore Bucknell's campus from the comfort of your vehicle. In our Admissions Driving Tour, listen along as a Bucknell student shows you the places and experiences that make Bucknell unique.
Visit Options: In-person and Virtual
We have two options for families wanting to visit Bucknell: in-person information sessions followed by a guided tour and virtual visits.
In-person Information Sessions and Guided Tours 
Oct. 5 to Nov. 10: Mondays, Tuesdays and Fridays at 9:30 a.m. and 1:15 p.m.
Due to an increase in positive COVID-19 cases on campus, we have made the difficult but necessary decision to cancel campus visits from Monday, October 26 through Friday, October 30. This will allow us to mitigate the spread on campus as well as protect your and your family's health. Please check our website for virtual programming this week.
Pre-registration is required. To register and learn more about preparing for your in-person visit, click the link below.
Standalone Campus Tours (With No Information Session)
Oct. 10 to Nov. 14: Saturdays at 9 a.m. and 11 a.m. Note: There will be no on-campus events on Oct. 31 (On this date, please consider joining one of our virtual events outlined below.)
Additional dates: 

Oct. 12 at 11 a.m., 1 p.m. and 3 p.m.
Nov. 17 at 10:15 a.m. and 2 p.m.
Nov. 19 at 10:15 a.m. and 2 p.m.
On-Campus Information Sessions (Followed by Optional Driving or Self-Guided Tour)
Nov. 30 to Dec. 11: Mondays and Fridays at 9:30 a.m. and 1:15 p.m.
By registering for an in-person event, you and your accompanying guests agree to abide by Bucknell's current in-person visit requirements. In accordance with orders made by the Pennsylvania Department of Health, visitors who have traveled to or from states listed here will not be allowed to visit unless they quarantine for the recommended two weeks before visiting campus.
Virtual Visits
We continue to offer virtual information sessions, hosted by an admissions counselor and current student(s) as well as virtual student ambassador chats and virtual student ambassador tours hosted by current students.
Learn more and schedule your visit using the link below.
Bucknell at a Glance
Faculty:

360+

Average class size:

20

Worldwide Alumni:

54,000

Academic Majors:

65
Student-faculty ratio:
9:1
Classes taught by faculty:
100%
Coronavirus and Your Academic Record
Bucknell understands that a student's educational opportunities have been disrupted by COVID-19. We want prospective students to know they won't be at a disadvantage because of how their high school chose to finish the spring 2020 semester. We've adjusted our admissions policies in the following ways:
Expanding our test-optional policy for the 2020-21 application cycle to include home school, international and athletic applicants.
Accepting the Duolingo English Test for international students for whom English is not the first language or whose primary language of instruction for at least three years of secondary school was not English.
Accepting AP Scores from the spring 2020 examinations.
Understanding that high schools across the globe handled the pandemic differently. This may include various methods of instruction, grading and alterations to school calendars. The Admissions Office understands this and will continue to evaluate each student in the context of their high school. No student will be at a disadvantage for how their school decided to continue their education.
Understanding that spring extracurricular opportunities were cancelled. Further, we understand that summer opportunities were largely cancelled or greatly altered given how each community considered how to handle the pandemic. Students will not be penalized or disadvantaged for their extracurricular activities being different than what they were before the pandemic.
Understanding that, given all of the uncertainty surrounding the pandemic, it is okay to focus on your mental health, your family and the things that bring you joy. 
When I was applying to college, I was really looking for a school where you have the opportunity to try a little bit of everything. What's amazing about Bucknell is how many students adopt this mindset. So many of my friends are musicians, dancers and/or athletes — and they're amazing scholars as well!
Ryan Bailis '21, computer engineering and management
Office of Admissions
Hours
Monday – Friday:
8:30 a.m. – 4:30 p.m.