Scholarship Programs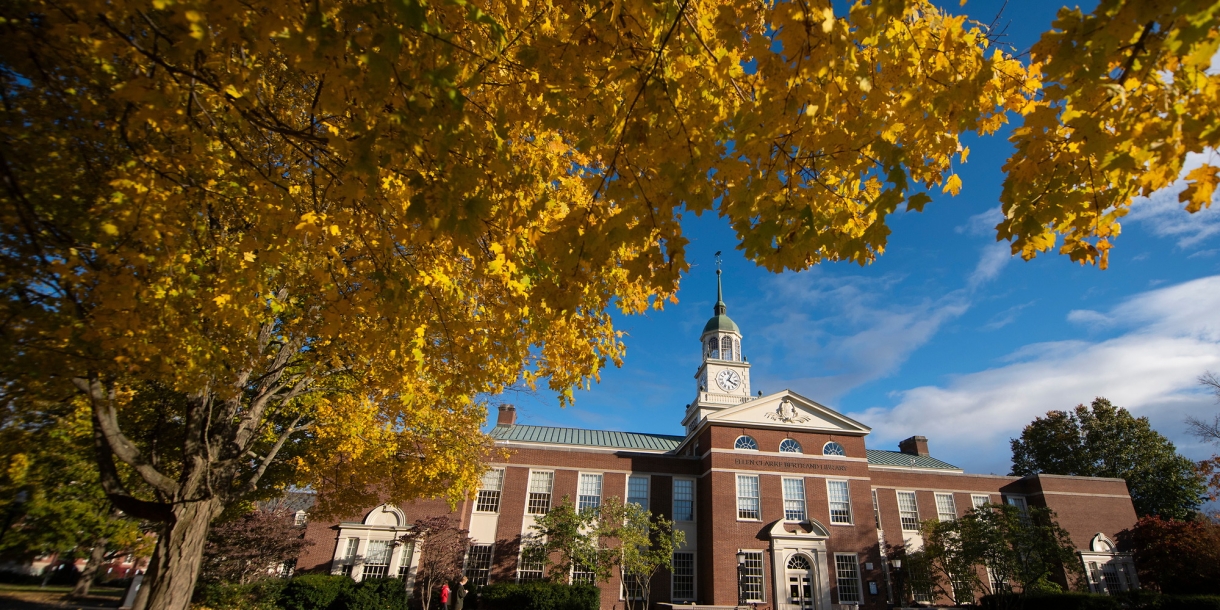 Bucknell University's merit awarding process is comprehensive, holistic and extremely competitive. We're looking for students who have extraordinary academic records and show promise that their talents will enrich our highly personal, transformative learning environment. 
Merit scholarships are awarded at the time of admission and are only available for incoming first-year students. They are renewable for a maximum of eight fall/spring semesters as long as students continue to meet the requirements of each program. We are not able to award multiple academic scholarships to students. Most funding is awarded to students who have demonstrated institutional need as determined by Bucknell's Office of Financial Aid, but a limited amount will also be awarded to those who do not have financial need or do not apply for aid. 
To be considered for one of the following merit scholarships, please read the description(s) below to ensure you meet the criteria prior to applying.
Bucknell Scholarship Deadlines
Scholarship applications open each fall. Your scholarship application deadline is dependent on your application round:
Early Decision I: Nov. 15
Early Decision II: Jan. 15
Regular Decision: Jan. 15
Scholarship recipients will generally receive notifications along with their admissions decisions. Early decision recipients of Arts Merit will be notified in late March.
Available Scholarships
Arts Merit Scholarships
Annual award to selected first-year students (awards range from $2,500 to $20,000) who plan to pursue studies in art & art history, creative writing, dance, film/media studies, literary studies, music (major or non-major) or theatre (performance or design and technology).
Learn more about Arts Merit Scholarships
Bauer Scholars Program
Need-based scholarships to highly qualified students from the Baltimore City School District.
Learn more about the Bauer Scholars Program
Bucknell Women in Science and Engineering Scholarships
$20,000 per year to high-achieving women applicants who plan to major in select science or engineering fields.
Learn more about Women in Sciences and Engineering Scholarships
Bucknell Community College Scholars Program
Financial aid and support for high-achieving, low- to moderate-income community college students who want to take their education beyond an associate's degree.
Learn more about Bucknell's Community College Scholars Program
Community Engagement Scholars Program
$20,000 annually to students who have distinguished themselves as public-service leaders in their home communities, and who show promise to contribute to the University's strong service culture during their academic careers.
Learn more about our Community Engagement Scholars Program
Dean's Scholarships
$15,000 (beginning with students admitted into the class of 2024, for the fall 2020 semester) annually to prospective students with outstanding academic profiles highlighting a very rigorous curriculum, superior grades, and a commitment to school and civic engagement. 
Learn more about Dean's Scholarships
Mathematics Scholars Program
$15,000 annually to applicants majoring in mathematics who demonstrate superior academic performance.
Learn more about Bucknell's Mathematics Scholars Program
Posse Program
A partnership with the Posse Foundation, a college access and leadership program, to bring exceptional student leaders and scholars to our campus community.
Presidential Fellowships
$30,000 annually, plus a research stipend of up to $1,800, for our most highly qualified applicants to the incoming class.
Learn more about our Presidential Fellowships
PricewaterhouseCoopers (PwC) Scholarships
$20,000 annually for outstanding accounting or business analytics applicants.
Learn more about PwC Scholarships
ROTC Scholarships
Two-, three- or four-year Army ROTC Scholarships in exchange for students' commitment to the program and commissioning as an officer in the U.S. Army, Army Reserves or National Guard. Recipients may also receive room and board as well as stipends for books and other expenses.