Recreation Services
Wellness & Group Fitness Programs
Recreation Services strives to educate the Bucknell community in establishing and leading healthier lifestyles. We offer a variety of recreation- and fitness-based programming, including aquatic programming, indoor climbing, club and club varsity sports, equipment rentals, fitness equipment orientations, fitness consultations, group fitness classes, intramurals, and wellness programs.
Download the Bison Rec app for the latest events, schedules, programming updates and more.
Wellness & Group Fitness Programs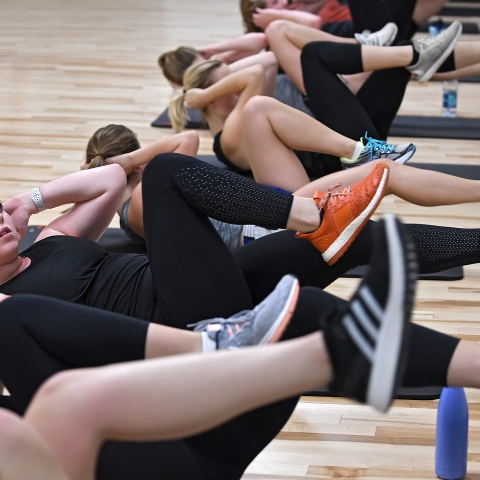 Find a Group Fitness Class Today
Recreation Services offers fun, challenging and safe group fitness programs for all members of the campus community, nearly every day of the year.
Equipment Rentals
Bucknell ID holders can borrow sports equipment from the front desk of the Kenneth Langone Athletics & Recreation Center (KLARC).
Download the Equipment Signout sheet
Go for a Run Around Campus
With a pedestrian-friendly downtown and easy access to a 9-mile rail trail, Lewisburg is an excellent place for runners. We recommend several routes around campus in this printable runners' guide.
Tee Off on Campus
Bucknell's on-campus disc golf course features tricky tree shots in the historic Grove and long, wide fairway drives in front of Sojka Pavilion. Bucknell ID holders can borrow discs free of charge from the KLARC equipment desk. Download the course map and scorecard below to play a round today.