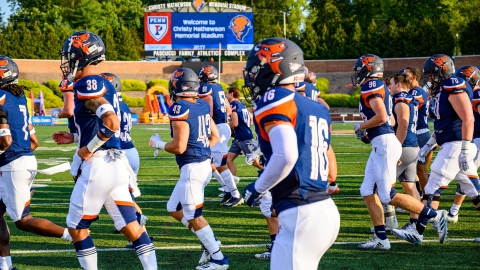 Guide to Playing Sports in College
October 16, 2021
The thrill of victory, the agony of defeat — and a group of awesome people with whom you can share your athletic glory.
For anyone interested in playing sports, college is the ultimate place to unleash your competitive spirit. Later in life, you'll look back and realize those four years offered you unrivaled access to the best selection of sports options, finest teammates and most impressive athletics venues.
The term "college sports" can encompass a range of options, including intramurals, club sports and NCAA intercollegiate sports.
Let's go over the differences between the three types of sports and share some insights into what steps an aspiring student-athlete should take in high school to best prepare themselves to play sports in college.
It's worth emphasizing, for example, that student-athletes who want to compete in NCAA sports should register with the NCAA during their first year of high school. By doing so, they'll ensure that they'll take the necessary 16 core courses required to qualify as an NCAA student-athlete.
The NCAA also wants to see a student-athlete's GPA and SAT/ACT scores to ensure that they meet the minimums to become a "full qualifier," which means a student-athlete who can practice, compete and receive an athletics scholarship.
What Are Intramural Sports?
Intramural sports are informal or semi-organized contests with a group of friends.
Most universities, even those without a robust NCAA athletics program, will have intramural leagues where you can gather a group of friends to compete in a range of sports — including mainstays like volleyball, basketball and flag football and also more obscure sports like dodgeball, ultimate Frisbee and Quidditch.
Champions are crowned in intramural leagues, and some schools even make special T-shirts that winners can wear with pride around campus. But the focus is always on friendly competition among classmates paired with a time commitment that allows participants to be involved in several other pursuits on campus.
What Are Club Sports?
Club sports challenge you to compete against other schools — often those within a reasonable drive of your campus.
One advantage of club sports is that they let you compete at a high level — perhaps continuing a sport you enjoyed in high school — without the rigorous academic requirements or hefty time commitment of NCAA athletics.
That said, the competition is still fierce, and you'll be expected to try out to land a spot on the team. Unlike with a collegiate sport, in a club sport, you'll typically be expected to pay your own way. That means you could owe hundreds of dollars each season for uniforms, equipment and travel expenses.
About 2 million student-athletes compete in club sports — flexing their competitive muscles in everything from archery to wrestling.
What Are Intercollegiate Sports?
Intercollegiate sports are those sports played at the collegiate level for which participation eligibility is established by a national association for the promotion or regulation of college athletics, such as the National Collegiate Athletic Association, or NCAA.
The material below is specific to the NCAA, but it's important to remember that there are other national associations for intercollegiate sports, including the National Association of Intercollegiate Athletics (NAIA) and National Junior College Athletic Association (NJCAA). The NAIA and NJCAA have their own eligibility requirements, so check their websites for details about being a student athlete at one of their member institutions.
NCAA sports are divided into three divisions, Division I (which includes all of Bucknell's 27 NCAA teams), Division II and Division III. The NCAA created its three divisions in 1973 to "align like-minded campuses in the areas of philosophy, competition and opportunity."
Division I
Percentage of schools in Division I: 32%
Median undergraduate enrollment at Division I schools: 8,960
Students who are athletes: 1 in 23
Minimum GPA: 2.3
Worth noting: This class includes larger schools with the best-known athletics programs. Division I teams are the most prestigious, best-funded and offer the most scholarships for student-athletes. When you compete in NCAA Division I sports, you can expect to have at least some of your games broadcast on TV or streamed online. A small percentage of the best Division I student-athletes even go on to high-paying pro sports careers.
Division II
Percentage of schools in Division II: 28%
Median undergraduate enrollment at Division II schools: 2,428
Students who are athletes: 1 in 10
Minimum GPA: 2.2
Worth noting: Schools in this division offer some scholarships, though many are partial scholarships instead of full athletic scholarships. Division II schools have fewer sports teams and less money devoted to athletics. While Division I schools occasionally travel across the country for competition, Division II schools have more regional travel.
Division III
Percentage of schools in Division III: 40%
Median undergraduate enrollment at Division III schools: 1,740
Students who are athletes: 1 in 6
Minimum GPA: Not set by NCAA, meaning students must meet minimum requirements set by the school
Worth noting: Division III is the largest NCAA division. Division III schools do not offer athletics scholarships, though many student-athletes at these schools apply for merit or need-based aid directly through the school. Generally speaking, Division III athletics teams have shorter seasons and a smaller travel radius than Division I or Division II schools.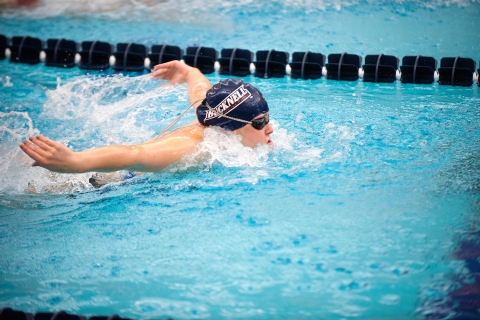 How Do I Decide if Playing Intercollegiate Sports Is Right For Me?
Even student-athletes who excelled in high school sports or on a private club team should take time to consider their involvement in intercollegiate sports. Participating in NCAA athletics is a big commitment that will reshape what your time in college will look like.
The benefits of playing sports in college are immense, including:
Continuing to play the sport you love against high-level competition
Learning time management and developing leadership skills
Staying in peak physical condition — with the help of professional trainers and coaches
Traveling to other schools, cities and even countries
Serving as an ambassador for your school
Making friends who share your interests and passions, a camaraderie that will last well beyond your playing days
The potential to receive an athletic scholarship
Those benefits come with trade-offs. As you assess your desire to play sports in college, you'll want to ask yourself questions like:
Will I be able to balance my academics, athletics (games, practice and travel) and social life?
Am I willing to work directly with my professors, on my own time, to make up work I missed while traveling for competition?
Am I willing to prioritize sleep over other activities to ensure I am ready for early practices or evening games?
Will I be satisfied missing out on social activities or relaxing at my residence hall because of games or practices on evenings or weekends?
Am I happy with the amount of playing time I'll get on the team, or would I be happier with a smaller commitment that may allow for more playing time in games, like a club or intramural team?
What Should I Do Now to Start Preparing to Compete in an NCAA Sport?
If you have the talent, motivation and passion for competing at the highest level of collegiate sports, you'll want to start preparing as soon as possible.
Yes, that means continuing to improve your skills on the field, court, track or in the pool. But it also means ensuring that your academic résumé is just as impressive as your athletic one.
Remember, there's a reason the NCAA calls them "student-athletes" and not "athlete-students." Your grades will need to be as impressive as your highlight reel.
To start, your GPA and test scores will need to meet or exceed the minimums set by the NCAA on its "sliding scale," available here. The sliding scale balances your test score with your GPA, meaning that if you have a lower test score, you'll need a higher GPA to balance it out — or vice-versa.
Just meeting the minimums doesn't guarantee your admission to any NCAA Division I or NCAA Division II school, of course. (NCAA Division III schools set their own admissions standards.) Academically rigorous schools like Bucknell will have higher GPA expectations. To compete at one of these schools, you'll need to be admitted as both a student and an athlete.
(COVID note: For info on how the pandemic has affected NCAA eligibility, go here.)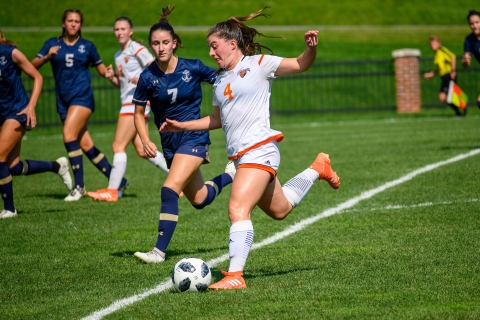 Here's a look at what you can do each year to get prepared to meet the academic qualifications required of NCAA athletes.
Ninth grade:
Find your high school on this NCAA page to see a list of NCAA-approved core courses
Create an account at the NCAA Eligibility Center if you want to play sports at a Division I or Division II school
Take the right courses and earn the best grades you can
10th grade:
Connect with your counselor to make sure you're taking the right courses and earning the grades you need
Monitor your NCAA Eligibility Center account for next steps
At the end of the year, ask your school to upload your official transcript to your NCAA Eligibility Center account
Take the right courses and earn the best grades you can
11th grade:
Check with your counselor to make sure you're taking the right courses and on track to graduate on time
Take the SAT and/or ACT, and submit your scores to the NCAA Eligibility Center using the code 9999 (Note: Many schools that are test optional, like Bucknell, still require student-athletes to take the SAT and/or ACT. You'll want to confirm with the school before taking your exam.)
Make sure your sports participation details are correct in your NCAA Eligibility Center account
At the end of the year, ask your school to upload your official transcript to your NCAA Eligibility Center account
Take the right courses and earn the best grades you can
12th grade:
Complete your NCAA-approved core courses, earning the best grades you can
If you wish, take the SAT and/or ACT again, and submit your scores to the NCAA Eligibility Center using the code 9999
Log in to your NCAA Eligibility Center account and request your final amateurism certification, beginning April 1 for fall enrollees or Oct. 1 for winter/spring enrollees
After graduation, ask your school to upload your official transcript to your NCAA Eligibility Center account
Best of luck as you continue your career as a high school student-athlete. By practicing hard, competing at a high level and excelling academically, you'll find yourself under the bright lights of college very soon.