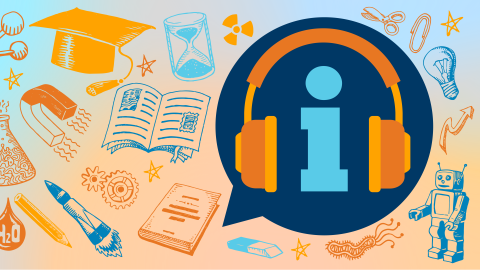 Episode 15: The Role of Social Media When Looking at Colleges
April 26, 2021
---
Today's high school students don't just rely on websites and viewbooks. They turn to social media to help them get a complete picture of life at a particular college.
At some schools, the reverse happens, too. Some colleges and universities (not Bucknell) actually look at an applicant's social media to give them a fuller picture of the prospective student.
In this episode of College Admissions Insider, Becca Haupt, the Senior Assistant Director of Admissions at Bucknell University, delivers a deep dive into the world of social media.
Becca and the hosts discuss:
What prospective students and their families should be looking for when examining a school's social channels
How to go beyond the school's official channels to see what people are "unofficially" saying about a school
What high school students should do if they're applying to a school that reviews applicants' accounts
How to keep a healthy outlook about college applications when looking at other people's posts
If you have a question, comment or idea for a future episode, email podcast@bucknell.edu.
Episode 15 Transcript
[00:00:06] BW: Welcome back to another edition of College Admissions Insider, the podcast where we explore timely and relevant topics related to your college search journey. I'm Bryan Wendell from Bucknell University.

[00:00:17] BT: And I'm Brooke Thames, also from Bucknell University. In each episode, we try to give you useful nuggets of information to help you build your college search list, narrow down your finalists and put together a successful college application.

[00:00:29] BW: Speaking of building that college list, Brooke, we know that today's high school students don't just rely on websites and viewbooks. They turn to social media to help them get a complete picture of life at a particular college.

[00:00:42] BT: Right. At some schools, the reverse happens too. Some colleges and universities will actually look at an applicant's social media to give them a fuller picture of who that prospective student might be.

[00:00:52] BW: It's a really fascinating topic, and we've got someone here to help us break it all down. That's Becca Haupt, the senior assistant director of admissions at Bucknell University. Becca you may remember if you're a longtime listener. It was actually on our very first episode of College Admissions Insider where we discussed how you can choose a college, even if you aren't able to visit that college. We've asked her back today to talk about all things social media.

Hey, Becca. Welcome back to the podcast.

[00:01:17] BH: Awesome. Thanks, Bryan. Thanks, Brooke. Thanks for having me.

[00:01:21] BT: Yeah, for sure. As Bryan mentioned, it seems like social media has become just as important as things like viewbooks and websites when it comes to exploring colleges. But what exactly should students and families be looking for when they're examining all of these socials that a school or university might have?

[00:01:35] BH: Yeah. That's a great question, Brooke. I think it definitely plays a role now more than ever. While websites and viewbooks are packed with data and fast facts and statistics about a particular college or university, social media can sometimes do a better job conveying the vibe, or the personality, or even the aesthetic of a campus and its community. In COVID times or post-COVID times, if we ever get there, I think social media will continue to play a role for those who aren't able to make it physically onto campus.

[00:02:05] BW: That's a great point. So there's obviously a ton of social media channels out there, and most schools are going to offer many of them. They want to try to reach students on as many different platforms as they can. But as a student, do you need to go through and look at all those different accounts, or are you okay just sticking with the ones you actually use? If you're just on Instagram, do you need to hop on Twitter or Facebook to see what the school is saying? What's your recommendation there?

[00:02:32] BH: Yeah. That's a great question too. Each social media platform serves a different purpose. So even if you're more comfortable on YouTube or Instagram, the information you might be looking for might be better housed on something like Facebook or Twitter.

Generally speaking, Facebook and Twitter are places where campuses often post articles, links to campus news. Somewhere like Reddit is a great place to ask current students their opinion and how they're enjoying their student experience. Bucknell has a great YouTube channel, which actually has great footage of campus, interviews with faculty, staff, current students and lots of other great resources there too. Then Instagram's really just for photos, so browsing pictures of campus, pictures of what the students look like and how they're spending their time to, again, let you see what the day in the life of a Bucknell student would look like.

[00:03:22] BT: Yeah. You mentioned Reddit there as possibly a way to get in touch with current students and get a more unfiltered view of college life. While colleges and universities, of course, have these official channels on Facebook, or Instagram, or Twitter, how can students get that unfiltered view of what people are saying on social media on all of these different platforms?

[00:03:41] BH: Yeah, sure. There's two main ways to do this when I think about it. The first is using hashtags. You can look at what a college or university is posting, even on their official platform. Then click on those hashtags to see who else is using them. For example, if you look up #Bucknell2025, you'll probably find students who have been admitted to Bucknell's class of 2025 posting about their experience being an admitted high school senior. But if you were to look up #2024 or an earlier class here, you might see students who have already gone through the process. You might see pictures from students at orientation or who are already on campus. Or look up that group's senior class year. You might also use hashtags related to the school's mascot, to the school's colors. Anything else that you're seeing posted related to the university you can always look up in the form of a hashtag and see who might be using it.

The second thing that you might want to do is use geofilters. Whatever school or university you're looking at is located in a particular city and state. On pages like Instagram and on Facebook too, you can actually tag a picture or a post with a particular location. That means you can look up Lewisburg, Penn., and see what pictures have been posted there. You'll not only see members of the Bucknell community, faculty, students and staff. But you'll also see community members, local businesses, downtown restaurants and the larger community which the university is situated in. Geofilters are another great option to use in addition to hashtags to kind of see what maybe is beyond the university's official channels.

[00:05:12] BW: That's great. I love the idea about geofilters because you're not just choosing a school, you're also kind of choosing a new hometown for four years. So being able to see some of those real authentic photos is really important.

Kind of building off that, what about if you have questions about what you're seeing or anything else about the school? It seems to me that there's a real unofficial and official approach you could take there as well. You could take the official route and contact the school directly by email or on social media. Or you could go unofficial and find a student or an alum on social media and ask them your question. What do you recommend there? Is there is a best practice?

[00:05:50] BH: Sure. Definitely, stick to the official channels for the important questions like dates, deadlines, elements of your college application. I would hate for you to miss a deadline because you direct messaged an alumni about the application deadline rather than contacting your admissions counselor. At Bucknell, that's admissions@bucknell.edu. Or you can also find your admissions counselor, who often will read the application for your geographic territory. They're a great person to get in touch with too with any of those official questions.

But general questions about student life, just like on Reddit where you can maybe meet or connect with other students, you can also find them on other social media platforms too. Bucknell also has an Instagram account. I would say it's a blurred line between official and unofficial. It's called @iamraybucknell, and I'm sure we'll put it in the show notes for you too so that you can find it there. But its current students take over the channel every single week, so they'll give you a glimpse of what it looks like to be a student on our campus for the week. They often ask students or prospective students to ask any questions. So that's a great place to send a direct message to get a student opinion on where's the best place to eat downtown, what's your favorite thing to eat on campus, what are your favorite professors and what are the weekends like on campus. Those are questions that you can definitely ask current students or even alumni. Even parents of current students like to engage with parents of prospective students too.

[00:07:14] BT: Yeah. Becca, I'm interested in talking about the reverse situation of this as well where school is looking at an applicant's social media to get a better sense of who they are and the student that they'll be admitting. Do schools like Bucknell try to find applicants' social media accounts to see the kinds of things that they're posting?

[00:07:30] BH: Oh my gosh. Good question, but that is not part of our process here at Bucknell. We take a really long time to read our applications and give them a really holistic review. I have found myself scrolling on social media for far too long, and I have to imagine if we were to look at every single applicant's social media, we would spend a whole lot of time doing that. Can you imagine how awkward it would be if we accidentally liked an old picture while we were scrolling through? That would probably be embarrassing for both the admissions counselor and for the student.

While it's not part of our practice, if a social media post is brought to our attention that is concerning or does raise some red flags, it is something that we'll look into. If, for example, your teacher at school or your school principal were to catch wind of something that happened on social media and it were to be sent our way, we've certainly followed up with students who had some type of disciplinary violation at school, and it has impacted their college decision. So it's definitely something you want to be mindful of but ultimately not a part of our application review process.

[00:08:27] BW: As a follow-up to that, even if schools like Bucknell aren't going to track you down on social media, is it still a good idea for students to kind of sweep through their old posts and scroll back through everything and maybe even delete those that don't represent who they are now and today?

[00:08:45] BH: Yeah. Regardless of whether you're applying to colleges this year, a social media audit is always a good idea. You really get to make choices about what your digital fingerprint or digital blueprint looks like and how you show up in the digital world. That gives you a lot of control to post things that reflect you as your very best self, or post some things that you might not want future employers or future peers to see. So always a good practice to just make sure that you feel really good about what you're putting out there.

[00:09:14] BT: Yeah. It's always good to make sure you're taking stock of what you have posted and are posting in those feature instances that someone might look at your social media. But I'm curious too about whether or not there's a positive way that students can use social media on their applications. Say a student has done a project or maybe is running their own business or something. Could they include that on their application and link to their social media?

[00:09:38] BH: Yeah, absolutely. We have students drop links into their application all the time. While we can't at Bucknell at least always guarantee that we'll click every single link that a student presents us with, it certainly is okay to include it. For example, students in the arts might have a digital portfolio they want to show us, recordings of songs they've performed or dances that they've done. By all means, send those our way.

In a similar regard, sometimes we see students apply to our Freeman College of Management who actually own a business, and they manage a social media account for that business. We've seen students who bake cakes and cupcakes, students who make and sell jewelry, all sorts of things. If you want to link those in your application, again, more than welcome to. We can't always guarantee that we'll look at it, but we will try to.

[00:10:22] BW: Knowing that once they're ready to apply for their first career after Bucknell, they're probably going to be pointing to those same things that they either started in high school, started at Bucknell or beyond, so that's great advice.

It also occurs to me that once you're ready to start narrowing down — maybe you've got a list of three or five finalists — you also can do a deeper dive than just those surface level social media accounts. I wonder if it's worth talking about that a little bit. By that, I mean like Bucknell's theater department has its own Instagram. The Bucknell engineering college has its own Twitter and other accounts. At what point is it a good idea to go to that second layer and really see even more of what the school might be offering?

[00:11:06] BH: Yeah. That's a good point. A lot of colleges and universities have a centralized communications team, the folks who publish the official university channels. But there's nothing stopping individual clubs, teams, organizations on campus from creating their own social media channels. So those are something that you might want to check out too. I know Bucknell's Residential College program actually has a YouTube channel with some videos. I only just learned about that recently. They manage it totally on their own with students who are currently in the Residential College program. That might be kind of, you're right, the next layer, Bryan, that you would want to take a look at.

[00:11:40] BT: Yeah. Great way to get to know even better some of the programs that you're interested in and maybe getting a deeper look at what it might look like to be a major in that, or even kind of discover some new majors that maybe you'd be interested in.

[00:11:520] BW: A lot of professors even will have their own accounts as well, so I'm just thinking how many layers deep can we go here? Even the professors themselves at prestigious schools like Bucknell have their own high profile and are quoted in all these different major newspapers and everything, and so they're kind of promoting their own work as well. That's another way to even get a closer look at what's being said.

[00:12:14] BH: You know, we didn't mention either is LinkedIn. LinkedIn's another place that not many…I mean, some high school students may have already set one up, but it's really a professional form of social media. If you are doing particular projects in high school that you want to highlight, that's a great place to do it, and a great place to start to see what research faculty on our campus are doing or current students are doing. That's another one that kind of bridges the gap between academics and your professional life and also is, technically, a form of social media.

[00:12:42] BW: Yeah. I use that all the time for the magazine. When we're working on Bucknell Magazine stories, I'll search for Bucknell University and then a specific industry, and it's amazing how many different leads we've found through that way. I imagine a student could do the same thing — search for a school and an industry or even a specific company that they're interested in and start making connections that way.

Finally, Becca, I'd love to kind of hear your takes on the risks of relying too much on social media. Maybe just pull it back and talk about that a little bit, especially when trying to assess your place in the college application landscape. I mean, if you trusted everything your friends were posting online, for example, you might think that every meal was perfect, every day was warm and beautiful, and every college application was accepted. How can all of us take what we see on social media with a real healthy attitude?

[00:13:34] BH: Yeah. That's a really important thing to keep in mind, especially when you find yourself mindlessly scrolling, or starting to compare yourself to your peers, or even experiencing some FOMO or fear of missing out because it looks like everyone is having such a great time, and you're sitting at home. But odds are 9 times out of 10, right, folks are only posting their highlight reel of their life. They're posting carefully curated moments and pictures of mostly those sunny, beautiful great days. While I hope that and I wish every day at Bucknell it was sunny, and I hope if you were to come onto campus students would be smiling and waving at you, it does rain in Lewisburg. It actually is raining in Lewisburg right now, and it's quite cloudy out today. But to tell you the truth, you might not see that picture on our social media page.

I would advise you to get on campus if you can. It's the best to begin to engage with our community with all five of your senses being able to see what our campus looks like in person, not just on a screen. But we know that there are a lot of barriers to be able to do that right now. In the meantime, social media is a great place to start. But if you can get onto campus to really see what's going on behind the screen, I think that's a great opportunity to do so too.

[00:14:48] BT: Yeah, definitely. Well, I think that's going to do it for this episode of College Admissions Insider. Becca, thanks so much for joining us today. I think you shared some really great insight into how people can use social media to get a better look at the colleges they're applying to.

[00:15:00] BH: Thank you both for having me.

[00:15:01] BW: And thanks to you out there for listening, for checking out this podcast. You know we'd love for you to rate, subscribe and share with your friends and family. It helps us reach more people.

[00:15:11] BT: Also, if you're listening to College Admissions Insider through your web browser, we'd love for you to subscribe using your favorite podcast app as well. Just search for College Admissions Insider on your favorite app, whatever you use to listen to your podcasts.

[00:15:24] BW: We'll be back for another new episode in just two weeks. In the meantime, we'd love to hear from you. You can send your questions or comments to podcast@bucknell.edu. We read every email you send, so please send away.

[00:15:38] BT: Finally, you can follow Bucknell on all of its socials @bucknellu on Instagram, Facebook, Twitter, and YouTube. You can also follow our student-run Instagram account which Becca mentioned, which is @iamraybucknell. Find all of those links below in the show notes.

[00:15:53] BW: A special shout out to Leah Mallett who runs all those Bucknell social media accounts. She does a great job keeping our community informed, inspired and entertained. Thank you so much for listening. We'll see you next time.