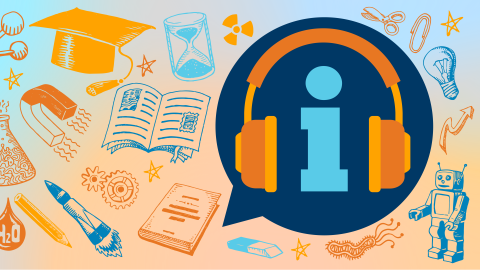 Episode 19: Planning a College Visit Road Trip
June 28, 2021
---
When exploring colleges, there's only so much you can do online. At some point, you have to see these places for yourself — all five, 10 or 30 schools on your list.
Unless a family member has unlimited vacation days (or a teleportation machine), the only way to realistically visit multiple schools in a reasonable amount of time is by planning a college visit road trip.
But how do you organize one of these info-gathering trips? How can you keep all these visits straight in your head? And what's the best way to maximize that family time as you travel together from destination to destination?
In this episode of College Admissions Insider, we provide a road map for success. Our guest is Alison Almasian, director of college counseling at the Taft School, a private boarding school in Watertown, Conn., Before that, she spent 22 years in college admissions.
If you have a question, comment or idea for a future episode, email podcast@bucknell.edu.
Episode 19 Transcript
[00:00:07] BW: Welcome to College Admissions Insider, the podcast where we bring you expert advice for your college search. I'm Bryan Wendell from Bucknell University.

[00:00:15] BT: And I'm Brooke Thames, also from Bucknell University. Bryan, when students and families are exploring colleges, there's only so much you can do online. At some point, you have to see these places for yourself — all 5, 10 or 20 schools on your list, or even more.

[00:00:29] BW: Right. 30, 40, 50. Yeah, so unless the family member who's taking the students on these in-person visits has, I don't know, unlimited vacation days, the only way to realistically visit multiple schools, or even every school, in a reasonable amount of time is through the college visit road trip.

[00:00:47] BT: But how do you plan one of these info gathering trips? How can you keep all of these visits straight in your head? And what's the best way to maximize that quality family time as you traveled together from destination to destination?

[00:01:01] BW: Apologies in advance for the pun, but let's get this show on the road. Our guest is Alison Almasian, who is director of college counseling at the Taft School, which is a private boarding school in Watertown, Conn. Before that, Alison spent 22 years in college admissions, so she knows what she's talking about. She helps students at Taft find the right college fit, navigate the application process and even plan the college visit road trips we're going to be talking about today. So welcome to the podcast, Alison.

[00:01:28] AA: Thanks so much. Wonderful to be here.

[00:01:30] BT: Yeah, so great to have you. Let's start off with scheduling. Can you talk about some of the best ways to sit down and actually map out an itinerary? How many visits should students actually try to schedule in one day?

[00:01:44] AA: Thanks, Brooke. Great questions. When we think about scheduling, there are so many different ways to approach this. But certainly, you want to sit down with a map and figure out of your schools that you want to visit, what are going to be reasonable chunks in order to accomplish these sort of mini road trips, if you will. Hopefully, your list is such that that will be fairly apparent just by sticking virtual pushpins into a map to see what would make the most sense.

Once you have a working list of where you want to visit, then you'll need to make outreach to each of those schools. Here's an interesting thing that I'll just throw out is who's going to do the scheduling? In an ideal world, the student would do the scheduling as it is their process. So if you were a student who is pretty on top of things and feel like you can handle that, I do think it shows independence and shows a student's authentic interest if they're the ones making the phone call to set up these visits. I also, while saying that, understand that some students' schedules do not allow them to have time during the day when those phone calls need to be made. So if it can't be the student, then certainly a parent will need to jump to the fore and help with that.

In terms of planning out the visits, I strongly recommend that families not visit more than two schools in a day. Any more than that, and it's really, really challenging to keep the school straight in your head. I say this as someone who spends a lot of my time, at least when we're not in a pandemic, visiting colleges on organized trips. Oftentimes, I'm doing two or three schools in a day. If it gets to three, that's always when I lose my attention, and I think I've a decent attention span. So if I can't do it, chances are that's going to be a little bit too much for you as well. So try to keep it to one to two in a day, and that's critical. Again, thinking through geographically what makes the most sense and finally determining who it is who will be actually doing the scheduling.

Speaking of the scheduling, I did want to talk through what will you be doing when you visit the campus. Every school is going to have their own opportunities listed. It is most common that you will find information sessions and campus tours, and those are just — as you'll probably realize — starting to open up around the country as vaccination rates go up and up. So hopefully, most schools will be open by the summer. But do they offer more than just an information session in a tour? Do they offer interviews? If they offer interviews, are they by seniors, senior students? Are they by alumni volunteers? Are they by admissions officers? Are those interviews ones that are going to be evaluative? Are they going to be making judgments based on how well you do in the interview? Or are they just informational? Is there an opportunity to sit in on a class, or have lunch in the dining hall, or meet with a professor or a coach?

All of this information should be noted on the website. If it isn't, certainly by talking with the receptionist when you make those phone calls. They're good things to figure out and anticipate. The more in depth of a visit you can have, the better.

[00:04:55] BW: Makes me think that some families, when they think of a vacation, they think, "We're just going to go hit the road and see where the road takes us," and kind of just play it by ear as they're traveling. But it sounds like with a college visit road trip, that approach might not work. Is it best to do all this booking and scheduling in advance? Or is it okay to show up unannounced at some or all of the schools that you're planning to visit?

[00:05:20] AA: Great question. Please, please schedule in advance. With my previous hat as a director of admissions, boy, is it tough when families just "walked in" and asked for opportunities, whether it be tours or interviews, etc. It puts undue pressure on the admission staff, and particularly the nice people who are trying to keep all the tour guides straight and organize all the rooms, etc. So this is not one of those things where unannounced would make sense.

If you are driving from one college to another — let's say in North Carolina, it appears you can't go a couple miles without running into a college. So maybe you plan to go to Davidson, and Wake, and Duke. But as you were driving by, you noticed another school that looked intriguing. Can you stop by? Sure, but don't ask much of the admissions folks. Don't expect them to have opportunities for you, if you have not planned ahead.

[00:06:20] BT: In addition to which schools they're going to visit and how many in one day families are going to visit, it seems like the time of year at which to schedule all of this is a big consideration as well. I mean, as the different seasons change, schools will look different throughout the year, and students' lives will look different throughout the year as well in terms of when they can plan all this. So, yeah, what is your advice there? When's the best time of year to plan?

[00:06:41] AA: In my view, you can either look at it. There's lots of great times or no good time. Each season really brings with it its own pros and cons. I will say spring break of the junior year is typically a wonderful time to visit campuses. As high school students, juniors are just beginning to start developing their list, and they're trying to check out assumptions. "I think I want smaller," and getting on some smaller campuses to determine if that is in fact true, or just seeing a variety of campuses to understand the landscape before they start honing. Of course, I'm very mindful of the fact that very few people had an opportunity to do any visits this spring with the pandemic, so that one's a little bit behind us. If those of you listening have younger siblings or younger children coming up in the process, spring break is a great time.

Now, we're left with summer or fall. Now, summer is when most people will have the time to do these kinds of trips, and I do really recommend that that is, at this point, the best time. What you miss is seeing what the campus looks like when it's in full swing. Obviously, that can speak to the ethos and the culture of a campus, and you will miss that if you go in the summer to some degree. More and more colleges have very full campuses in the summer through summer school, summer research fellowships. In fact, I just dropped my daughter off for her six-week summer research fellowship at her college. So there are quite a good number of students on campus, and you'll get a pretty good feel. It may not be exactly what it's like in the fall or the winter or the spring, but it's a pretty good feel if you go on the summer.

So I do think that's a great time, and mostly because the fall, while it will give you the truest sense of what the experience would be like, it is so tough for seniors in the fall. Life is just really, really busy. The thought of missing classes or taking time away from all the other things that need to be done in the fall of the senior year make it a challenging time to plan visits. Can you do…There's a couple of long weekends in there. Maybe you can do one or two. But I would try to do the vast majority of the visits in the summer, as being the best time with regards to family schedules and giving you close to the best experience in terms of seeing the institution and measuring fit.

[00:09:15] BW: That fall of the senior year might be a time when they're thinking about those visits that they've already done over the summer perhaps. One problem I could see potentially arising is, "Wait, which school was that that I really liked, and which one had the great facilities? Which one had the really cool tour guide?" So that brings me to our next question, which is how do you keep all this straight in your mind? If you're maybe doing a marathon trip where you've got six colleges in four or five days, how do you recommend that families keep everything organized in their heads?

[00:09:44] AA: Sure. Great question. My answer is my parking lot rules, which I give to every single one of my students before they head off. Quite simply, that means when the student and or a parent or parents are done with each visit, they return to their car. They may turn their car on and turn on the air conditioning should it be required, but you are not allowed to put the car into drive until every person in that car has taken notes. I want them to jot down everything that stuck out to them. Was it that they were having the fifth annual jelly bean eating contest in the Joe Schmoe dining hall that day, and that connected with you? Is it that you thought the tour guide was rude? Is it that the buildings were pretty? Whatever it is that a student notices, they should jot down, as should the parent as a supplemental. They may be noticing different things.

Whether you're going to do that on an iPad or somewhere written so that you can correlate all those notes at the end. But those immediate feedback notes will be incredibly helpful both in helping to remember which dorm went with which school, but it will also help with seeing things that you're reacting positively to negatively to, helping the college counselor and the student continue to hone their list. It can finally be helpful as they're starting to write their applications and conveying what it is about a specific institution that intrigues them. Having those detailed notes will allow for more authentic comments on the part of the student showing why they want that school.

[00:11:28] BT: Yeah. Building off of that just a little bit more, are there any other techniques that students and families can utilize as they try to evaluate that fit that you were talking about and navigate those conversations about what school will be best for the student?

[00:11:40] AA: Sure. I realized I just forgot one from Bryan's question. Photos, take photos while you're on tour so that you can remember which dining hall goes with which school. Let me add that in.

Then, in terms of looking more deeply at the parking lot notes, I encourage families to think about both heart and mind. For mind, it's presumably students have done some research before they've chosen to go visit a school. So they'll know if the school has the course of study they're interested in. Looking on web sites, etc., they can get a feel for placement rates — those kinds of things. But seeing the classrooms, seeing the labs, understanding, picturing yourself in those academic environments, how does that feel?

Then the heart: What are students noticing when they're walking across campus? I've had my students come back to me and say, "Every person I walked by had their headphones in," or, "I noticed that everybody was wearing that particular school's branded sweatshirts." In the first case, it was a bit of a negative that there didn't seem to be a strong sense of community. In the second one, there did seem to be a strong sense of community because people were proudly wearing their school name, etc. — so those little kinds of things.

Looking at the flyers that are up in the student center or on the trees around campus. What matters to students on that campus? What are they noticing? Looking at the student newspaper is a great idea. And I have to note that I actually got this from a former colleague of mine that I'm like, "Ah, that's so smart, and I hadn't thought of it." But schools should have archives of their newspapers. So if you're walking around campus, and you don't see a copy of the newspaper, get online and look at the archives. What are the issues that are of importance to that institution that can also get to a little bit more of the vibe? All of those are good opportunities to get at both head and heart.

[00:13:36] BT: Yeah. That's all great advice. Switching gears just a little bit, I want to talk or dig in a little bit more to demonstrated interest, which is something we've talked about a couple of different times in our podcast. I think so much so, it could be its own episode at this point. I know Bucknell doesn't take demonstrated interest into account when analyzing applications, but there are many schools that do. So how might a visit help students demonstrate that interest at schools where doing so might better their chances or help them?

[00:14:06] AA: First of all, again, coming back to the fact that you're not going to be a walk-in, that you have scheduled ahead, you've made a call and said, "I'm coming to do an info session and tour," that puts the student's name into the mailing list for that school, and they've identified themselves as someone who's interested in the school. Attending campus shows a higher level of interest. So just by having your name in the system that you came to campus, that is data that many schools will take into consideration.

If it's a school that doesn't calculate demonstrated interest…I mean, there are schools that will calculate it on a very procedural level. If a student visits campus, they get X number of points, and they're counting up points and various things. A lot of other schools will do it on a more of a holistic view. They're not counting, but they will say, "Huh, this kid lives an hour away, and they chose not to visit. What is that saying?" So there's some qualitative elements of the demonstrated interest as well that can go into play.

The visiting of colleges is probably the thing that is most mutually beneficial, in that the student gets the opportunity to see an institution in real life as opposed to all the online research we've done in the virtual campuses that schools have been doing. So it will be a really key element for them to see if this jives with their heart and mind. It is also an opportunity for the colleges to determine who they may be more likely to yield, and which students seem to have the deeper levels of interest. That can play into holistic review to varying degrees. Although Bucknell obviously does not, I generally say err on the side of demonstrating interest. It can't hurt to do so.

I'll just also throw it out because it's an element of the process, for those who may be interested in this term demonstrated interest, there are lots of other ways to demonstrate interest through things like filling out inquiry forms on websites, clicking on the emails that colleges might send to you, going when a college visits a high school or attending college fairs. All of those are ways to sort of raise your hand and say, "Yes, I'm interested, and I care about this institution."

[00:16:26] BW: That's super interesting and relevant to remind people that if your circumstances mean that you can't go and physically visit a school, it's not as if you're going to get zero points at one of these demonstrated interest schools. Am I hearing that right?

[00:16:38] AA: Yes, correct.

[00:16:40] BW: So kind of building off of that, schools that don't calculate demonstrated interest in a formal or even an informal way, it seems like there's still ways for you to use that, we hope, positive visit experience to your advantage on your application. I'd love to hear your thoughts on how that might be done.

[00:16:58] AA: Supplemental essays is probably the clearest way for that to happen. Most colleges and universities, not all, but most will use the Common Application. The Common Application requires a personal statement — a general essay, if you will. But then each school has the opportunity to ask for additional essays called supplemental essays. Many, many times, supplemental essays will be of the topic like, "Tell us why you're a good fit for fill-in-the-blank school, or what do you think you can contribute to fill-in-the-blank school?" Something to talk about the match. Why is this a good match?

Again, if you've been on the campus, and if you have done your parking lot rules and you wrote down that they were having the fifth annual jellybean eating contest, you can speak to when you were five and you won the hot dog eating contest at your camp, you knew when you saw the jellybean eating contest these are people like me, and there was a connection there. The authenticity of what one can write in those supplemental essays will be much more significant than if you have not been on the campus to be able to say, "My tour guide, Brooke, was awesome. She told us all about blah, blah, blah. She went off the tour route and took us to so-and-so to get smoothies after. These are my kind of people." Those things stick out way more than when students are just pulling things from the website. "I saw on the website that your motto is X. I like that motto." It doesn't resonate as fully.

[00:18:41] BT: Speaking of those highly personalized anecdotes, I know when me and my family spend an extended amount of time together, there's always a good story or two that comes out of that. On these college road trips, families and their students are going to be spending a pretty long time in the car together, very likely. So do you have any tips about how they might make the most of that time as they're traveling, keeping in mind that this could be one of the last long family vacations before their student goes off to college?

[00:19:07] AA: Right, another great question. I think I'm going to take this a little more higher level, and I'll get down to car drives specifically. The listeners to this podcast might be coming in at various stages in the process. If it's a parent who has their first student going through the process, or even if they've already had two or three, it doesn't matter. Each child is so different. I want parents to understand that there's so much going on under the surface with students. The expectations and pressure that students are feeling about this process can't be overestimated. It's very easy for this to be a time when parents and students might clash in ways that they may not have before. I say this as a mother of three, and my eldest who, literally, we never fight. She bit my head off when I asked her something about the college process. I was like, "Oh, okay. There's stuff going on under there."

All of that is to say that with all this process on a macro level but also on a micro level with planning a car trip, is set up rules of engagement. Discuss ahead of time. Okay, we're going to be in the car for basically a week and a half. When are we going to talk about colleges? Do we agree that we're going to do our parking lot rules, and that's it? We don't share any of it. Maybe over dinner that night, we can have discussions. Do we not talk about it for awhile and let it all marinate, and then come back and talk about it? Should the parent share their list from the parking lot notes or should the student only share theirs? Where will that come in? Certainly, the student should always be leading the conversation, so they should give their impressions first, if there is going to be a go-around-the-room kind of a thing. Students and parents should discuss how they're going to behave on an actual college visit. Is the parent allowed to ask any questions? Are they not? What is the student comfortable with? How will that interaction go? So talking those things ahead of time I think will lead to more harmonious car rides.

Also really important, determine who's got the radio/playlist control. Are you going to build playlists ahead of time that make both the parent and the student happy? How are you going to do the music? That's key. Or what book are you going to listen to on tape? What are the things that you're going to do to amuse yourselves in the car ride? Then finally, depending on the length of the trip and what people's resources are, try to schedule in some fun stuff. So whether that's maybe going out to a nice dinner in a new town, whether if there's a zoo on the way or a museum you want to check out, try to break it up so it's not just incessant college. It can be more of this adventure college but also general family time adventure. Those are some of the things that I would pay attention to as you're planning those.

[00:22:10] BW: That's really great advice, and it's given us a lot to think about. I think with that we'll kind of hit the brakes on this episode. Trying to pack in as many puns as possible here. Let's thank Alison Almasian of the Taft School for joining us. That was really interesting and excellent. I think you've given our listeners plenty to think about as they plan one of these college visit road trips.

[00:22:31] BT: And thanks to our listeners out there for checking out this episode. If you enjoyed it and haven't already, we would love for you to rate, subscribe and share with your friends, so they can have all of these great tips for planning their college road trips.

[00:22:44] BW: If you're listening through our website and not as you're on a road trip somewhere in your car, we invite you to subscribe using your favorite podcast app. All you do is just search College Admissions Insider. That way, you won't miss a single episode.

[00:22:58] BT: We'll be back for another new edition in just two weeks. Until then, you can contact us at podcast@bucknell.edu. We'd love to hear your questions or ideas for future episodes. If you submit a question to us that we read on the podcast, we will shout you out as well.

[00:23:14] BW: Absolutely. Last but not least, you can follow Bucknell on all the socials @BucknellU on Instagram, Facebook, Twitter, and YouTube. You also should check out our student-run Instagram account, which is @iamraybucknell. You can find those links in the show notes.

[00:23:31] BT: Thank you all for listening and see you next time.