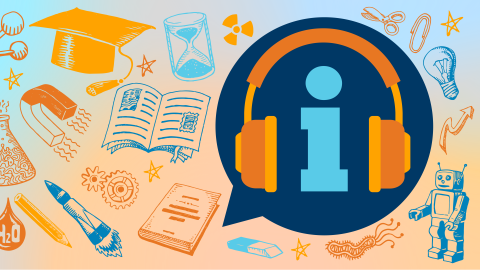 Episode 2: When to Apply to College
November 2, 2020
---
It's officially apply season — aka deadline season. But with all these important dates approaching fast, how can students keep everything straight and budget their time effectively?
In this episode of College Admissions Insider, brought to you by Bucknell University, Brooke Thames and Bryan Wendell welcome Candace Leake, Senior Assistant Director of Admissions at Bucknell, to discuss how to manage your time when applying for college.
When should students start this process? At what point should they begin adding information into the Coalition App or Common App? And what can high school freshmen, sophomores and juniors do right now to get ready?
If you have a question, comment or idea for a future episode, email podcast@bucknell.edu.
Episode 2 Transcript
[00:00:01] BW: Welcome to College Admissions Insider, the podcast where we talk to real college admissions counselors to bring you expert advice for your college search. I'm Bryan Wendell from Bucknell University.

[00:00:12]  BT: And I am Brooke Thames, also from Bucknell University. Our goal is to cut through all of the fluff to give you everything you need to start, continue or complete your college search.

[INTERVIEW]

[00:00:20] BW: Now, Brooke, I don't know about you but I'm the kind of person who needs a deadline. If I know when an assignment is due, or have clear deadline for completing a project, that really helps me budget my time. Sometimes I think without a deadline, I might not get anything done.

[00:00:33] BT: Yeah, Bryan. I'm the exact same way. Those deadlines are really essential when you've got a billion different things happening all at the same time. High school students especially know all about having to juggle those multiple priorities and deadlines in their busy lives. When it comes to applying for college, they especially know how important those deadlines can be.

[00:00:52] BW: That is true. They're looking at application deadlines, scholarship deadlines, financial aid deadlines — probably a bunch I'm not even thinking of. We didn't even get into the different kinds of application deadlines that different schools offer: early decision, regular decision, early action and even more.

[00:01:08] BT: So how do you budget your application time effectively? When should you start this process? What can high school freshmen, sophomores and juniors do right now to get ready? We brought in an expert to learn more. Candace Leake is the assistant director of admissions at Bucknell University. She reviews admissions and scholarship applications, works with high school students in eight different states, and coordinates off-campus and on-campus experiences for high schoolers and their families. Welcome to College Admissions Insider, Candace.

[00:01:38] CL: Thank you so much. I'm happy to be here.

[00:01:40] BW: We're happy to have you. I just want to dive right in. When does the application window open? Is this the same at every university nationwide, or does it vary from school to school?

[00:01:51] CL: It will vary a bit from school to school. But typically, applications will open in the summer, often times between July 1 and sometimes within August, typically August 1. The Common application typically goes live on August 1, and that's kind of a standard deadline. Schools that use a Coalition application are actually able to choose their deadline when they want to open. It could be anytime usually between July or August. Then schools that may have their own individual applications outside of Coalition or Common application might have their own application dates when they go live as well. But typically, I would say it's going to be some time in the summer, usually after July 1.

[00:02:32] BT: Yeah. What are some of the differences between those two types of applications if I can ask?

[00:02:37] CL: Sure. Both of them are designed to be applications that allow a variety of colleges to use the same format so that students don't have to input the same information over, and over and over again. It kind of gives them a baseline application. They can put in their background information — pretty much the consistent information that each school will ask for. Then colleges that are members have the opportunity to put in their own supplements or ask additional questions that they may have. But essentially, it saves students time so they can apply to multiple colleges almost at the same time and not have to restart over each time.

[00:03:13] BT: Got you, yeah. When it comes to applying using either of those applications, is there any advantage to applying right when the window opens, or are all of the applications considered equally as long as they're in before the deadline? Are there different types of admissions setups? I've heard there are hard deadlines and there's kind of rolling admissions.

[00:03:32] CL: Sure. I would say, it really depends on the school and how they review applications, and what their timeline is like as to whether or not it's advantageous to apply right when it opens. I would say, the things that you can enter right away are just those really easy questions: who are your parents, where do you live? Those kinds of general biographical details that aren't going to take a whole lot of thought. Then it gives you time to know that, "Okay. I have a lot of the application already complete, and then I can kind of work on the other pieces that might take a little bit more focus and dedication."

I would say, depending on the school itself. I know that schools typically have kind of a time when they start to review applications. Even though the application may have gone live in August for example, like at Bucknell, we don't start reviewing applications really until the beginning of November even though our first deadline is the November 15th. Schools that might be on a rolling admission deadline, however, they might actually start to review those applications a little bit sooner. It really will depend by school. Having said that, I think it really kind of depends on the individual institution and kind of ask them what their timeline is for when they begin reviewing applications. Otherwise, it typically will be sitting there for at least a couple of weeks probably before anyone will actually attempt to review it.

[00:04:49] BW: It seems like you're going to be gathering a lot of materials. You need demographic information, you need the information about your high school experiences, parents' information. Even for financial aid, income of your parents. There's a lot of information that you have to gather. Is there a best way to kind of organize everything before you open up the Common app or the Coalition app or an individual school's application? How do you recommend to students that they kind of get a grasp on this just mountain of information they have?

[00:05:18] CL: Sure. Well, I think with the Common and Coalition apps, I think just because they are so basic in a lot of information, that it won't even take a lot of thought for some of those very first questions. Making sure you know addresses. If a parent doesn't live with you, make sure you know what that address is so you can enter those sorts of things. But I would say, for the most part, it's about being organized and knowing what schools are going to ask for. So you want to maybe have a spreadsheet for each of the colleges that you're interested or have a spreadsheet with all of the colleges that you're interested in applying to and seeing what the individual institutions may be asking for. If it's, I'm going to need one recommendation one letter or I'm going to need two. Or are they specific what those recommendation letters are? Does it have to be one from a counselor and one from a teacher from a specific academic department, etc.?

That way, before you start trying to retrieve those things, you know exactly what you're going to have to retrieve. Then you can kind of work that way to gathering everything before you really dive into completing.

[00:06:19] BT: Going back a little bit to those first couple of years of high school. For freshman and sophomores, it may seem like applying to college is a bit away. But even those younger students are effectively working on their application in those first couple of years through extracurriculars, and volunteer opportunities, and internships, and all these things that will go on their applications to supplement. What do you recommend that those freshman and sophomores who want to start building a really great high school resume, what are some tips that you recommend for them?

[00:06:48] CL: Sure. Ninth and tenth grade, I think some of the things that you might want to consider is just getting involved. See what different clubs and organizations, see if there are some service opportunities or even a job that you might want to start working, potentially research. But really, it's just about figuring out what are the things that you're interested in. These are going to be opportunities that are going to be far more expansive than anything you would have had access to in middle school. Part of it is just knowing what is out there.

Try a couple of clubs. See what things you might really find an interest in and what are the things that you think you might want to stick with, versus spending all four years kind of dibbling and dabbling into different things without really committing to any particular areas. I think trying different clubs, organizations, seeing what's out there, see what things you're interested in would be great.

I would say also, you can start to do some early visits. You can start to kind of just…maybe the school is right around you, the colleges that are local to you. Just step on a college campus, see what it's like in those places to just kind of jog your mind a little bit about what you might be looking for. Then I would also say, with academics, making sure that you talk to your adviser or whoever it is that's helping you plan your schedule. Because you might want to find out exactly what are different pathways you can take. Some schools have tech programs, or magnet programs. Some schools may, depending on what math level you start in, determines what math level you'll be able to accomplish by your senior year.

If you want to take like an engineering track, for example, and you need specific math courses and science courses along the way, what academic curriculum can I get on that's going to give me the most options down the road? So when I'm a senior and I'm ready to actually start applying, I don't have a curriculum that's missing things that might limit my opportunities. I think it's important to do that academic planning early on, just to make sure that you're on a college prep curriculum that will give you those opportunities down the line.

[00:08:50] BW: That's a great advice. Yeah, you don't want to learn in your senior year that you needed two or three years of a foreign language, and you only have one. It's a little bit too late to discover that.

I want to go back to something you said about extracurriculars. When you're reading applications, do you…And I know you're not comparing student A to student B. You're looking at each student on their own merits. But do you prefer to see one or two extracurriculars that that students pursued throughout their high school career, or would you rather see seven, eight, nine — showing that they've dabbled, as you said, in a little bit of everything? Is there a right way to do that?

[00:09:25] CL: I don't think there's really a right or wrong way about it. I think individuals will approach that differently and see it differently. But I think a general rule of thumb is that institutions would prefer to see quality over quantity. The goal is not to have a five-page resume of things that you did for two weeks, and a week a day at a time. But what are things that you really kind of dove into, what are the things you found passions about and committed to? Because that gives us some sort of indication of what you might be as a college student. What might be some of the organizations or different things that we offer that you may find yourself getting into, rather than just kind of doing this, doing that, doing this and not really committing to anything.

It's really about your own interest. It's not about trying to craft this resume that you think looks impressive to us and doing the things that you think we want you to do, but it's about doing the things that you enjoy and showing us that you've committed to those things.

[00:10:22] BW: That's great. You talked about the early years of high school. Let's move on to the junior year. What should students start doing or continue doing during that 11th grade year to get them ready to apply.

[00:10:35] CL: I would say, junior year more than likely is going to be, if not the most rigorous academically, definitely up there. Senior year, you might have some pretty challenging courses as well. But junior year really is the last full year of grades that we'll have when you submit your application. You definitely want to make sure that you are focused on your academics, that you are really balancing that time management will be so important there. Because you'll also have other things that you're involved in, potentially sports, or arts, or other things that as an upper level student, you're having a lot more responsibilities and in other areas. You'll want to make sure that you're able to manage that along with your academic credentials.

This is also a time to really start looking into visiting schools, setting foot on some campuses. A lot of colleges have open houses and kind of those big visit programs in the fall. Even over the summer is a good time, although you won't be able to really see the campus life with students there per se. But certainly, those fall visits. Because if you are ready to apply senior year to some early actions school for example or schools that have earlier deadlines, you'll need to have already made those visits prior to really the beginning of that senior year or immediately starting in.

I think also starting to just think about your values. Think that matter to you. What are the things about your academic experience in high school that work for you, maybe things that you would like to see differently in your college experience? Just to give you an idea of what might be some institutions that are of interest to you, so that it's not just kind of random, throwing darts on a board and just picking schools at random, but really finding schools that align with the things that you're interested in.

Junior year, you really have a lot of time to do that. You're not having to kind of fine-tune your list quite so much at that point. Be exploratory, keep your options open, see a lot of different schools and be open to them — not just going by name brands but really be open to the possibilities of what other schools might entail. Then also, like I mentioned, do some visits there. You can also start to think a little bit about majors. At this point, junior year, you've had three years of high school courses. You have maybe gotten to take a couple of electives and see different things that are outside of just kind of the standard curriculum, but that might give you an idea of what you could potentially look forward to in college, what might be types of classes that might even align with certain majors.

I would say, junior year, those are some of the things that I think you start to really kind of prep your mindset and kind of really gear your academics towards what that application process will entail.

[00:13:16] BT: Yeah. It can definitely be a little bit difficult if you're kind of right before the application season opens and you're still trying to narrow things down. I like what you mentioned about getting those visits and getting those in-person experiences. Even now, as campus tours might be limited, utilizing online resources that colleges have, virtual tours and things like that during your junior year seems a good way to get on that path.

Fast forwarding a little bit to the summer before senior year, the last summer as a high school student seems like an important time, especially if that's kind of when the application season will be opening and you'll be looking at which application you'll be applying for. What should students keep in mind as they're going into their senior year, getting ready to apply?

[00:13:56] CL: Sure. I think it's a bit of a balance, right? Because this could be one of your last summers of freedom if you think about it that way, so you want to make sure that you have some time for some fun and be able to enjoy being a high school student. Because the next summer, you'll be gearing up for college, so your focus will be a little bit different. I think from an academic standpoint, junior year is a great time, that summer right before senior year to maybe look at some academic enrichment programs at different colleges. A lot of colleges will offer specific camps or programs. Often times, you could even get credit for those towards your college education, so you can really see a little bit more about some of the academic pieces and some of the majors and things you might be interested in pursuing.

You could also look into research or internship opportunities that might be of interest to you. Certainly, visiting more colleges as I mentioned previously, whether it's virtually or in-person. And really starting to be able to compare a little bit, and really be visiting with focus in mind and not just kind of walking around with your eyes open and the sky is the limit at that point, right? You're starting to narrow things down a bit more. You can also find a job. I think that's a bit underrated. People don't realize the importance of having a job. It shows some responsibility as well. It could also help you, honestly, earn some funds towards some of those senior dues and fees that you might have, application fees and such that you might be able to contribute to. Having a summer job is also a great way to spend some of your summer.

In terms of your applications, some of the things that you can start working on, especially as we mentioned that some of those applications go live beginning in July and August. You can start to think about things like your essay. A lot of times, high school counselors will have students start to think about or draft up your essay at the end of the junior year so that you can work on it over the summer. You can also enter those kinds of early, as I mentioned, those biographical, those easy data entry points that you can put into the application. Just plug in to get them started before you start to really dive into the meat of the content that you'll add later on.

[00:16:05] BW: I'm glad you said that because that transition is perfectly into my next question, which is about the mechanics of actually applying. To me, I think something that I deal with every year is filing a tax return, and I'm gathering all the different documents and materials. Then once I have everything that I think I need, then I log into TurboTax and I start inputting all the information and going through all that. Is that a similar approach to what you recommend for students applying for college? Do they wait until they have everything or can they go back into the Common app or Coalition app again and again? Today I'm going to add a little bit more, tomorrow I'm going to put in my essay, the next day I'm going to add this and that. Is there a right approach to that or a recommended approach based on your experience?

[00:16:51] CL: I would say start with what you have. I don't think there's necessarily a reason to wait until you have everything. Honestly, you might not have everything, everything — like your recommendation letters and those sorts of things — until much later in the process. You certainly don't want to hold off on beginning the application because you're waiting for those pieces. Given the time that we're in now…When I was a high school student applying to college, I was typing up my applications on a typewriter. So you actually had to have everything physically in front of you and all the information to knock it out at once. But now, you go right into the applications, you start the file, you can save it, come back to it later on.

I think it's easier just to start with the things, like I mentioned, that really don't take a whole lot of thought, kind of the very basic information that you can knock out quickly. Then try to kind of pace yourself in terms of how you want to enter those other pieces. I think background information is a great place to start. Other things like honors that you may have had or different activities that you've done, those are things that you know now that you can start to put in at that point.

You can also then start to think about writing samples, because those are things that aren't necessarily going to change. The prompts are there, you know what they are, so you can start to think about your general essay that, hopefully, you've given some thoughts to over the summer or at the end of junior year. Individual colleges may have other writing samples as well, and those questions are right in front of you. There's no reason to wait to start working on those things. But I think that's kind of the order I would do it. Start with the easiest information first and the things that don't take quite as much thought and then start to really dive into the meat of the other pieces that will take a little bit more time.

[00:18:33] BT: Yeah, for sure. The fall semester of a senior year is also when students will have to decide whether they're going to apply early decision or regular decision. Can you explain a little bit about early decision and how it differs from regular decision?

[00:18:48] CL: Sure. Early decision is not a decision that everyone applies into. Early decision means, I've done all of my research, I am ready. I know my number one choice and I know it to the extent that I'm willing to sign a contract that says, "If you admit me to your institution, I will enroll." That's not a light commitment that you're making. It's a contract that not only you sign. Your counselor signs. You have to have a parent sign it as well. You want to make sure that if you're applying early decision, it means that you really have that level of commitment and you're ready to make that commitment earlier in the process than the regular decision.

Typically, those deadlines for early decision will be…they could even be as early as October 1. Typically, they're around early November, maybe November 1, November 15 or so, and you get a decision quicker as well. That's one of the things with applying early decision is that you do apply early but you also get your decision earlier, versus regular decision tends to be kind of the standard this is the ultimate deadline and this is the deadline that everyone is expected to submit. Then typically, it's a longer process of when you'll get the actual decision from the institution.

Regular decision also gives you more flexibility in terms of being able to apply to other schools. Get those decision letters, see the scholarship or the financial aid offerings, and then be able to make a decision without having already committed to attending prior to even knowing what the outcome would be. That's a bit of the difference in terms of the commitment level. 

There might also be a difference in the acceptance rate for early decision versus regular decision. Typically, it's higher admit rate for early decision, because they're making that decision. They are committing. That's at the ultimately level of demonstrated interest is applying early decision. You also have a smaller applicant pool as well from your early decision versus your regular decision. It's also slightly less competitive just by default because you have thousands, and thousands of regular decision applicants potentially,and you may only have a few hundred applying for the early decision.

[00:20:51] BW: Can you explain the difference between early decision one and early decision two? Because I know some schools like Bucknell offer both.

[00:20:59] CL: Sure. Usually, there's not much difference in terms of how the applications are reviewed for early decision one and two. It's simply such a difference of time. With early decision one, again, those are typically going to be early fall sort of deadline. So October, November, and you're getting your decision, typically, about 30 days after the deadline. Like for Bucknell for example, our deadline for ED1 is November 15, and you've received notification roughly around December 14 or so. Our early decision two deadline however is the same as our regular decision deadline, which is January 15.

The difference being that you'll get your early decision two decision roughly around mid-February, versus your regular decision deadline, you won't receive until the end of March. There's also a slight difference potentially in how the admit rates might be for early decision one versus two, because if you think about it, ED1, no one is admitted, right? All the seats are open, all the scholarships, all the financial aid is open at that time. There's kind of the most flexibility there.

ED2, you've already taken a bit of the class. You're also able to adjust what your acceptance will be for early decision perhaps based no what you did for early decision one. Maybe we had more students than we thought we would for a particular major for ED1. So we maybe admitted a few more than we thought. So for ED2, we might have to scale back a little bit, etc. Or maybe we overspent our financial aid, our scholarship budget just a little bit in ED1, or maybe we didn't get the money or the apps that we thought we would get for ED1. Maybe we'll have even more opportunities potentially for early decision two.

Those are some of the slight differences. Either way though, they will still typically have a higher admit rate than the regular decision.

[00:22:48] BT: Yeah. It sounds like students who know that they want to be committed to a certain school, want to demonstrate that interest, and maybe even want more of a chance to either join the class or join a specific major, yeah, might want to consider kind of an early decision one. Even students who know that they want to be committed but want some flexibility, early decision two is still good choice for them.

[00:23:06] CL: For sure.

[00:23:07] BT: I've also seen that some schools can offer early action. Can you explain a little bit about what that is?

[00:23:12] CL: Sure. Early decision is pretty standard in terms of how it's reviewed, and how it's considered, and what the rules of engagement are rather. But early action really could vary. There's early action that's non-binding. There's early action binding. There might be early action restrictive. There are also sorts of different types of early action, so you will definitely want to inquire with the individual schools that you're applying to to see what the level of restriction may be there.

Early action is more I am showing my interest as well by applying early. I am ready to go. Then I will get my decision earlier than the regular decision students. I will probably also get my scholarship and financial aid notification earlier as well, so I'm able to know, perhaps in November or December, about some of the schools that I'm most interested in early in the process. I can kind of use that to guide what I do going forward maybe with applying to other schools. Or I already got into my reach school, for example, so maybe I won't do quite as many applications in regular decision for others.

But some schools may have those restrictive types of early actions that you'll have to be careful about. With early decision, you can only apply to one school early decision in each round. So I can only apply to one school early decision one, one school early decision two. And if you were admitted, you are expected to withdraw your applications from all the other institutions that you've applied to.

With early actions, sometimes they have restrictions as well that says, "If you apply to us early action, you can't apply to any other college early action, or you can't apply early decision one." You definitely want to know the differences between what the individual school's policies are. But typically, early action is really just an opportunity for you to receive an earlier decision and notification of your decision, but you still have the ability to apply to other schools, even if not early action but regular and still explore other options for yourself.

[00:25:12] BT: Yeah, tons of nuance there in terms of these different application processes. How do you recommend students, I guess get all the information they need to know what some of those kinds of rules and regulations are for these different applications from the schools that they're applying to? Who do you recommend that they reach out to?

[00:25:27] CL: I think oftentimes your counselors are pretty savvy. Your college counselors, your high school counselors. They make a career of this, of understanding what schools offer, what their expectations are, maybe some of the nuances of applying to this school versus that school. But there are thousands of schools across the country, and then even without including international universities. They're not going to know everything about every school. But start with them.

Also check out the school's webpage. Pretty much every school will have some sort of admissions tab that should be pretty easy to find that will list their dates, their policies, etc. Peruse thoes over, see if it makes sense, and never hesitate to reach out to the office if you still have questions. You definitely…it's not the kind of thing that you want to guess on. You definitely want to know for sure the answers to those kinds of questions. Don't hesitate to reach out to the admissions office if you still have questions, because you don't want to put yourself in a position of seeming like you are breaking the rules or trying to bend the rules, especially if you're applying into those early action or early decision policies that may be binding. You definitely want to make sure you understand the rules of play so that you don't violate them unintentionally.

[00:26:39] BW: Okay. Finally, let's talk about time management, because I know a lot of student today tell me that they're applying to 10, or 15, or 20 or more different schools. Then that's on top of their normal high school curriculum or the extra curriculars. Hopefully they're getting some sleep in there. You talked about jobs. They might be doing a job during the semester or in the summer. How do you recommend students manage all their time and still get all of the application process done?

[00:27:07] CL: Sure. I would say you almost may want to think about the college application process as another class in your senior year and designate specific time within your schedule, whether it's a few minutes every day or certain days of the week I'm going to focus on this. So that you can be able to manage it and not feel overwhelmed with deadline picking up. Many of them will be overlapping or right behind one another. You don't want to be waiting until the last minute to do those things, because you want to submit your best, right? That's why I mentioned earlier about really filling out the things that are easy to fill out early on. Get those things in, you can edit them, you have time to look over them. Then starting on some of the pieces that you can earlier in the process, so those writing pieces.

That's really the time that I think…the aspect, rather, that's going to take you the most time in the application is those writing pieces. Because typically, you might do multiple drafts of them, you'll have different edits, different versions. Some schools may ask for a 500-word statement, another one might be a 600-word statement, those kinds of things. You might have short response questions and a series of other things. We haven't even talked about scholarships, right? Those might have different application deadlines, or writing pieces, or portfolios or other things that you need to accomplish. This is why you're still going to class, taking some of your hardest classes ever, getting involved in other things — homecoming, dances, all the fun final things of senior year.

Making sure that you do the things that you can early on, especially in the summer, very beginning of the semester before those assignments and other things really start to pile on. You can knock some of that out early, then be able to focus on the things that you really need to take more time to and schedule it. I think having a spreadsheet to keep you organize is super important, and making sure you know school's policies and deadlines. Some schools are more flexible than others. Some schools are hardcore about this is the deadline. Not post-deadline —it must be in our office, in our hands or in our computer system by this deadline. Some schools might be a little bit more flexible, but you don't know, right? Or you can ask and then you'll know where the school stand on that. But you just want to make sure that you are giving yourself ample time so that you can submit your best. 

Staying organized, knowing what's required for each school, what the deadlines are, the application deadline, the scholarship, the financial aid deadlines, and all of those things. It's a lot to manage, so you definitely want to try to keep yourself organized so that you can pace out the work.

[00:29:43] BW: That's great. Thank you so much. Submit your best. I love that. You've worked so hard throughout high school that you definitely want that to show on your application. Thank you, Candace, for being our special guest today. We hope everybody listening has uncovered some ways to manage your time and see how those college deadlines can be something you can concur without any problem at all.

[00:30:04] BT: If you enjoyed this episode, please stay tuned for more advice to help guide you through each stage of the college admissions process. We'd also love you to share our podcast with your friends and family.

[00:30:14] BW: If you have ideas for topics you'd like us to discuss in future episodes, or if your college admissions officer is interested in being our guest on a future episode, you can always contact us at podcast@bucknell.edu.

[00:30:27] BT: Then finally, if you're interested in learning more about applying to Bucknell, head to bucknell.edu/apply.

[00:30:33] BW: Thanks for listening to College Admissions Insider. We'll see you next time.