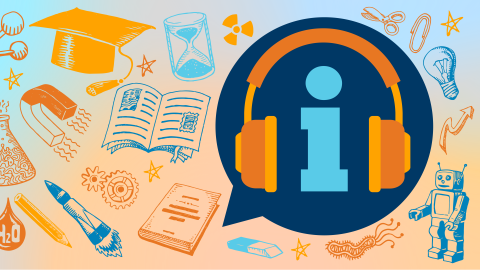 Episode 25: Preparing for Your First Semester
September 20, 2021
---
When applying to college, so much of a high school student's experience is laser-focused on perfecting every step of the college application journey. As a freshman, you build your initial list of schools you want to explore. As a junior, you begin visiting schools and reaching out to admissions offices. And as a senior, you wait with anticipation for good news.
But the journey of preparing for college doesn't end with an acceptance packet.
There's a whole new set of challenges — and opportunities — once you arrive at college for your first semester. In this episode of College Admissions Insider, we'll dive into that exciting chapter.
We'll answer questions like: What is new student orientation really like? How does a first-year student make friends, find their classes and get help if they need it? And what can high school students do right now to prepare themselves for their first semester?
Our guest is Adrienne Jensen-Doray, Bucknell's director of first-year experience and orientation.
If you have a question, comment or idea for a future episode, email podcast@bucknell.edu.
Episode 25 Transcript
[00:00:07] BW: Here at College Admissions Insider, we are laser-focused on covering every step of the college application journey, from a freshman building that initial list, all the way to a senior hopefully getting that and glorious acceptance packet in the mail.

[00:00:21] BT: But the college journey doesn't end there. There's a whole new set of challenges and opportunities once you actually arrive at college for your first semester. And in today's episode, we'll dive into that exciting chapter.

[00:00:31] BW: What is new student Orientation really like? How does a first-year student make friends, find their classes and get help if they ever needed it? And what can high school students do right now to prepare themselves for their first semester, whenever that might be?

[00:00:46] BT: Here to help us answer those questions is Adrienne Jensen-Doray, Bucknell's director of first-year experience and orientation. Welcome to the podcast, Adrienne.

[00:00:55] AJD: Thank you, Brooke. It is a pleasure to be here. Thank you both for having me on the podcast.

[00:00:59] BW: So Adrienne, as we record this, you just wrapped up a really successful on-campus Orientation for more than a thousand new students. Congrats on that. But it occurs to me that some people listening might not know what a New Student Orientation looks like. Even those who have maybe been through one themselves, it might have been a while ago. So can you walk us through what students do during those first few days on campus?

[00:01:22] AJD: Yeah, absolutely. Orientation, it's going to look different depending on your campus. Some school's Orientation will take place over the summer, others might be right before the start of classes. Some may be more focused on academic preparation, others on community building. And some might have online modules, others could be fully in person. But I think one thing that you can expect from every college Orientation is an opportunity to connect with student leaders, faculty and staff.

And that's going to be through different sessions that really help you familiarize yourself with life on a college campus. So you'll have time to explore the campus layout, identify key buildings, maybe learn about academic advising and course registration. If you're attending a Residential College, you'll get to know your roommate. You'll be able to engage in conversations around diversity and campus culture, and even participate in social events and traditions. I also just think it's worth noting that a lot of schools have separate Orientation programs specifically for commuter and transfer students. So if you're part of those populations, that's something to look out for. And most schools also have special programs tailored to parents and families.

Here at Bucknell, our New Student Orientation is a five-day program that's built around three pillars: scholarship, campus community and tradition. New students throughout Orientation have the time to meet with their faculty advisor, to review their fall course schedule. They'll get an introduction to the expectations of the collegiate classroom as well. Students can also bond with their classmates through different social events like Hall Olympics and Playfair, which is a giant icebreaker game, all while gaining familiarity with Bucknell's campus, the local community in Lewisburg and the many different resources that are available to students here at Bucknell. We also participate in a variety of campus traditions throughout Orientation, such as Matriculation, Convocation and Candlelighting. So those are all things that our students look forward to when they come to Bucknell.

The last thing I do want to mention to you about Bucknell's Orientation is that every first-year student gets matched with two to three different Orientation assistants, or OA's. And those OA's serve as mentors throughout their entire first semester and first year, and specifically throughout Orientation, and help provide support and guidance as they go through that process.

[00:03:30] BT: Yeah, sounds like first-years definitely have a jam-packed first few days on campus. But there are also some programs that students can attend prior to Orientation, right, and many schools offer those. Can you share what kinds of Pre-Orientation opportunities are out there, including those at Bucknell and beyond?

[00:03:47] AJD: Yeah, definitely, Brooke. So Pre-Orientation programs — or Pre-O, as I think you referred to them — those are small group themed programs that a lot of schools offer that typically take place just before a college's main Orientation program. They're usually opt-in experiences, and sometimes they are paid as an additional fee, and sometimes they are included in the cost of the Orientation fee. Really depends on the school.

Some common themes for Pre-Orientation include community service, civic engagement, STEM, the arts, outdoor adventure, leadership, the international student experience. There's really a whole range of programs. So there's something for just about every student who's going to be looking for a Pre-O program. And I definitely recommend that students sign up for a Pre-O. The programs are really a fantastic opportunity to get a head start on adjusting to life away from home and getting comfortable with your new campus, including learning about different resources that are available to you.

They're also a really wonderful way to build leadership skills and start making connections. Since students are in smaller groups with other students who share similar interests, it can be a lot easier and also a lot less intimidating to find new friends. So Pre-O participants often tell us that they feel so much more comfortable entering Orientation having already built some of those friendships from Pre-O.

And for students who are considering Bucknell, here at Bucknell, we do offer six different Pre-Orientation programs. And you can find more information about all of those on our website. One thing that I love about our Pre-O programs is that they're all open to every single incoming student, regardless of that student's major, their planned course of study or where they're from.

[00:05:25] BW: That's awesome. And it's such a great start to college for these students, Pre-O and Orientation. And I imagine it's this way at many schools, but especially at Bucknell, it seems like you and your team really immerse students in the Bucknell experience from day one so that they can feel as comfortable as possible. But still, we have to admit that it is a pretty jarring transition from high school to college. And so since you work with so many new college students, what are some of those most jarring moments from that transition?

[00:05:55] AJD: Yeah, that is such an excellent question, Bryan. And it's so important to talk about. I think it's really easy to get caught in the excitement of going to college and not think about some of the challenges that transition will bring. And not knowing what to expect from the transition to college can be a really big source of anxiety for a lot of new students.

I think that the most jarring moments for incoming students are typically the transition from high school to college-level academics, as well as adjusting to being more independent and learning how to manage their time in a different way. And then finally, the largest jarring transition can be just finding friends and developing that sense of belonging and social circle on campus. A lot of students have been going to school, from elementary school through high school, with the same group of people. So it's the first time you've really had to go out of your comfort zone to find new people to hang out with.

[00:06:46] BT: Let's dig into that a little bit more, especially the academics and that social aspect that you're talking about. Starting with academics, what will that transition look like? And how might it be different from what students are used to in high school?

[00:06:57] AJD: Yeah, that transition is going to be different for every new student. And it's really going to depend on the rigor of their high school academics, as well as their time management and their study skills. Generally, college classes will move at a faster pace, and their professors will expect them to take more initiative and do more work outside of the classroom. Faculty also place a lot more emphasis on critical thinking, and synthesis, and reflection of information and ideas. And many classes are going to be more discussion-based rather than lecture-based, which is what students may be used to in high school.

Another really key difference is that, when you're in high school, students are in class for most of the day. And in college, they'll have a few hours of class every day, but really need to spend a lot more time on their own learning the information and doing work towards that class. They could also have fewer assignments, like tests and papers, but that means that each one of those assignments is going to be worth a bigger percentage of the total grade. So there can be a little bit more pressure associated with those assignments as well.

And I think just to help students navigate the transition to college academics, it's really important to focus on building strong study skills and time management skills so that your assignments don't pile up and just feel really overwhelming. I'd also encourage students not to be afraid to ask questions before, during, after classes and to go to office hours. Office hours, that's something that can be pretty new to college students as well. It's a time for professors to set aside to chat with their students, to build relationships and just to provide some clarity on course material that the students may not have understood. And it's also a great time to sit down with a faculty member and have them review a test or assignment with you and give you some pointers.

[00:08:38] BW: So that's academics. Now, let's talk about social. And something you said earlier really resonated with me that a lot of these students might have friendships from school that go all the way back to kindergarten, first grade, or even if it's a friendship since ninth grade, right? It's still a four-year connection. And then they're kind of hitting that reset button, in a sense, with their friend group when they get to college. So I mean, what happens if a student doesn't find that best friend during Orientation? Or their roommate, maybe they don't really click with them right away? I imagine that fear might be there in the backs of some of these students' minds.

[00:09:12] AJD: Yes, definitely. That is such a common fear for our students. So many students come into college thinking that they're going to meet their best friend during Orientation, or they're immediately going to be best friends with their roommate, or the person who lives next door to them. And then when those things don't happen, which is actually the norm, they feel like they've failed. And it is so important for us just to reassure students that the social component takes some time. Making friends and finding your place on campus doesn't happen overnight. But be persistent and keep chipping away at it. Like you said, for students who have had the same friends for many years, you can forget the work that goes into building those friendships at the beginning. So it's really important just to make note that you're building relationships slowly over time, and just to keep chipping away at it.

I think something else that we see a lot is students who find a really tight group of friends during Orientation at the beginning of the school year. And then as the semester goes on, they realize that they just don't click anymore. And then they really struggle. What happens? Do they burn those bridges? Do they develop new relationships? And we just encourage them to continue trying to get involved on campus and meet people who have common interests and hobbies and share your same values. Often, those friendships you form right at the beginning are based a lot more on proximity. It's the people you live with, and not people that you really have a lot in common with. So it's okay that your friendships change as you continue to grow throughout your college experience.

[00:10:43] BT: Yeah, a lot changes over the course of those few years, especially the people that you socialize with as you try new things, and visit new places, and even take classes that you might not have thought you would have taken on that first year. But throughout that entire process of kind of shifting change, there are kind of set support systems for students and people on campus that students can access if they're having trouble adjusting or finding their way. So on a typical college campus, who are those people that students can go to?

[00:11:10] AJD: Thanks for bringing that up, Brooke, because it is so critical to get students connected to these resources and supports on campus. And a lot of them are very behind the scenes and things that students don't know about right away. So on the one hand, I think students who are having trouble with academics can certainly go to their professors during office hours. They can also arrange to meet with an academic dean and talk about why they might be struggling and get some tips and some pointers there. Some other great resources could be the Writing Center, or to sign up for tutoring. Here at Bucknell, we have a fantastic Teaching and Learning Center that offers everything from study groups, and academic skill workshops, to peer tutoring. And students are going to find really similar offices and resources on other campuses as well.

Another great place to turn is the library. Many college libraries have librarians that are dedicated to working with first-year and new students. They might be a subject matter librarian who focuses on a particular major or class, or even like we have at Bucknell, personal librarians who work with a small group of first-year students that live in the same residence hall. So lots of really fantastic resources on the academic side.

I think for some of the non-academic challenges, students can always turn to Student Affairs. And Student Affairs is going to include offices like student activities, housing, the counseling center, the career center, recreation, campus wellness, diversity & inclusion and just so much more. So there's a huge wealth of resources from the staff who work in those offices that are here to support students along their entire journey at college. At Bucknell, we often find that students having trouble finding their way do tap into a lot of success when they get involved with the Cap Center, which is our Campus Activities and Programs Office, or the Multicultural Student Services Office, or Religious & Spiritual Life. Students also have access to professional counselors through the Counseling and Student Development Center, which is a fantastic resource.

And the last thing I want to just acknowledge is that I know it can be very overwhelming for a student who is having trouble, whether it's academic or social, to know where to start and who to turn to for support, right? I just listed so many different resources. How do they actually know who they approach? So a great first step that makes it seem a little bit easier is just to talk to their RA, or their OA, or even a professor that they trust. And those folks can all help get them connected to the right staff or campus resource.

[00:13:37] BW: That's really a great advice. Yeah, there's somebody right down the hall from you who can help you if you're maybe understandably intimidated by just going up to one of these offices and saying, "I need a little bit of help."

We should also acknowledge that students aren't the only ones going through an adjustment period during those first few weeks and months of college. So how can parents and families prepare themselves for this transition?

[00:14:02] AJD: Yeah, you're right, Bryan. We focus a lot on the student experience. But the transition can be equally challenging for parents and families, especially if it's their first child that they're sending off to college. So as you're preparing to send your child to college and you're busy thinking about packing lists, and financial aid, and course schedules and everything else that comes along with that transition, don't forget to talk about how you want to stay connected with your students once they're away from home. Have a conversation about what's reasonable to expect. Does it work for your family to have daily texts or weekly FaceTime calls? What works for you and is reasonable.

I'd also recommend for parents and families to do research into all the different support systems and resources on campus. So that way, if your student does have trouble adjusting, you know immediately how you can step in and encourage them to make use of all of those different resources so you're supporting them even though you're not with them day-to-day.

And another great way for parents and families to prepare is by talking to parents of current students, right? They were in your place a year or two years ago. So reach out to them. If you have the opportunity to attend a parent or family gathering, maybe over the summer before college starts, do your best to attend. Bring questions with you and build your own network of parents to support yourself.

And then the last thing I'd recommend first parents and families to prepare for the transition is to attend Parent & Family Orientation. Those sessions are really going to help you meet key figures that are going to play a central role in your student's college experience and just knowing who you can turn to with questions along the way should really help you with that transition.

[00:15:40] BT: You mentioned finding ways to stay connected there, and I want to talk a little bit more about grades specifically. In high school, parents can access their student's grades online, and email teachers, and keep a pretty close eye on their student's academic progress. But that's not necessarily the case in college. I know as soon as I ended up at college, my parents found themselves without direct access to my grades. And we had to negotiate how to let them know what was going on. And so can you talk about the differences and how parents and families might handle that transition in negotiating that connection?

[00:16:10] AJD: Yeah, that is a really important difference to touch on, Brooke, and one that I think can take a lot of parents and families and the students by surprise. And it's a really tough one for parents and families who are used to being so aware of what's happening in terms of their student's academic progress.

So we know that college students are expected to be a lot more independent and really take charge of their academic experience. And as such, we really don't offer a lot of communication between parents and faculty members or professors. And that really stems from FERPA, which is the Family Educational Rights and Privacy Act. And FERPA basically states that when a student goes to college, their educational rights transfer from being within the parents' purview to being sitting with themselves. So that means that colleges can't share information about a student's academic progress or their grade reports without explicit consent from the student.

So knowing that difference ahead of time and then talking as a family about what you want to do to be kept in the loop is going to be really important. So like you said, it's a negotiation process, and every family is going to come up with a system that works best for them. Parents might be really hands-off, and others might really want their student to grant them consent to view their records. So think about how you want your student to communicate with you as they're going through the semester. What they're sharing with you about their grades and their academic progress. And really give them input into the conversation knowing that they are going to have a lot of that autonomy as they get to college. So starting to model that in that conversation.

[00:17:41] BW: And that makes me think that that actually could be a conversation that the family has at the dinner table during the high school senior year and actually start kind of laying the groundwork for those types of discussions. How are we going to stay in touch? How are we going to keep informed on what your grades are?

And it occurs to me that a lot of our listeners are in that high school age range and are seniors in high school, or juniors in high school, or the family of those students. So are there things that these families and students in high school can do right now to actually prepare themselves for a smooth transition to college a year or two years down the road?

[00:18:18] AJD: Yes, there are so many ways that high school juniors and seniors can prepare. I think starting by going back to those transitions we spoke about earlier is a great place. So focus on building time management and study skills that will help you adjust to your new schedule in college. Practice asking questions and being proactive in seeking out information knowing that you might not have a teacher or a parent or a family member there to do that for you when you get to college.

I think it's also important to think about some other big student life experiences too. For instance, have you ever shared a room? If not spend some time thinking about what's important to you and a roommate, and how you might need to adapt your behaviors and your habits to be a good roommate. That can definitely be a source of frustration and anxiety for students who are coming to college.

Another great thing to think about is will you be responsible for your own spending money or finances when you're at college? And if so, practice some budgeting skills now to manage and minimize some of that stress when you get to college.

And most importantly, I would say, for juniors and seniors in high school, take care of yourself. It's a stressful time. You have a lot going on. You're doing absolutely everything that you can to prepare for the college application process. Developing good self-care practices now is really good to go far and keeping yourself healthy once you get to college.

[00:19:38] BT: Yeah, those are all really great tips for how to prepare. But to finish out this episode, if there is something you wish you could tell every incoming student when they arrive for Orientation, what is that top piece of advice that you'd give?

[00:19:50] AJD: Come to college with an open mind and be unafraid to ask questions. I think if you can do those two things, you'll set yourself up for success. It's totally natural to have preconceived notions of what Orientation will be like. What your first semester of college will be like? But don't limit yourself or lock yourself into one path because of that preconception. Keeping yourself open to new experiences, being flexible and willing to go to the edge of your comfort zone to try something different. And then also reaching out to forge connections or find support. It's all going to really ensure that you have the best college experience possible.

[00:20:25] BW: That's fantastic. Well, thank you so much, Adrienne, for joining us today. And I got to say, I wish I had this advice and you as a resource when I was starting college. It's been really great. And I think you've given some excellent advice to our listeners out there. It's really a pleasure to have you on the show.

[00:20:41] AJD: Thanks, Bryan. And thanks, Brooke. This has been a great conversation, and I appreciate your time.

[00:20:46] BT: And thanks to everyone out there for listening. We appreciate your time. If you're a fan of the podcast, please take a moment to share, rate and subscribe.

[00:20:54] BW: And as always, we'll be back with another new episode of College Admissions Insider in two weeks. In the meantime, we'd love to hear from you. You can send those questions, comments and even episode ideas to podcast@bucknell.edu.

[00:21:08] BT: And finally, go ahead and follow Bucknell on your favorite social media apps. Just look for @BucknellU on Instagram, Facebook, Twitter and YouTube. You can also follow our student run Instagram account which is @iamraybucknell.

[00:21:21] BW: Until next time, keep on reaching for your dreams and your dream school.

Contact Details
Office of Admissions
Hours
Monday – Friday:
8:30 a.m. – 4:30 p.m.