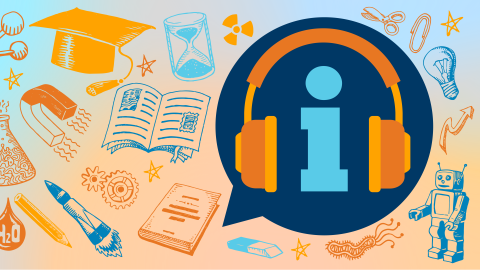 Episode 35: What to Do While You Wait for a Decision
February 7, 2022
---
While search engines provide millions of answers in less than a second, there is one life-changing question for which the answer doesn't arrive as quickly: Did I get in?
When you want to know whether you've been accepted into your college of choice, things don't happen quickly. In fact, it may be months between the moment you press "submit" on your application and the day that acceptance notification appears in your virtual or physical mailbox.
So what do you do in the meantime? In this episode of College Admissions Insider, we'll provide a few answers to that crucial question right here, right now. We'll share tips for making the most of the time leading up to decision release day and advice for how to mitigate anxiety while you wait.
Our guest is Jill Medina, Bucknell's senior associate dean of admissions. Jill has more than 25 years of work in higher education under her belt, and she plays a role in the acceptance process at Bucknell.
If you have a question, comment or idea for a future episode, please email podcast@bucknell.edu.
Episode 35 Transcript
EPISODE 35

[INTRODUCTION]

[00:00:07] BW: When there's something you want to know, where do you go? For most of us, you probably head to your favorite high-speed, online search engine and get those answers right away. Or you might reach out to someone who's able to quickly text you back with the information you need. But when you want to know whether you've been accepted to your choice college, things aren't quite as instantaneous.

[00:00:28] BT: That's right. The college admissions process is a lengthy one, and it may be months between the moment you press submit on your application and the day that acceptance notification appears in your virtual or physical mailbox.

[00:00:40] BW: So what do you do while those minutes tick away? I'm Bryan Wendell from Bucknell University. In this episode of College Admissions Insider, we're going to provide some answers to that critical question right here, right now, no waiting. We're going to share some tips for making the most of the time leading up to decision day, and also some advice on how you can mitigate that anxiety while you wait.

[00:01:02] BT: I'm Brooke Thames, also from Bucknell. Joining us in this conversation is Jill Medina, Bucknell's senior associate dean of admissions. Jill is no stranger to College Admissions Insider. She's been a guest on several previous episodes. Most recently, she was with us to give insight into how she reads applications. She has more than 25 years of work in higher education under her belt, and she plays a role in the acceptance process at Bucknell. Welcome back to the podcast, Jill.

[00:01:28] JM: Thank you so much for having me back. I am delighted to be here.

[00:01:32] BW: We're so glad to have you. Let's just jump right in. I know college applicants have a million questions about what happens after they click "submit," and we've covered a lot of them right here on this podcast. But can we kind of peel back the curtain even more and talk about what exactly happens behind the scenes after Jan. 15, when everything kind of shifts to you and your team, and they start reading those applications? Now, Jan. 15, of course, being the application deadline for Bucknell and many other schools out there.

[00:02:01] JM: Correct. There's a lot of anxiety and hand-wringing from the students until they hit "submit." But once they do, whether it is on or before Jan. 15…Because some students have already clicked "submit." For those who are waiting until the deadline because they just want to look at that essay one more time, they want to read over things to make sure it is exactly how they wanted. And some students are even making last minute decisions about to which school they'd like to apply. But for us on the receiving end, whether it's Bucknell or another college or university, we don't wait to review applications until the deadline. We begin reviewing applications once an application is complete. So it may feel like things just start working on Jan. 15 when, in reality, anytime an application is complete, for us, it begins moving through the process.

Having been at another selective liberal arts college, that was the same as well. So most colleges and universities don't wait until the deadline to review because if you did, you wouldn't have enough time between the deadline and the notification deadline. So what's happening is that we have been reviewing applications since Early Decision began in November. Then we transition into reading Regular Decision applications. The bulk of them are submitted for the Regular Decision deadline, which is, in fact, Jan. 15. So we will continue to review applications, as we've discussed in a previous podcast.

[00:03:36] BT: So once a student's application is officially in admissions' hands and you guys are starting to review it right away, is that the last time they'll ever touch it? Say a student catches a typo in their essay or even attaches the wrong document somewhere, is it too late to change an error like that?

[00:03:52] JM: Definitely not. In general, students have the ability to be in touch with any school to which they've applied to not only correct a mistake or edit something but also to add information. Let's say, for example, the students didn't try out for a spring musical until after they submitted the application, and it passed the deadline, and they want to let us know that, "Hey, I got selected to be stage manager," or, "I won this award." So there are a variety of reasons, not just mistakes made. But there are other ways and reasons for you to stay in touch with your admissions counselor.

A lot of small liberal arts colleges — small and mid-sized universities — will have on their websites a place to find your counselor. I think we've talked about that in a previous podcast as well. So we're kind of bringing some of these previous conversations to full circle why you might need to be in touch with your specific regional representative or however your particular school arranges a personal contact for you. At Bucknell, we have a site that says "Find your admission counselor," and we will show students our picture, a little bit of a bio and then which region we have responsibility for. So you can always stay in touch.

Some schools' responses will vary. So some schools will direct you to a general email address because they may have so many applications that they can't tend to each one personally. But we are able to attend to those items personally, so bring it on if there are updates or edits.

[00:05:26] BW: What about other changes that might come into play? Are there other things that students might want to contact the school about after applying? We know how they can do it now, how they can reach out — you shared that with us. But are there other things they should keep in mind that might change in their life that the school would want to know about?

[00:05:43] JM: Yes, two things come to mind. One is if there is a change in their class schedule. So any changes in schedule that are made after you submit your application should absolutely be reported to the school or updated to your respective colleges and universities. The second thing that I would make sure to update is if there's any change in family circumstance. And and this relates specifically to the financial aid application, loss of job, change in the family living situation, if somebody was previously unemployed and then was retained in a job environment. Any circumstance that changes the financial dynamic, you want to communicate that to the Office of Financial Aid.

[00:06:32] BT: Flashing forward a little bit to after those admissions decisions have been solidified. A lot of us have kind of the image or experience of receiving that thick envelope in the mail if you've been accepted or a thinner one if you haven't. But is that how it's really still done these days? When and how do students really receive their decisions?

[00:06:53] JM: Yes. Well, I'm probably dating myself, but back in my day, the only way you found out was through mail. There wasn't any online portal. But in this day and age, most colleges and universities have some sort of online portal for students to submit their application, check on the application status. Colleges and universities will vary in the way that they notify students. Some schools will still notify by the envelope, so you are still going to be waiting on something to arrive via post. There are some schools one year that tried notification by drone or the mascot knocking on the door for some students, so trying to get that big feel. Some big schools have marching bands show up in your driveway. This was back in the day before pandemic, so a lot of things were a little bit different. But many schools do an online notification of some sort.

[00:07:53] BW: I love that drone delivery. It's like you're looking out the window. "Is that the drone? No, it's a bird." That could be an interesting afternoon.

So speaking of waiting at the window, what about waiting at the browser window? I can just picture myself in a student's shoes just refreshing and refreshing 100 times a day. But are schools telling them, "Hey, this is exactly when we're going to post it," so you can get some of your life back and not sit there hitting F5 100 times?

[00:08:22] JM: I think no matter what I answer, we're still going to have students who are going to just sit and constantly refresh and refresh. But the reality is that most schools will give you a general idea of a timeframe. So some schools will say, "In this week we hope to release decisions," so that you have some sense of when in a particular month. At Bucknell — because we do an online notification and students have an online portal where they can check their application status for missing material — we send them an email and we tell them, "We will release decisions on this day after (for example) 9 p.m.," which is the timeframe when we release Early Decision one decisions. So we let the students know to check their portal for a status update, and they will view the decision in that portal and their status update. We will follow up in writing. If it is the "good news" or big envelope, there will be material that comes shortly thereafter.

[00:09:27] BT: I'd like to talk a little bit more about that student experience of getting all of those answers back. If we're thinking optimistically and assuming that an applicant will be admitted to multiple schools, is it worth continuing to research those schools or maybe start having conversations about what-ifs with family members, with the assumption that students will have to choose between several options?

[00:09:47] JM: I think it's always a good idea to walk through some possible scenarios, and there are a variety of reasons why I say that. One, the student should begin to imagine, "If I were to go to X institution, do they have the major that I want to pursue? Do they have clubs and organizations that I'm interested in?" For example, if your student has the hobby of underwater basket weaving, but they don't have a club at that particular campus, then the student may have an experience where they would be wanting for something that is really a value to them. I encourage students to read the course catalog and look at departmental websites because if you think in your mind, "Oh, I want to be a neuroscience major," and you look at the neuroscience courses and you think, "These sound terrible," there's something out of alignment there. So you want to make sure that you are imagining that you want to be in a place and that they have what you want to study.

I think the other thing that a lot of families don't necessarily consider until significantly later: You should talk about what it would look like if your student attends a school that is not within a day's drive. So what would this mean for the family to get you home for any of the breaks or holidays? For some students, that might mean not going home for a break or a holiday, and what arrangements need to be made if the family doesn't have the ability to access reasonable transportation?

Some of these considerations many times are an afterthought. I think once you submit applications, it's a good time to think about, "If I get into half of the schools to which I apply, what would it look like to be there, classroom, clubs? Then how would I get there and how would I get home?" So I think those are three important questions that you can begin thinking about.

[00:11:49] BW: Talking about that period of waiting…and I imagine in some families, that's a time of optimism where, like you just shared, "Oh, you're going to get into multiple schools. Everything's going to be great. You're going to get into every school you applied to." Then in other families, there might be some pessimism, honestly, that says, "Well, what if this happens, and I don't get into those top schools or my first-choice school?" How can students and families maybe brace themselves for that disappointing news?

[00:12:20] JM: That's a tough one because, as a parent or family member, you don't want to feel like you're putting a damper on somebody's excitement or optimism. I think one thing that one of my former colleagues used to say is that you want to try to avoid magical thinking. Just because you applied somewhere doesn't mean that that is going to guarantee you will be admitted, and so to not tie those two things together.

If I can step into sort of the "mom of two, higher education professional" role and give some advice, I think the thing that I see a lot of these days is the feeling that you need to respond immediately to a disappointing letter. So if a student receives a waitlist or deny, many parents will pick up the phone and demand an explanation. Family members get involved very quickly. Students post immediately to social media what the decision was and why that school was wrong for denying them. Some students will be extreme and send hate mail to that school. Those are all bad ideas. I think it's good to encourage your student to take the time and space to process the decision and process the emotions that go along with it. Emotions will happen if it's a positive decision, if it's a waitlist decision, or if it's a deny decision.

It's not necessarily public unless you make it public, and nobody really needs to know immediately what your decision is. So let's say a student applies to eight colleges or universities, and let's say they get into three, get waitlisted at four, get denied at two — you have a lot to think about. You do have decisions to make. Are you going to remain on the waitlist? Are you going to accept an offer? Are you going to take time to visit either in person or virtually? But to not immediately jump to feel that you need to protect your student from being sad or being happy.

One of the things that I think the students have grown up their entire life with finding everything on their device and immediately sharing out what's going on in their lives. But I think this is one time where taking a step back, regardless of the decision, is a good idea. So as much as family members can encourage the student to just sit with it and enjoy or process what happened or what's happening, I think that's really important.

[00:15:09] BW: They are going to have time to do so, right? I mean, they'll have time to process that and consider which schools they're going to choose from, right?

[00:15:16] JM: Absolutely. They are given a period of, if the Regular Decision, upwards of a month to make a decision. This is where the tides really turn because colleges become the ones anxious and pursuing, because the ball's in the student's court. So the perspective has changed. So one student with, let's say, three acceptances can only choose one school — and there are three schools that would love to have that student. So, yes, students have time to make a decision.

[00:15:49] BT: Switching gears a little bit…So far, we've talked a lot about that waiting period, kind of being on pins and needles. But I wonder if there are ways to be proactive also in this period that you're waiting for your decision to come back. So are there any other checklist items that a student may want to keep an eye on after applying but before receiving that decision?

[00:16:09] JM: Yes. They definitely want to make sure that all items that are required of a particular institution have been received. So for some schools, that will be checking their portal. Are students being asked to interview? So they'll want to make sure that, if that's a requirement, that they're meeting that requirement. If they've applied for any scholarships, is the Office of Financial Aid looking for any missing material? Is it tax returns? Which forms need to be submitted? If a student is required to submit an audition of any sort, whether it's recording, or portfolio, or slides.

All of these details will vary from institution to institution. It's that variety of detail that often can trip up a student if they're not really on top of all of those details and deadlines, because it isn't just every school needs a transcript and a teacher recommendation. Some schools want three letters of recommendation. Some schools want one. So it really is a great time, even after the deadline, to make sure that just because you submitted your application doesn't mean all the other parts and pieces are there exactly with it. So they do want to make sure that all of those parts and pieces do eventually meet up to complete their application.

[00:17:28] BT: Are there any tips that you have for how students can manage all of those things and organize everything in that waiting period?

[00:17:35] JM: I think students should make sure to cross reference any website application checklists. They can log into their portal. They can also call the admissions office or send an email. If they aren't working with a school that has an online portal, they may have to wait for a postcard to come in the mail saying, "You are missing X, Y, and Z." But at some point, most colleges and universities will notify the student if something is missing.

But to your original question, it's really good to be proactive about it. So being proactive doesn't mean calling three days after the application deadline. It means maybe waiting a week, maybe waiting 10 days, so that things work their way through the system. If you mailed something through the post office, FedEx, or UPS, or any other method, make sure that those have had time to be received and to be processed.

[00:18:31] BW: Now, at the top of the show, you talked about the fact that admissions officers aren't reading an application until it's complete. So that word "complete," does that mean that these application items need to be in before it's even getting read? Because when I hear that, I'm like, "Well, I want to make sure everything is in so that my application is read on time and isn't the last one to be read when all the slots are gone." I know it doesn't exactly work like that. But in my head, that's where I would go.

[00:19:00] JM: That's a logical place to go. We don't penalize students who are missing, let's say, a teacher recommendation or a mid-year grade report because the application deadline is the deadline for the student to submit their part of the application. So the student is the only one involved in it. They've got teachers, and they've got either school or guidance counselors, perhaps coaches — people who are submitting letters. So those are people they might want to follow up with and say, "I remember that you offered to write a letter or I asked you to write a letter. Could you tell me if you did submit it?", so that they can check off those boxes for themselves.

[00:19:42] BW: So the other box to check, and you mentioned it, is financial aid and scholarships. At what point in the process, in the timeline, does that come into play? Because that should not be overlooked?

[00:19:53] JM: Definitely should not be overlooked because need-based and merit-based financial aid is a big part of this process for many students and their families. So much like some schools have different application materials, financial aid offices — because it is regulated, and the federal government is involved with the need-based financial aid process — it's a bit standard. So families will have to complete the FAFSA, the Free Application for Federal Student Aid, and that's a government website. Most financial aid offices will require that. That is a pretty standard part of the process. Some schools also require the CSS Profile, so students will have to figure out is a school, college or university, desiring both of those, one of them? If it's one, which one and when? So the financial aid office websites will also have very clear timelines.

For us, in particular, we do post to the student's timeline or checklist whether or not we have received their CSS Profile, which is the document Bucknell uses for need-based financial aid. We also have a self-nomination merit-based process, so students will also be asked to submit extra scholarship answers or responses to questions, and we can respond to whether or not that's been received as well. So, again, it's another office that you perhaps have to be in touch with, but it does mean that you do need to have responsibility as a student to initiate that conversation with your family regarding tax returns and filing the FAFSA and/or the CSS Profile.

[00:21:38] BT: At the top of our conversation, you mentioned that this can be a very stressful time for high school students. The few months can feel like an eternity when you're waiting for a decision, likely one of the major decisions that will impact a student's life moving forward. So what advice would you give to a student during this whole experience? How can they keep anxiety in check and maintain a healthy outlook no matter what the answers are that they're going to get back?

[00:22:02] JM: This is a very stressful time, and it doesn't end once you hit "submit." You have labored over your application. You have spent nights and weekends figuring out what an essay topic is going to be. You've asked people around you to write on your behalf. There are so many things that went into this. What's really important once you click "submit," is that you do take a step back and switch your focus to your present life. So you've put a lot of things in place. You've spent a lot of time sitting on virtual information sessions, perhaps taking tours, watching tours on campus, depending on what your modality has been. Were you able to go anywhere in person or not? There's an old song — and perhaps I'm dating myself again — there's a line in it that says, The waiting is the hardest part." It is true. In the moment, it is important that you do the things — and by you I mean the students — that you should be doing in high school. You focus on your classes, clubs and activities, family, friends, jobs, research, service projects, all of the things that you're doing. If you're involved in faith-based organizations, teams, competitions…endlessly checking an online portal can cause frustration, and it takes important time away from the things that you need to be attending to.

My son, my oldest, just went through, not too many months ago, the application process to apply for law schools. Before the podcast, I said, "What advice would you give because you've just recently gone through this?" He said, "Focus on the moment because you can really become obsessed with social media sites and tables that will show you what previous
applicants' decisions were, or looking at Naviance for your particular school of scatter gram." He said, "Just focus on your task at hand because, if you don't graduate from high school, it won't matter what the college decision is." So focus on your classes and taking a step away, knowing that you spent good time researching, and you have a great list, and you've spent the time doing what you need to do. So now, it's time to just switch that focus back to today and being a high school senior.

[00:24:19] BT: Awesome. I think that's a really wonderful message to end this episode of College Admissions Insider. Thanks again to Jill for joining us again to share her knowledge and advice with us.

[00:24:29] JM: Thank you for having me.

[00:24:30] BW: Yeah, it's so great to hear your perspective. I know our listeners really appreciate it. To those listeners, thank you so much for listening to College Admissions Insider. If you're a fan, please take a moment to rate, subscribe, and share this episode with any students you know who are waiting for their admissions decision.

[00:24:48] BT: We'll be back with another episode in just two weeks. In the meantime, send your questions, comments, and episode ideas to podcast@bucknell.edu.

[00:24:56] BW: Finally, while you're waiting, you can follow Bucknell on all your favorite social media apps. Just look for @BucknellU on Instagram, Facebook, Twitter, YouTube, and now even TikTok. You can also find our student-run Instagram account by searching for @iamraybucknell.

[00:25:13] BT: Until next time, keep on reaching for your dreams and your dream school.

[END]

Contact Details
Office of Admissions
Location
Hours
Monday – Friday:
8:30 a.m. – 4:30 p.m.