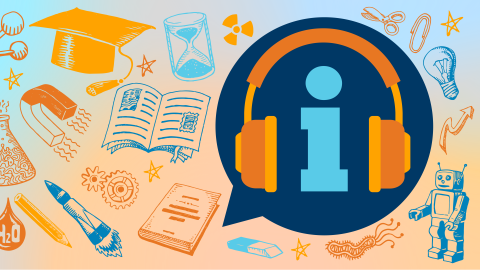 Episode 41: Applying to College as a Home-schooled Student
April 18, 2022
---
There are somewhere around 15 or 16 million high school students in the U.S. But not all of them walk through locker-lined hallways, sit in 20-person classrooms and count down the seconds until lunch period in the cafeteria.
Instead, many students and their families opt for high school learning that happens at home.
In this episode, we're offering helpful insights for home-schooled students who are navigating the college process. What are the curriculum requirements to qualify for college? What do schools look for in home-schooled applicants? How you can prove that you're prepared for the next step in your educational journey? We answer all of these questions and more.
Our guest is Ben Kavanaugh, associate director of admissions for Bucknell. Ben works with students from Northeast states like Maine, Vermont, and New Hampshire, just to name a few. He also reads every application that comes to Bucknell from home-schooled students.
If you have a question, comment or idea for a future episode, please email podcast@bucknell.edu.
Episode 41: Applying to College as a Home-schooled Student
[00:00:06] BT: There are millions of high school students in the U.S., somewhere around 15 or 16 million to be a bit more exact. But not all of those students walk through locker-lined hallways, sit in 20-person classrooms, and count down the seconds until lunch period in the cafeteria.

[00:00:23] BHA: That's right, Brooke. Instead, many students and their families opt for high school learning that happens at home. I'm Becca Haupt Aldredge from Bucknell University. In this episode of College Admissions Insider, we're offering helpful insights for home-schooled students who are navigating the college process.

[00:00:40] BT: I'm Brooke Thames, also from Bucknell. And today we'll cover the requirements needed to qualify for college, what schools look for in home-schooled applicants, and how you can prove that you're prepared for the next step in your educational journey.

[00:00:52] BHA: Here to guide us through all that and more is Ben Kavanaugh, associate director of admissions for Bucknell. He joined us back in Episode 28 to talk about how to make the most of your college counselor visit. Ben works with students from Northeast states like Maine, Vermont, and New Hampshire, just to name a few. He reads every application that comes to Bucknell from home-schooled students. Welcome back to the podcast, Ben.

[00:01:14] BK: Thanks for having me.

[00:01:15] BHA: So there are many reasons why a student or family might opt for home schooling instead of public or private school. What are some of those circumstances?

[00:01:22] BK: I think the most common perception the public I think has is that people choose to home-school for religious reasons. That's certainly a popular reason, and we certainly see a lot of that. I think, again, the public perception, it's often evangelical Christian families. Again, we do see a lot of that, but we also see other religious denominations ⁠— increasingly, Muslims as well.
But it's not just for religious reasons, I think. Sometimes, you'll see students home-school because a lack of or a dissatisfaction with local options in terms of maybe coursework. Sometimes, students may have a learning difference that's not being addressed, and the parents think they can do a better job themselves. We've seen applicants who maybe they're performers, they're musicians, they're actors, they're artists of some kind, and they travel a lot ⁠— so they have a tutor that they've worked with or several tutors. So it's usually not one-size-fits-all situation. There's lots of different reasons why parents choose to home-school.

[00:02:18] BT: Yeah. So many students are on so many different unique paths, and sometimes families opt to really tailor that education to that student. Since one of the benefits of home schooling is the ability to tailor education to the student, I imagine that curriculum can widely vary. So when it comes to class and credit requirements for college, are the guidelines any different for home-schooled students?

[00:02:39] BK: Well, that depends on where the student lives. I mean, many states⁠ — I think especially places like Pennsylvania and New York ⁠— are much more prescriptive in terms of what parents have to teach versus other parts of the country. Some families are under a lot more, I guess, scrutiny in terms of what they have to teach or what they have to cover versus other places.

But I think that there's more flexibility. If you have sort of the traditional one-person parent teaching one child, or two or three children, and their child doesn't understand something, they're not going to go on to the next lesson; they're going to work on it until they get it. I think that's something that's appealing. But at the same token, if the lesson is easily absorbed that day, then you don't have to spend the whole six or eight hours, or wherever it is, that students are spending in the school, and they can go on to do something else. So there's a benefit there as well.

[00:03:32] BHA: Are there challenges home-schooled students face when striving to hit the minimum requirements? How can students and their families make sure that their curriculum is preparing them for higher education?

[00:03:40] BK: The two biggest challenges that home-school families typically see are, one, the language requirement. Most Americans aren't fluent in a second language. So often home schooling is done in a consortium, or it's done through umbrella agencies. And there may be an opportunity to reach out to someone outside the family who may be fluent and can tutor the child.

The second challenge is usually lab sciences. Most homes aren't equipped with sophisticated science equipment to be able to do the kind of labs that are required in classes like chemistry and biology. So that can also be a challenge. Of course, what some families might do is take dual-enrollment classes through a local college ⁠— not just for language study or lab science but for more advanced classes as well.

AP classes, for example, it's a copyright, so you can order the test, but you can't exactly call your class an AP class without the proper permissions. Usually, AP has to audit. They want a curriculum of what you're actually teaching. So families might also use other agencies to take AP classes or, again, go through local colleges to take dual-enrollment courses to get some of the more advanced coursework.

[00:04:52] BHA: Ben, you talking about lab sciences gave me some really interesting imagery in my head, like a baking soda volcano in the kitchen or pulling a beaker and a Bunsen burner out of your kitchen cabinet. So you're right ⁠— it's an entire different way to visualize how students are engaging in schoolwork.

[00:05:07] BK: A lot of it is just the physical space, having room for those kinds of experiments. And the breakage, that's always a big expense for us is just the wear and tear the materials. So having to foot the bill yourself can be tough.

[00:05:24] BT: Ben, we've talked previously on this podcast about the application review process from the school's point of view and the ways in which application reviewers get all of these bits of information about a student's education. With home schooling situations, I can imagine that the information-gathering process can look a little different. So will these applicants need to provide a little bit more information than a public or a private school student would about their education? If so, how can students and families best go about that?

[00:05:54] BK: I think it's helpful. Many families will provide a list of textbooks or books that were used in each course to get a sense of the reference points the student was studying. I always find that helpful. It's not like we're sitting there judging, "Oh, that's the third edition [that textbook]. They should be using the fifth." That's not really the point. But it's interesting to see what books students are reading. It's also good to see ⁠— and I think this is especially true when the parent fills out the counselor report ⁠— what the philosophy was behind home schooling. What was the reason behind it? But, yeah, that is one of the benefits, one of the advantages, or one of the things that's appealing is that families can create classes that aren't typically taught in public schools or most schools. Again, it's helpful to see what books are being used.

Students can also submit a sample term paper. My advice would be to submit something in the humanities, something in English or history, and not something related to science. I want to be able to follow what you're saying. But, again, it's interesting to see. I think it gives us a sense of can students not only write clearly but also make an argument and use evidence to defend that argument, which is especially true in a history paper.

[00:07:13] BT:
I want to ask a little bit more about educational philosophy and kind of how you're reading that as an application reader. What does that tell you about the student? Or what is it that you're looking for when you're kind of looking through those educational philosophy descriptions?

[00:07:29] BK: I like to think our process is holistic. We're looking for more than one or two data points. I like to think the home-school reading process is just super holistic. It's just twice as holistic as the regular process because deciding to pull your children out of the local school and teach them yourself is a move that's not taken lightly. It's usually done for specific reasons. I find them interesting to know what those reasons are, like what is the philosophy guiding parents' decision to do that? I think it helps us evaluate the applicant.

Also, it's just interesting because, again, the reasons aren't uniform. They are different. I guess it helps us understand the student and where they're coming from and kind of what their educational experience was. Because, often, it's like I think when families decide to home-school, it's the educational portion ⁠— the pedagogy, sitting down in the classroom and actually teaching ⁠— is just an element of that. I think, often, families think this will also lead to something else. So maybe you might see families saying, "We want more time for educational field trips. We want more time for more individualistic projects, maybe more time for things like internships or jobs." So they're usually thinking of the classwork as a piece of a bigger whole.

[00:08:45] BT: Yeah, I like the fact that you mentioned some of those other experience that can supplement a high school education and that being a possible reason for wanting to home-school. Because being a home-schooled applicant doesn't put a student at a disadvantage for being admitted to a school. Not at Bucknell, at least, right?

[00:08:59] BK: No, no. Everyone has a story that comes from a different walk of life. So it's just interesting to find out what that is. But, no, I think we try to treat home-school applicants the same way we treat every other applicant. The underlying question I always have is, "Can the student do the work? Is there enough coursework and enough success in that coursework to convince me that the student can do the work?" If the answer is yes, then the other elements of the application we can debate in a committee, and we do.

[00:09:29] BHA: So, Ben, you mentioned a couple of things that home-school students can do to make sure that you as the reader are aware of the type of curriculum that they pursued and even the philosophy behind why they pursued that curriculum. So how should a home-school student go about handling something like recommendation letters? Who should submit those?

[00:09:48] BK: We require a counselor recommendation or require teacher recommendations. For a counselor, I would have the primary teacher, primary parent that's in charge of teaching, write that. That may come as a surprise because usually people are like, "Why would you want to hear from the parent of the child?" Because the parent of the child has a unique vantage point of the child's education they've been witnessing for so long. Yes, it can be challenging to be nuanced when writing about your child. Obviously, you love them. You wouldn't be going through home-school if you didn't. That's a tremendous commitment.

I do find some parents are able to give us nuanced descriptions of their child's strengths and weaknesses. I think those are always the ones that are the most useful because you get a sense of, "Okay, this is the kind of applicant we're getting." That's also a common question, I get. "What do we do for the counselor form? We didn't have a counselor!" It's like, "Well, no, that's where you write. That's where your voice is important." Obviously, these letters are tough for everybody. They're certainly tough for professional counselors. I can imagine it being even more challenging writing about your own child, but it is an opportunity to talk about the work that you've been doing together.

In terms of teacher recs, sometimes, again, there was a consortium and another parent on another subject. That's certainly welcome. If the student took courses at a local college, that teacher, or instructor, or professor is welcome to write recommendation. If you were the primary teacher, then you can certainly suggest to people that maybe the child has worked with, or interned with, or played sports with. I think we're more open to recommendation letters at that point because, again, we realize or recognize kind of the unique circumstance that home schooling really is, and that there is not one-size-fits-all when it comes to home-school applicants.

[00:11:36] BT: Speaking of supplemental materials, plenty of schools are turning towards a test-optional policy, where they're not requiring students to submit SAT or ACT scores. In a home schooling instance, I wonder, is taking the SAT or ACT possibly a good idea for a home-schooled student, who's looking to show that they are on par with their peers and other applicants to colleges?

[00:11:58] BK: Well, I think test optional is, as it indicates, the student has the option to submit testing. I would probably submit testing if it's not just above the mean but probably above the 25th percentile of the school's profile. I mean, that's a personal choice that families have to make. I think some colleges would want to see that, just to assuage whatever fears they may have. But, yeah, I mean, that can be another data point. But, again, so many colleges are going test optional because, looking at our own data, we're seeing that the test scores aren't really giving us a lot of predictive value.

[00:12:30] BHA: Yeah. I like the way you call them data points, Ben, and that you're looking for evidence that the student can do the work. I think sometimes people think admissions counselors are scary or don't have good intentions, but it sounds like you're really always looking for the best in every applicant that you read.

[00:12:45] BK: You have to. I mean, that's the whole point of it. Everything for us is about getting to yes. Everything for us is about finding a reason to be advocates, finding a reason for us to say, "Yeah, this is an applicant we should consider." We do get strongly attached, I think, to the students that we feel like can do great work here. Yeah. So it is not an impersonal process.

But I think we try to be as nuanced and as complex as possible and trying to say, "Well, what may appear to be one way on the surface is actually something a little bit more interesting or more detailed if we scratch beneath that." I think that's ultimately what makes selective admissions selective is that kind of human factor, where you are going, "Oh, wait a minute. Let's ask a couple questions of what we're saying." It is people saying, "Yes." That is the selection.

[00:14:01] BHA: Yeah, absolutely. So college admissions counselors like yourself are just one of the many people that advocate for students in the process.

We touched upon parents a little bit, but I want to circle back to it because, obviously, they have an amplified role here than a student who might attend a public or private high school. So given their role as the students' teacher in their education, how can parents work together with their student during the application process, while still also leaving room for the student to shine, right? You hear about "helicopter parents" or "snowplow parents." How does a parent balance being both the student's primary educator and also be the parent throughout the process and allow the student to be the one that really shines?

[00:14:42] BK: Yeah. I think that's a challenge that every family faces. I mean, right now, it's spring as we're recording this, so I'm currently on the road at college fairs. And I can see juniors just starting the process, not really sure what to ask, and parents kind of prodding and saying, "Ask that question you had for us earlier." Then I see sophomores, and I'm like, "You guys barely know where all the classrooms are on your school. How can you be thinking about college at this point?"

So I think every parent struggles with how can I be involved in my child's college search process in a productive and healthy way. It may actually be easier if you're in the home-school situation. It may actually be easier if you have a more intimate knowledge just kind of the academic pedagogy because I think the child is looking for that guidance. You would look for it in a public or private school setting from the teachers and counselors in your school. So I think it may actually be a little bit easier that they're like, "No, we've already kind of been working on this process together." It would make sense for the parents to be involved.

Even if someone works in it every day, it's been at least two decades since they've gone through the process themselves. I think every parent always feels like, "This landscape has completely shifted. I have no idea what's going on, and I'm not even sure what the goals are." So I think everyone feels a sense of bewilderment. I think how do you address that is first to say like, "Look, okay." Just acknowledge it. Acknowledge the bewilderment, acknowledge the landscape, and then understand it is ultimately your child's process and helping them figure out, A, what their goals are and, B, what do they want out of the experience — then trying to create a path to get there.
[00:18:54] BT: So let's flip this around and talk about it firmly from the admission team's perspective. So, Ben, we mentioned that you read all the home-school applicants that come in to Bucknell. So when you're going over these applications, what is it that you're looking for that really shows that an applicant can do the work? Kind of what specific things are jumping out at you that you're grabbing to say yes?

[00:19:15] BK: Well, I mean, for me, strength of schedule is the most important thing. Grades for home-school applicants, again, are usually pretty good because the nature of the work is you're not going to go on to the next lesson if your child doesn't understand what they're currently looking at. So strength of schedule. You'd like to see what we call "solid classes." You like to see 20 of those at least — your English, your maths, your histories, your foreign languages, your science classes. If someone's looking for something like engineering, you want to see good math preparation — at least pre-calc is a minimum, hopefully getting to calc. Having said that, don't want to rush to the math either. Want to see physics. Want to see chem.

But I think for any student, you want to see broad education, broad success in education. But, yeah, if a student has an opportunity to take dual-enrollment courses at a local college, that'd be something that should be explored, especially, again, when you're trying for those language study, foreign language study, lab sciences, your upper-level classes, especially once you start talking about maths and some of the advanced science classes, which can be hard to duplicate at home. That's definitely something you'd like to see on the transcript.

[00:20:25] BHA: So outside of classes, knowing that college isn't only about labs and essays and solid courses, it's also a place where students can find and build community. What aspects of the application show you that a home-schooled student is ready to be a good fit in your college community?

[00:20:40] BK: Well, depth of extracurricular activities is important. Depending on where you are, I mean, some home-school students are able to participate in, especially with varsity sports, the local sports teams at their local high school. I guess most famous is Tim Tebow, who used to play at University of Florida and won a Heisman Trophy for them. So that's pretty good extracurricular activity.

But you'd like to see the depth of activities. I'm always concerned with — not just for home-school students but with any applicant — when they don't really have a lot of activities outside the classroom. Especially given the nature of Bucknell being a residential campus, we're looking for students that are smart enough to be able to be successful in the classroom and still have time and energy to be involved in campus life. Because if they can't, they're not really leveraging what our strengths are. So you're looking at what are they doing outside the classroom.

In terms of what those activities are, it doesn't really matter. It could be a job. I'm a big fan of jobs. I think it teaches a lot of wonderful things and, plus, who doesn't like getting paid? Varsity, club, sports, visual performing arts, religious life, service, research. There's a lot of things we're looking at. So I would list the activities that you spend the most time doing.

I think the writing sample (i.e. the personal essay) becomes especially important because depending on the situation, that may be one of the clearest sort of indications of, well, who are you and who are we getting. The essay is always the hardest part of the application. We're not a culture that goes around sort of writing personal essays on our own. This is not a form of writing that we do on a daily basis. Talking about yourself to complete strangers is just not something that most people feel comfortable with. But I think what we get out of the essay, besides the sense of can you communicate on a basic level, is just learning something new about you. I think you form your opinion of the applicant or your feeling toward the applicant based on your reaction to the personal essay, where you feel like, "Oh, I've just had like a conversation with him. I've learned something new." I think it helps humanize the applicant. It adds dimensionality to their application, which given 11,630 applications this year, that humanity can be a tremendous asset.

I guess my overarching advice for home-school applicants would be, when in doubt, just add it. Just give us as much as you can.

[00:23:27] BT: Yeah. And there are plenty of opportunities, like you said, on the application to talk about all the ways you've been able to kind of balance school, and activities, and all of these things that have made you the student that you are.

On that note, that's one of the big things that students have to deal with with transitioning to college is orienting themselves in this new kind of work-life balance because there's classes, there's labs, there's getting dinner in a caf with your friends and doing all of these activities. It can be so different than the typical eight to three high school experience, whether you've attended classes in person during high school or whether or not you've been a home-school student. So when the time comes, how can home-school students manage that transition and make the most of their college experience?

[00:24:16] BK: I don't know if it's as big a transition as a lot of people think. Because a lot of home-school students, they're doing social things outside the classroom. They may be involved in a collective. So it can impact, frankly, the kinds of institutions home-schooled students are looking at. I think a lot of the ones that we see in our poll are like, "Look, I'm kind of used to having sort of a one-on-one kind of a close relationship with instructors, and I don't want to go to the big sort of auditorium style classroom." Some students will say the opposite like, "God, I'm sick of having only two people in my classroom. I want to be in a room of thousands." So it can impact their expectations in a couple of ways.

But, I mean, our experience in my time here, I've been here 16 years, home-school students have done as well as anybody else has. Part of college is learning some life lessons and making the adjustments. I think what we're finding for most students anyway is the biggest adjustment is not necessarily academic, especially the students who are taking these AP-laden, and IB courses, and dual enrollment. The coursework I think they're getting is the social adjustment of just, okay, managing my day.

But that's why you go to college is to learn how to flourish in the real world. I mean, that's ultimately what we're preparing you for — beyond just the academic, beyond just filling your head with full facts and figures. But also, "How do I live?" So, yeah, I think everyone has an adjustment. But I don't think home-school students have a tougher adjustment to college than students who've gone the "more traditional route."

[00:26:34] BT: Yeah. It's the next big transition stage for everybody. Well, I think this has been a really awesome full episode of College Admissions Insider. Thanks to Ben for lending his insight into this really important topic.

[00:26:46] BK: Thanks for having me.

[00:26:48] BHA: And thanks to everybody out there listening. If you're a fan of the podcast, please take a moment to rate, subscribe, and share this episode with students and families in your life.

[00:26:56] BT: We'll be back with another episode in two weeks. In the meantime, send your questions, comments and episode ideas to podcast@bucknell.edu.

[00:27:06] BHA: Finally, you're invited to follow Bucknell on your favorite social media apps. Just look for @bucknellu on Instagram, Facebook, Twitter, YouTube, and now TikTok. You can also follow our student-run Instagram account, which is @iamraybucknell.

[00:27:22] BT: Until next time, keep on reaching for your dreams and your dream school.

[END]
Contact Details
Office of Admissions
Location
Hours
Monday – Friday:
8:30 a.m. – 4:30 p.m.