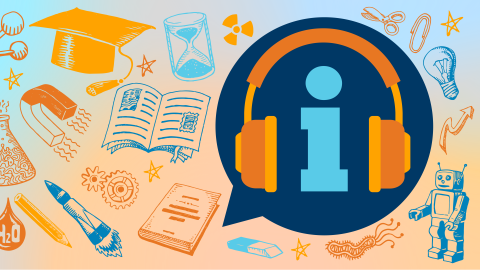 Episode 61: What to Look for in an Engineering School
February 20, 2023
---
What comes to mind when you think of the word engineering? A hardhat and paper blueprints, a computer with complex modeling software, or maybe a bunch of wires, gears and other technical parts? Engineering can involve all of those things and so much more.
When looking for the engineering major you might want to study in college, you might find that they're grouped together in a school of engineering within a larger university. On this episode of College Admissions Insider, we're diving deep into this educational track — from the types of professions the engineering field includes to what a general engineering curriculum might look like and far beyond.
Our guests are three faculty members from Bucknell's own College of Engineering: Biomedical Engineering Professor, Eric Kennedy; Mechanical and Chemical Engineering Professor, Wendy Wright; and Chemical Engineering Professor Kat Wakabayashi.
If you have a question, comment or idea for a future episode, email podcast@bucknell.edu.
Episode 61
[0:00:01] BHA: Hi, everyone. It's Becca from College Admissions Insider. Before this episode starts, I wanted to share a bit of personal news. My husband and I are thrilled to have welcomed a baby boy to our family in December. Who knows? Perhaps, he will even be part of Bucknell's class of 2045. That means if you're listening to this message, I may have been out on maternity leave at the time of this recording. But not to worry, the podcast is in great hands with Brooke, who has some amazing guests lined up for while I'm away. I'm looking forward to returning to the co-host seat when I'm back in a few weeks. In the meantime, I hope you enjoy today's episode, and I'll see you soon.

[EPISODE]

[0:00:42] BT: What comes to mind when you think of the word engineering? Do you picture a hardhat and paper blueprints, a computer with complex modeling software, or maybe a bunch of wires, gears and other technical parts? Well, engineering can involve all of those things and so much more. When looking for the engineering major, you might want to study in college, you might find that they're grouped together in a school of engineering within a larger university.

I'm Brooke Thames from Bucknell University. Here on College Admissions Insider, we're zooming in on some of these more specialized educational tracks. Last episode, we covered what students should look for in a management school. Today, we're tackling engineering. We'll cover the types of professions the engineering field includes, what a general engineering curriculum might look like, how rigorous an engineering education can be, and much more.

Here to provide firsthand insight are three faculty members from Bucknell's own College of Engineering: Biomedical Engineering Professor, Eric Kennedy; Mechanical and Chemical Engineering Professor, Wendy Wright; and Chemical Engineering Professor Kat Wakabayashi. Welcome to the podcast.

[0:01:46] EK: Thanks, Brooke, for having us.

[0:01:48] WW: Yeah, Brooke. This is so fun to be here today. This is my first one.

[0:01:53] KW: It's good to be on your show together with some colleagues that are familiar.

[0:01:58] BT: Before we jump into everything, can we hear a little bit more about each of you and your work at Bucknell?

[0:02:03] EK: Great. If you don't mind, I'll jump in. Thanks, Brooke, again for having us. My name is Eric Kennedy. I'm a faculty member in biomedical engineering. Before I get into what I do at Bucknell, I always like to point out that my path to Bucknell as a faculty member was fairly multidisciplinary. I started, actually, as a civil engineer in college, looking into environmental engineering. I got really interested in my civil engineering structures classes, eventually moved to civil. Ultimately, I ended up switching majors one more time in undergrad to mechanical engineering.

After I graduated, I worked for a few years and then went back to graduate school in the field of injury prevention and biomechanics, thinking about things like automobile safety. I really had to dive into biomedical engineering during graduate school to better understand the unique nature of applying engineering to the human body as a structure, essentially doing a structural analysis of the human body. That leaned into my civil and mechanical engineering past.

Today, in biomedical engineering, I teach design and fabrication and courses in biomechanics. My research specialty has evolved into heavy involvement in the field of child injury prevention, specifically playground epidemiology and injury prevention, such as the safety standards that we use when designing playground safety equipment.

[0:03:18] WW: Well, like Professor Kennedy, I didn't have a straight path either. I'd like people to know that, when I started out, I thought I wanted to be a physician like my dad. My first term of college was a big adjustment for me. I stepped off the pre-med track while I regrouped. To get back on, I decided that I should take physics out of sequence with engineers. I hadn't been exposed to engineering at all in high school, but it didn't take me long to realize that I could have an impact on the world as an engineer, and that I was really more suited for a career in engineering than medicine. It really turned out well for me that my first quarter of chemistry wasn't everything that I thought it was going to be.

Today, I'm a materials engineer in the mechanical engineering department at Bucknell. My research focuses on the mechanical behavior of novel metals. I like to say, "I break things for my job," because testing materials until they fail is an important part of the research that I do. I'm also fortunate to be the chair of the mechanical engineering department.

[0:04:31] KW: My name is Kat Wakabayashi. I am an associate professor of chemical engineering. I've been at Bucknell for 15 years or so. I teach a range of classes, from our first-year introductory engineering classes to capstone senior design classes. I'm a plastics engineer by training, so I do research in things like sustainable plastics, plastics recycling and things like, that. Also, nowadays, recently I've been into coffee, and so I started to actually dabble in coffee science research as well. In a sense, engineers get to teach and study a wide range of things. That's what's exciting about being an engineer.

I have a pretty international background. I was born in Japan, raised in Europe. I came over to the U.S. for my college education. I've been here ever since. In college, I majored in chemical engineering because my high school teacher recommended that if I like chemistry and math, then chemical engineering is a practical and versatile degree. I stuck with it. I'm still a chemical engineer.

Halfway through being a chemical engineer in college, I added my second major in materials engineering. Just like Professor Wright, I am a materials engineer, also. That's because I was always curious about what things are made of and why. That curiosity let me stumble upon that additional major that I picked up in college.

[0:06:04] BT: Awesome, thank you all for sharing. Sounds like we have the perfect group of folks here to talk about what students should look for in engineering education. Before we start talking about the education part of it, I wonder if it's beneficial to just more clearly define what engineering even is, and what it looks in the real world. Eric, how would you describe engineering?

[0:06:24] EK: Good question. I think, if you Google engineering and you look into what engineering is, you get the sense that it's a highly technical field. It leans into backgrounds that are rooted in math and science. I would really like to say I think that definition misses probably the most important aspect of engineering.

I think engineering is a field that people engage in all kinds of different endeavors to solve problems that can help address issues that society faces. That can be medical devices, or prosthetic implants and how they're designed. Or as Kat and Wendy were talking, new materials to strengthen screens on our cellphones, or when we drop them, or combining these ideas. How can we make better materials for artificial knee surfaces so that knee replacements lasts longer and allow somebody to go running and continue a very active life after a knee replacement surgery.

I think engineering is how we work and listen to people. When someone says, "Hey, the problem with solar energy is that it takes up all this space," an engineer figures out how to take and put solar panels above a parking lot, and that the cars have a shady place to park and that keeps them cool, but it also captures this renewable energy that would have otherwise gone to waste. I think there's tons of different, really unique problem-solving aspects of engineering.

I think engineers listen to what somebody identifies as a challenge. Then they work to come up with a solution to the problem. Often, that problem has never been solved before. Ideally, it's a solution that enriches everyone's lives. I think the ability to listen to people and think about a solution doesn't just mean you're designing something or doing research. I think our alumni go off in a ton of different directions in so many different fields to leverage their engineering background.

[0:08:10] BT: Yeah, what I'm hearing is that engineering is essentially about problem solving, creativity and even collaboration there, with listening and being able to respond. Given that all of that is involved, I wonder if there are certain types of people with certain interests or talents that would do well as engineers? Are there any questions that students should ask of themselves when considering whether engineering is a good future path for them?

[0:08:34] WW: Well, thanks, Brooke. I want to say, though, that I didn't know that I would do well as an engineer when I started down that path. But I suppose in hindsight and now as a professor, I can give an answer. I'd say, engineering might be a good path for you if you want to make the world a better place by applying math and science. Certainly, then that makes sense if you like math and science and you have an aptitude for that.

Beyond that, we need people in engineering who have all the traits of the people for whom we're designing and building. It's a challenging path, regardless of one's background. We have to have a willingness to work hard, too. I'd say an innate curiosity is typical of engineers.

As chair of the largest department in the College of Engineering at Bucknell, with nearly 200 students, I'd say what we share — the common thing we have — is that we have a desire to do good through math and science. Beyond that, we're all pretty different.

[0:09:38] BT: I'm sure there are a plethora of ways to gain all those skills and qualifications through the math, and science, and all those things that you mentioned there, Wendy. All those things that are necessary to go into an engineering field. What exactly differentiates a four-year education at an engineering school or college from maybe a shorter pre-professional program somewhere else?

[0:09:57] KW: I'll take a stab at that question. I think, we already came up in our podcast — and Eric and Wendy have mentioned these things — for engineers to do a good job, they need to understand the situation, or the context of the problem that they're facing, or the problem that they're trying to solve. It's not just about calculating numbers, and crunching numbers, and doing the science. Really, it's about understanding the context, understanding the culture, maybe understanding the societal impact. How people react, you might have to respond to, You might have to speak a new language to communicate that solution, for example. There are many, many aspects of studies that need to be with the engineers in their training and in their skills. It's not, again, just science and math.

In that sense, I think engineers would do better if they had a holistic education, or well-roundedness, that we strive to have our engineers have at Bucknell. In that sense, taking classes outside of science, math and engineering, in a college setting, in a four-year college setting, would allow you to appreciate the rest of that world or that landscape. Even beyond that, just being a college student for that long and interacting with different students, different professors and different organization that the students might belong to over the four years, really allows the student to grow as an adult and as a professional. I think it is a nice combination of not just being a book smart but also being street smart that we have at four-year college campuses.

I think, it's typical to think that college classes or engineering classes can be tough. But if you are at a four-year residential university or college, then you actually have people to go through the program with. You live together, you might do homework in your home or in your dorm rooms together, you study for tests together. In that sense, this residential college experience actually adds to the success for becoming an engineer as well.

I think we do that well at Bucknell, because most of our students, almost all of our students live on campus. We have a very tight-knit community. We do expect our students to work in teams and in groups, even for regular homework and even studying for tests and things like that.

[0:12:36] BT: Thanks, Kat, for that really great overview of what some of those differences are between a longer education and perhaps a shorter one. Now we have that, let's dig deeper into what an engineering education might look like at a four-year institution. At Bucknell, there are six engineering departments. At other schools, there may be more or less. Do students typically follow a common core set of classes, regardless of their major within an engineering college?

[0:13:03] EK: That's a good question. If you don't mind, Brooke, I think I'm going to break this into two parts. The first, I'll talk about the first-year experience as an engineer at Bucknell. Then the second is the common arc of your career while you're a student here at Bucknell.

Starting with your first semester at Bucknell, you'll find yourself entering the greater Bucknell engineering community as one collective class. Each of our engineering students comes in and taking Engineering 100, which is a course that's designed with a really hands-on approach to multidisciplinary problem solving. We're lucky actually that Professor Wakabayashi is one of our instructors for Engineering 100 right now, our lead instructors. I actually, just a couple weeks ago, saw some great project outcomes from that class and the hands-on projects that they were able to do.

In addition to Engineering 100, all of our engineering students are also taking physics and math courses that very first semester. Our students continue to find each other and new friends in residential college courses or foundation seminars that are specifically designed is really engaging, multidisciplinary courses that often address some really big and interesting societal issues. There's something to round out that technical coursework that they're taking that first semester. Also, in the first year, most of our departments have an introductory course or sequence that kicks off that second semester, the spring semester. From that second semester on, you become more and more experienced and more engaged with your specific major.

The second part of the answer about that arc of your career here at Bucknell, as time goes on, your discipline will go through a variety of hands-on courses that give you expertise within your major. Often, very custom to the needs of that profession. We are in three different departments right now, but each of our departments requires our students to go through a fluid dynamics course. Each of our departments also likely teaches that course with a different spin. Chemical engineering might emphasize fluid mechanics as fluid moves around a chemical plant or a process. Mechanical engineering might cover fluid dynamics but also introduce concepts of airflow moving around things — think about vehicles traveling down the road, or airplanes, or capturing wind energy and looking at designing turbines for renewable energy. A biomedical engineer might look at fluid flow within a pipe similar to a chemical engineer, but that pipe isn't rigid, because our anatomy is a series of flexible and dynamically changing pipes. We're all taking a course that is rooted in the same fundamental engineering concepts but applied in a different bent, depending on our different discipline.

At the end of all these specialized classes, each of our majors loop back to a yearlong capstone-type class. Either specifically within the department…you can take a deep technical challenge and dive that utilizing all of your skills that you've developed over the past three years. Or you can take on an interdisciplinary project, where the expertise of engineers from multiple different backgrounds is required to address the problem.

Then none of my answer actually addresses the non-technical side of our curricular experience, but Professor Wakabayashi just touched upon that with his previous answer, and I think we're going to loop back to that later.

[0:16:27] BT: Wow. That sounds like a really robust education with full of opportunities for learning how to do things hands-on within a variety of engineering disciplines. I wonder if we can talk about how a couple of different factors might influence how a student actually experiences that education and some of those opportunities. One of the things that we talk about often on this podcast is the size of a college or university. That has a major impact on the student's experience, both in and out of the classroom. How does that translate to an engineering education, specifically? What factors make a difference?

[0:17:00] WW: Well, Brooke, I've had the opportunity to teach at universities of different sizes, so maybe I'll comment on size being a factor. When I think about that, I want to stress that I believe students are the main drivers of their education. But many of us tend to thrive in certain environments and perhaps, at times, feel less comfortable with others. We've got to start figuring out which one we're best suited for.

Let's talk about a large university with an engineering program. A large university is probably going to have a large faculty with broad and deep expertise in many areas, so that's great diversity. They'll probably have excellent research equipment. The class sizes might be very large, though — some even a 100 students or more in a class. Some engineering and science labs, or even courses may be taught by graduate students. A student might value that experience, and want to be one of have many, and then blend into the crowd.

At Bucknell, we're at the opposite end of the spectrum, though. I tell prospective students that their faculty will know their names, and call on them by name in class, and will email them even when they miss class to make sure they're doing okay. My students know they can stop by my office and, as long as I'm not in a meeting, I'll do my best to make time for them. I will help them with their homework. I will also teach their labs and demonstrate how to use equipment myself.

My sense is that, at a smaller school like Bucknell, we're able to offer more laboratory courses, — which gives more hands-on experience — simply because we have fewer students. We do truly, though, also value that hands-on education. Here at Bucknell, we are also very fortunate to have excellent equipment, and we let undergraduates use it. Sometimes at a large research university, the equipment is reserved for use by graduates. I think it's a rare combination to see a school of our size with excellent equipment available for undergrads to use.

Here at Bucknell, we do have a few graduate students in engineering, and we do use our graduate students at times to be helpers in the lab but not to teach our labs. We will also use undergraduates as our research assistants. That's because we don't have very many graduate research assistants. If we want to pursue research programs, which we do as faculty, we are using the undergraduates as our partners in that work. Undergraduate research experience really can be transformative, I think, for a student to have the opportunity to work side by side with a faculty member in their area of expertise.

I hope I've conveyed that an engineering education can be a totally different experience depending on the size of the school, but there's really no right or wrong answer. I think, it's just a student should choose based on what suits them best. Perhaps, that requires a visit to the school to see how it feels.

[0:20:14] BT: Yeah, I really love that point there, Wendy, that different experiences might be best for different students. For students who decides that a smaller school might be best, there might be tons of opportunity to get their hands on some of this equipment and get involved in a lot of these projects. To give our listeners an idea of the work that undergrads can do with those types of school, Kat, can we hear from you about some examples of projects you've partnered with students on?

[0:20:39] KW: Yeah. I mentioned at the beginning that I'm a plastics engineer. There are many, many companies that make or work with plastics. With that aspect, I know that our students enjoy working on real projects, as opposed to some fake or textbook problems. I would like to bring in real projects with real clients, or real collaborators and partners from industry. I tend to bring in these corporate-sponsored projects, so my students will get to work on these projects. In the past, we've worked with a couple of Fortune 100 companies. We have local and regional companies that we work with. I also have clients from overseas, including Thailand, England and the Netherlands.

One of the projects was trying to recycle a synthetic turf grass blades of soccer pitches because we have a lot of those in England. That was a lot of fun. Real projects with real results. At the end of that, the students get to publish with me in scientific journals. They get to go present it at different professional societies. In one case, some of my undergrad students got to be on a patent on one of the technologies that we filed together. In that sense, I just want to reiterate that our undergrads get to do real engineering projects, while they're still a student, and with the help of companies sometimes.

Outside of the research experience, even for classes, I think many of us faculty bring in different collaborators, different speakers and different clients to work on different hands-on experiences, like we have been talking about. Even beyond our classes, I would say that many of the Bucknell colleagues provide other distinctive hands-on learning experiences, including service learning. That's where the students go to different communities and actually devise a solution that actually works, for example. Also, we do a lot of global studies and foreign exchange programs as well. We really do value these, what we call "high-impact practices" that is much more beyond sitting in classrooms and labs.

[0:23:02] BT: Yeah, it's so interesting to hear about the real-world projects that your students have been able to do. It's so cool that a couple of them even got published on a patent before they even graduated. Switching gears a little bit, we've mentioned multidisciplinary learning a couple of times so far. That is a pretty big hallmark of a liberal arts education, which we've described before on this podcast as educating the whole person. In what ways does the liberal arts influence what and how student engineers learn?

[0:23:35] EK: I'm going to jump in on this one. I got a chance to talk a little bit about the technical side of our curriculum before, but I really like this question, Brooke, so thank you. I think there's a lot of ways that being on a liberal arts campus can help with that "whole person, well-roundedness" that you referenced. I think we could easily say, "Oh, well, we have these general education requirements and our students are going to take courses in a variety of disciplines, not just focusing on their engineering courses." I also really don't think that's our answer.

It is true that, as a liberal arts institution at the heart, we have really exceptionally talented faculty in every department across campus, and you'll get to take courses with them throughout your time here. I think being on a liberal arts campus, especially the size of Bucknell, it goes well beyond the general education requirements. Our faculty are small enough that we all know each other. I personally have learned so much about writing and communication from my colleagues across campus. I've gotten to know faculty whose specialties are in child development and health, psychology. Remember, I mentioned before my research area is in injury prevention, so these things are complementary to my field but not necessarily the core of what I do.

I think that's where Bucknell is really unique, when we can bring these experts into our engineering courses, that our students can really see that engineering is not just equation solving and technical gibberish, but that it involves so much more of the human experience. I know Kat has brought non-engineering faculty into interdisciplinary senior design. I've taken my child injury prevention class to meet with students in a psychology class, where they've all talked about the psychological aspects of injury or suffering a health crisis. I've been able to have someone that compares American and European parenting styles come to my course, about child injury prevention and talk about how societies manage risk and fear of injury. I think, those are really unique things that we can do at a place like Bucknell.

I think it's not really necessarily about taking course A, B, and C from a list. I think it's about having the opportunity to blend A, B and C together as you learn how your solution to tomorrow's problem is going to impact society from a variety of different perspectives. Hopefully, that answers your question a little bit on the non-technical side of what we can do within engineering.

[0:26:09] BT: Yeah, of course. I think it can be easy to forget, like you all have been hinting up to this point, that engineers aren't just number crunchers or scientists. They're writers, and creative thinkers and communicators. But a liberal arts education is only one option. We've noted before that different types of education could be beneficial for different types of students. What are reasons why a student might want to attend a more focused technical program instead of a traditional four-year college or university?

[0:26:40] WW: Well, Brooke, I think you just reiterated my theme for today, again, which is that the choices students are making should really just be what works best for them. There are some students who just thrive in that technical environment, who want to do math, and science, and maybe engineering all the time, and they want the vast majority of their classes to be on those topics. For them, a technical education is exactly right for them. For others, [they] would maybe feel not as stimulated in that environment.

Maybe I'll share a personal story. I didn't know I was going to be an engineer, but I knew I wanted to major in math or science. I did visit very technical schools and then schools more like Bucknell. I'll say, it wasn't until I was at the very last school visiting, that I knew that one was the one for me. It was simply because I was there, and it wasn't even what I would have said when I had started if someone had forced me to guess. I don't think you have to visit a school to apply to it. I do think, if at all possible, a student should visit a school before they choose to attend it to try it on and see how it feels because I really think that's the best way to figure it out.

[0:28:05] BT: That's a really great point, Wendy. Thanks for sharing that. Regardless of the type of education that a student chooses, I presume, based on our conversation so far, that pursuing an engineering education requires a lot of time and dedication. There can be this assumption, I think, that engineers have some, if not the most robust and rigorous programs. Is that true? What's the perception versus reality there?

[0:28:31] KW: I think it's fair to say that we need our engineering students to dedicate time and effort to learn methods, skills and the process of engineering because we do try to solve a wide range of problems. So that requires a wide set of skills and tools. In that sense, there is the math, there's the science and then there are the engineering courses, whether that's general engineering or in their own discipline. But the coverage of those topics and asking them to apply that to real cases or real-world problems do take time. Because of that, that racks up the number of hours that the students have to spend with us faculty or in their rooms to prepare for exams and homework. In that sense, I think it is true that the students have to spend a lot of time.

What I think is a misunderstanding is that people think you have to be smart, or you have to be intelligent, to do engineering because it is rigorous. I don't think it's necessarily rigorous in a sense that it's the level of intelligence that we're asking for. I think it's about enduring hard work, continuing on to learn, and putting the time and effort towards a goal or towards a set of skills because those would help you solve future problems. In that sense, successful engineering students are those people who are willing to put in the time, who might be considered being gritty and who are just hard working in general. I would say, if you are a person who gets bored easily, or who doesn't like to spend a lot of time on one thing, or if you like to walk away to experience many, many different things, then that might present a challenge for succeeding through an engineering curriculum.

I think, even for Bucknell, this notion of time spent in classes on labs is even higher because we at Bucknell tend to have a lot of lab courses, or lab sessions associated with many of the courses that we teach. Our students are usually in lab with the faculty in most afternoons, actually. In that sense, they spend a lot of time in our building, and they have reports, or they have meetings to go over some of their work that they've done as well. Just a reminder, again, that we tend to do these things in teams, and the faculty members are always there to support, or to help, or to answer any questions along the way. In that sense, I don't think it's a rigorous alone. It's always with people, it's always with the community and it's always with resources around you.

[0:31:30] BT: What I'm hearing there, Kat, is that a student shouldn't be afraid to pursue engineering, especially if they are hardworking, have that grit and are willing to put in the work. What do we tell students who are a bit nervous about maybe feeling pressure or maybe experiencing competitiveness even within an engineering program? How do we help them assuage those fears?

[0:31:52] EK: That's another good point. I think for starters, I'd like to note that engineering is a highly collaborative discipline. We've talked already about how we need to figure out how to interface from people with a variety of backgrounds and expertise to make sure we truly understand the problem, and that the solution would be acceptable. I think our classes and our student experiences is really best here at Bucknell when they're modeled after a real-life professional experiences.

Interacting with our students, as Kat was just describing, in lab and other class related projects or research activities…in those interactions, our goal is not to rank each student on a team one to five, or rank everyone in our classes on a test one to 20. Our goal is to give them a genuine experience where they've worked together on a project. They can each play to their best strengths and all find ways to contribute to a project.

I think it is true, engineering can be very time intensive, but time and time again, I see our students develop a really strong sense of community with their classmates and their faculty here at Bucknell. We help our students form study groups, not just in their engineering classes but also to help them through math, physics and chemistry. We have a lot of resources on campus that we want our students to take advantage of. We have Bucknell's Teaching & Learning Center. There's formal study groups. There is tutoring opportunities. The point of every one of those is designed around this greater Bucknell community of learning.

I think the hardest projects are always the ones that require input from every direction and need everyone on their team. One student might be the biggest visionary and really challenge the team that they shouldn't just solve the problem the most obvious way, but they might not know how to actually make the idea they have in their head. That's where someone else on the team can take over. Our goal is that everyone has their unique strengths [and] can contribute to the team. We want you to find your niche, find what you're really good at, even within this discipline of engineering.

[0:33:47] BT: Yeah, declaring a major and following a particular course of study doesn't mean that you're alone on an island, right? There's always going to be a support system and a network for you to lean on.

[0:33:56] EK: That's right. You don't have to be good at everything in all aspects of engineering. Your goal here is to find exactly what classes resonate with you and realize that, through chemical engineering, you really like material science, and you're going to go on and become a material scientist. You might find that you want to shy away from fluid mechanics, or you might find that you want to shy away from some topic, but you're really strong in another. We want you to find that here.

[0:34:42] BT: So far, we've talked a lot about what happens in the classroom, in the lab and in research opportunities — which, of course is the meat and potatoes of an engineering education. I'm curious if we can pivot outside that for a minute to talk a little bit about extracurriculars and things that happen in all the other aspects of the student's life.

One of the advantages of a four-year residential college is being able to explore a wide range of interests outside of your major. How can engineering students make the most of extracurriculars and other on-campus opportunities, while balancing the time and the dedication it takes to become an engineer?

[0:35:19] WW: That's a tough question, Brooke, because at a university, I'd say there's always something to do outside of the classroom, beyond class, at almost any hour of the day. I mean, first and foremost — though, perhaps I'm a little old school here — a student is here to get an education and they've invested a lot in that and, often, their families have to.

I will say I didn't have any extracurriculars in college. I was very focused on school. Later then, in graduate school, I did find some extracurriculars, which may be more of the experience of our students today by finding those experiences during college. What I found was that enriched my life and I learned a great deal outside of the classroom then as well. For me, I learned leadership skills through student government that then became, I think, an important part of what I bring to my career now.

How do students balance that? I mean, certainly, it has to be priorities, and it has to, again, I would say, often, putting the education first and getting done what needs to be done for a class. But then, choosing those things that are important to a person. My advice to students is to go deep, rather than broad, to dabble, maybe to choose something that will stick with them through their life as I did. We have many students, for example, here at Bucknell who are outstanding athletes, who have pursued a sport through their life and do also through college. They do excel both at school and at their sport.

It can be done. It requires careful time management. I just ask our students to think about what it is they want to gain and to choose the things that are meaningful to them.

[0:37:16] BT: Yeah, the goal of a college education is to come out a well-rounded, holistic human being. I think, the advice of going deep and maybe a couple of things, rather than shallow and a bunch of things. That's great advice for any students in any discipline, really.

As we wrap up, let's leave with one piece of advice, specifically for the high school students who may be listening. What's something that they can do right now to help prepare them for an engineering education, or career?

[0:37:45] KW: I just wanted to mention, if we haven't already, that engineering is a pretty versatile degree that can lead to many different career directions and options. Our engineering graduates are not just typical engineers and scientists, but they are doctors, lawyers, artists, bankers and consultants. You can imagine that an engineering degree does not define the rest of your life.

With that, my piece of advice is that as high school students shouldn't really stress too much about the choice of the degree and the choice of the school and the choice of – My piece of advice there is that a high school student should not stress over too much about the choice of the degree, or the major, or even their school. Things can change. You can make those changes if you wish. Even if you stuck out with an engineering degree, that can lead to a wide range of things.

Once you decide to apply for an engineering school, then be comfortable with it. Take those hard classes maybe. Gain some AP or IB credits to make your life a little bit easier once you get to school. I would say keep your head down and work hard at the things that get in front of you.

[0:39:15] EK: Jumping off of what Kat just said, he spoke briefly about not stressing about your choice of engineering degree and major, and that it doesn't define your life. I'll just remind you, I said at the beginning of this I changed undergraduate majors three times on my way to finishing with a degree in mechanical engineering.

I think, I'm going to shy away from the technical advice and just talk a bit about how to know if the place you're visiting is the right fit. I remember looking for colleges, and I wasn't quite sure what the thing was that I was supposed to be finding when I visited them. What were those one or two factors that were supposed to help me decide where to go or what to do with my life? I think looking back, I have two pieces of advice that I'd pass along.

First, I think you need to have a goal. It might change even three times like mine as you start it out, but at least you know in the short-term what you're aiming for. If you feel like the career seems interesting to you, I'd tell you to aim for it. The second, with regard to choosing the right place, I think it turns out, my response is as Wendy mentioned, visiting campuses if you can or taking virtual tours. Do as much learning about each place as you can. Then just make it simple. Imagine yourself actually being and living there in one or two years and calling it home for a period of four years. I think that's the fit, I think, you're looking for. If it passes the close-your-eyes test and you can imagine that it feels right to you, then trust yourself.

[0:40:53] WW: My advice, in my opinion, is that the best thing a student can do right now is to focus on developing their study habits. Do some homework every day. Develop your skills working in teams, but be sure you practice some prompts by yourself as well, especially for engineers in math and physics and chemistry. Be sure you can work out your answers, see if they make sense. Only then, check them with a teacher, or friend, or an answer key, or before you turn them in. What I'm trying to say is we need to learn how to learn. That's the best thing you can do right now and it'll help you in every aspect of your life, no matter what it is you choose to study.

[0:41:36] BT: Awesome. Well, I for one, have learned so much about what goes into an engineering education and about all the possibilities that await students at whatever schools might be on their list. Thank you all for joining me.

[0:41:48] WW: Thanks, Brooke.

[0:41:49] EK: Thanks, Brooke, for having us.

[0:41:51] BT: We also want to thank everyone out there for listening. If you're a fan of the podcast, please take a moment to rate, subscribe and share this episode with the students in your life. College Admissions Insider will be back with another episode in a few weeks. In the meantime, send your questions, comments and episode ideas to podcast@bucknell.edu.

Finally, you're invited to follow Bucknell on your favorite social media apps. Just look for @bucknellu on Instagram, Facebook, Twitter, YouTube and TikTok. You can also follow our student-run Instagram account to see what our engineers are up to. That is @iamraybucknell. Until next time, keep on reaching for your dreams and your dream school.

[END]
Contact Details
Office of Admissions
Location
Hours
Monday – Friday:
8:30 a.m. – 4:30 p.m.