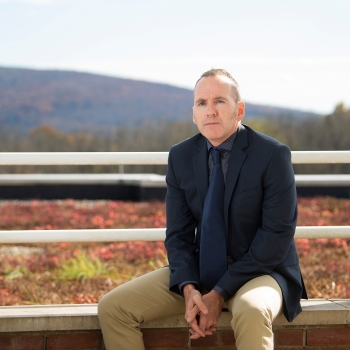 Adrian Mulligan
Professor of Geography
Bucknell in London, Fall 2022
About Adrian Mulligan
I am a human geographer with an interest in the role that spaces play in the forging of subjectivities such as nationality, gender, sexuality, and race. As such, my teaching and research draws on socio-spatial theory that facilitates discovery of how spaces work, who spaces work for, and how both power and resistance are inherently spatial and often manifested through everyday geographies.
More concretely, my research explores big contentious topics such as 'nationalism', 'citizenship', 'multiculturalism' and 'identity politics,' by locating where and when associated 'battles' take place — both in the contemporary period and historically. For example, I am currently working on a project that explores how American St. Patrick's Day parades function as a catalyst to coalesce various identities and permit powerful groups to advance their interests, depending upon their location. I am also engaged in historical geographical research analyzing Japanese American internment during WWII, in particular considering the role that specific places played in further racializing American citizens, and the manner in which they nonetheless asserted their humanity and reaffirmed their citizenship through place and landscape. Recent research also includes an exploration of abolitionism in the nineteenth century 'Atlantic World,' tracing the manner in which a young Frederick Douglass navigated a diverse range of venues while engaged in a lecture tour of Ireland, and ascertaining the manner in which these particular experiences shaped his thinking that would later prove so influential in an American context. Furthermore, I have explored the manner in which contemporary Irish citizenship still draws on an ethnic and racial sense of identity fashioned during the colonial period, which presents difficulties in forging a more inclusive sense of Irishness today.
My teaching is informed by my research interests, and vice versa, for example GEOG101 Globalization, People and Place, GEOG/IREL216 Borders and the Politics of Mobility, GEOG 214 Europe in an Age of Globalization, GEOG316 Geographies of Nationalism, and GEOG/WMST324 Geographies of Identity. Furthermore, I have co-directed the Bucknell in Northern Ireland program on a number of occasions, utilizing interdisciplinary thinking from Geography and Psychology to encourage students to consider the manner in which peace and reconciliation has to be built both physically and mentally. I am also currently engaged with the Bucknell in WWI project, which encourages students to explore questions of memory, identity, belonging, citizenship and landscape, by tracing the journeys of alumnae involved in the Great War.
Quite simply, it is my opinion that almost everything that happens has a geography — of some description at some scale or other — and by encouraging students to think critically, spatially, and relationally in this manner, it is possible to understand the world a whole lot better.
Educational Background
Ph.D., University of Arizona
M.Phil., University College Cork (Ireland)
B.A., Lampeter Geography School (Wales, UK)
Selected Publications
(2017) 'As a lever gains power by its distance from the fulcrum': tracing Frederick Douglass in the Irish Atlantic World, Social & Cultural Geography, 18(3), pp. 395-414.
(2014) Erin's Hope, Irish Blood and Indefeasible Allegiance: Reconfiguring Citizenship and Nationalism 
in an Era of Increased Mobility, Historical Geography, 42, pp. 171-186.
(2009) 'By a thousand ingenious feminine devices': The Ladies' Land League and the development of Irish nationalism, Historical Geography, 37, pp. 159-177.
(2008) Countering exclusion: the 'St. Pats for All' parade, Gender, Place and Culture, 15(2), pp. 153-167.
Further Information