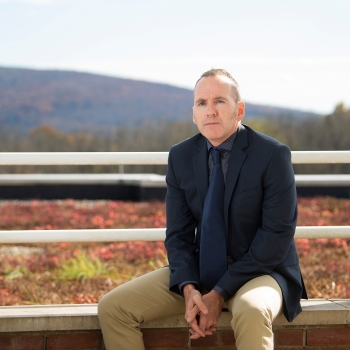 Adrian Mulligan
Professor of Geography
(on leave 2023–24)
About Adrian Mulligan
Educational Background
Ph.D., University of Arizona
M.Phil., University College Cork (Ireland)
B.A., Lampeter Geography School (Wales, UK)
Research Interests
Social, cultural, & political geography
Historical Geography
Geographies of Memory & Heritage
Black Geographies
Feminist Geographies
Indigenous Geographies
Irish Geographies & Histories
Courses
Geography 101, Globalization, People & Place
Geography / International Relations 216, Borders & the Politics of Mobility
Geography 239, Popular Music, Identity, & the Politics of Place
Geography / History 243, Placing the Past
Geography / Women's & Gender Studies 316, Geographies of Nationalism
Geography / Women's & Gender Studies 324: Geographies of Identity
Public Scholarship
The Globe Lane Initiative
Executive council member and one of the founders of this nonprofit educational organization whose mission is to utilize the legacy of the nineteenth century abolitionist, Frederick Douglass, to build bridges between communities, to elevate the voices of underrepresented people and to promote greater understanding of a more inclusive Irish and American history.
#DouglassWeek

Under the auspices of the Globe Lane Initiative, one of the principal organizers of this annual commemoration (since 2021) of Frederick Douglass, including performances, creative installations and critical discussions involving artists, musicians, poets, athletes, statespeople, community groups, school children, scholars, and activists.

Journeys For Freedom Project

Again, under the auspices of the Globe Lane Initiative, we trace the journeys of nineteenth century abolitionists, to recognize and celebrate the stories and legacy of human rights, and to draw parallels with contemporary struggles for equity and inclusion.

For example, the Cork Abolitionists Trail developed in partnership with Cork City Council, local businesses, and community organizations.
Selected Publications
(2022) A Stone Left Unturned: Landscape, Race, and Memory at the Gila War Relocation Center, ACME: An International Journal of Critical Geographies, 21(5), pp. 560-584.
https://acme-journal.org/index.php/acme/article/view/1978
(2017) 'As a lever gains power by its distance from the fulcrum': tracing Frederick Douglass in the Irish Atlantic World, Social & Cultural Geography, 18(3), pp. 395-414.
(2014) Erin's Hope, Irish Blood and Indefeasible Allegiance: Reconfiguring Citizenship and Nationalism 
in an Era of Increased Mobility, Historical Geography, 42, pp. 171-186.
(2009) 'By a thousand ingenious feminine devices': The Ladies' Land League and the development of Irish nationalism, Historical Geography, 37, pp. 159-177.
(2008) Countering exclusion: the 'St. Pats for All' parade, Gender, Place and Culture, 15(2), pp. 153-167.
(2005) 'Absence makes the heart grow fonder': transatlantic Irish nationalism and the 1867 Rising, Social & Cultural Geography, 6(3), pp. 339-454
Further Information