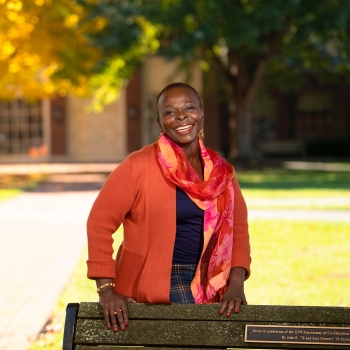 Angele Kingue
Associate Provost, Faculty Engagement & Inclusion
About Angele Kingue
Francophone African culture and literature is essential to all of Angèle Kingué's work as teacher. Her goal in teaching Francophone Africa is to draw students into elemental and captivating discussions about peoples and realities that at first seem to be far removed from their own immediate experiences. She has approached her scholarly work with the same existential principle that she employs in life, and that is that all communication is a product of human imagination. Language touches the very core of a person and is enlivened by the experiences, thoughts and emotions of that person. By engaging her students and readers in lively conversations regarding familiar topics, she has been able to ground her research in a very personal Francophone African reality. She challenges her diverse audiences, in and out of the classroom, to question what they see and hear when studying language and its uniqueness.
Every language includes decision points, choices, experiences and familiarities, all of the constructions that allow us to communicate what we know. She seeks to guide her students and readers to a place where they are able, on their own, to become skeptical of words, concepts and certitudes that inhabit them, because after all no language is innocent.
Educational Background
B.A., French and English Language and Literature, University of Yaoundé, Cameroon, West Africa
M.A., Applied Linguistics, University of North Wales, Bangor, Britain
Ph.D., French-Foreign Language Pedagogy and Second Language Acquisition, Pennsylvania State University, University Park, Pa., U.S.A.
Recent Publications
Well-known for her many publications, conference presentations and workshops on the teaching of Francophone Africa.
Has published two novels, two books of short stories for adolescents and a children's book that was published in French, English and four Cameroonian languages.
In 2015, her second novel, Venus of Khala-Kanti, was translated into English. The translation has not only resulted in broadening her readership, but has also resulted in other collaborative artistic presentations, including a choreographed dance presentation of various scenes in the novel as well as a gallery of water color paintings, also inspired by various characters and scenes in the novel.
Recent Awards & Recognition
2016 Best of NECTFL Award for "Acquiring Intercultural Competencies for Africa"
University Medal of Honor awarded by Bucknell's partner institution, François Rabelais University, for her seemingly tireless work, her unique attention to detail, her innovative vision for Bucknell en France. It is the first award of its kind, given for her lasting and exceptional contribution to the institution.For the past 15 years, Kingué has led the Bucknell en France program that continues to be an important component of her academic career. She has developed opportunities for Bucknell students studying in Tours, France, that include access to internships, engineering lab courses, distinctive gastronomical experiences and service-learning activities that are primarily focused on teaching English to French students.
2016 Burma-Bucknell Awardfor her exceptional contributions to intercultural and international understanding at Bucknell.
Further Information