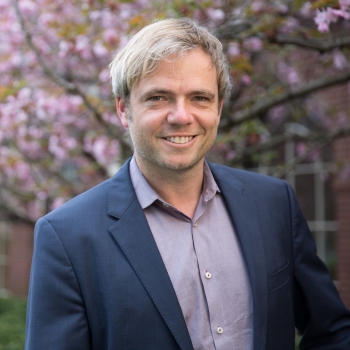 Bastian Heinsohn
Associate Professor of German
Director of German Studies
About Bastian Heinsohn
Educational Background
M.A. American Studies and German Studies, Heinrich Heine-Universität Düsseldorf
Ph.D. German Studies, University of California Davis
Research Interests
20th century literature and film
contemporary German culture, postwar Berlin
film history, film theory, world cinema
representations of cities in film and literature
graffiti and street art
Selected Publications
Articles
"Cinematic Space and Set Design in Paul Leni's The Last Warning (1929)" in edited volume on German director Paul Leni. Eds. Erica Tortolani and Marty Norden. (Edinburgh University Press, forthcoming).
"Berlin: Images of a Transformed City" in: Journal of Urban Cultural Studies. Intellect, 2016 (3). 381-387.
Review of Frances Mossop's Mapping Berlin: Representations of Space in the Weimar Feuilleton (Bern: Peter Lang, 2015). The German Quarterly, Summer 1016.
"Film as Pedagogy in Late Weimar and Early Nazi Cinema: The Role of the Street in Mobilizing the Spectator" in Continuity and Crisis in German Cinema 1928-1936, eds. Barbara Hales, Valerie Weinstein and Mihaela Petrescu (Rochester: Camden House, forthcoming). 28 pages.  

"Rejecting a 'Fortress Europe': How German-Polish Borderland Films of the Early 2000s Foreshadowed Trajectories at European Borders Today" in Studies in European Cinema (New York: Routledge, forthcoming). 22 pages. Advance online publication. DOI: 10.1080/17411548.2015.1036622.

"Carl Laemmle's Protégés: Everyday-Life in Exile after Escaping Nazi Germany with an Affidavit from Hollywood's Film Mogul" in: Exile and Everyday Life (Yearbook of the Research Centre for German and Austrian Exile Studies.) Volume 16, eds. Anthony Grenville and Andrea Hammel (Leiden: Brill Rodopi, 2015). 85-106.

"Critical Voices from the Underground: Street Art and Urban Transformation in Berlin" in: Envisioning Social Justice in Early Twenty-First Century German Culture, eds. Axel Hildebrandt and Jill Twark (Rochester: Camden House, 2015). 119-141.

"21 June And 30 August 1957: Jonas and Berlin - Ecke Schönhauser Link Urban Reconstruction to National Cinema in Both West and East" in: A New History of German Cinema, eds. Michael Richardson and Jennifer Kapczynski. (Rochester: Camden House, 2012). 365-371.

"Beyond the Heimatfilm Genre: Criticizing the 1950s Urban Reconstruction in Germany in Ottomar Domnick's Jonas(1957)" in: Cultural Perspectives on Film, Literature and Language. Selected Proceedings of the 19th Southeast Conference on Foreign Languages, Literature, and Film, ed. Will Lehman and Margit Grieb. (Boca Raton: BrownWalker Press, 2010). 145-162.

"Protesting the Globalized Metropolis: The Local as Counterspace in Recent Berlin Literature" in: Spatial Turns: Space, Place, and Mobility in German Literary and Visual Culture, eds. Jaimey Fisher and Barbara Mennel (Amsterdam: Rodopi, 2010). 189-209.

"Gerhard Klein's Berlin - Ecke Schönhauser (1957): The Role of the Urban Setting in East Germany's Quest for a New Identity" in: From Weimar to Christiania: German and Scandinavian Studies in Context, eds. Florence Feiereisen and Kyle Frackman (Newcastle, UK: Cambridge Scholars Publishing, 2007). 76-88.
Further Information