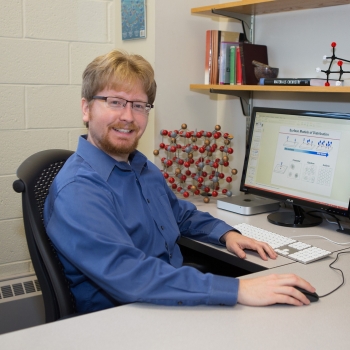 Brian Smith
Assistant Professor of Chemistry
About Brian Smith
Educational Background
B.S., Georgetown University
Ph.D., Stanford University
Scholarly Interests
Materials chemistry
Water purification and desalination
Crystal growth and polymorphism
Catalysis
Frameworks and nanoporous architectures
Selected Publications
(* indicates undergraduate author)
Danyon M. Fischbach*, Grace Rhoades*, Charlie Espy*, Fallon Goldberg*, and Brian J. Smith. "Controlling the crystalline structure of imine-linked 3D covalent organic frameworks" Chem. Comm. 2019, DOI: 10.1039/c8cc09571j

Brian J. Smith, Lucas R. Parent, Anna C. Overholts,* Peter A. Beaucage, Ryan P. Bisbey, Anton D. Chavez, Nicky Hwang,* Chiwoo Park, Austin M. Evans, Nathan C. Gianneschi, and William R. Dichtel, "Colloidal Covalent Organic Frameworks", ACS Central Science, 2017, 3, 58-65. (DOI: 10.1021/acscentsci.6b00331)
Smith, B. J., *Overholts, A., *Hwang, G., Dichtel, W.R. "Conversion of Amorphous Imine Networks to 2D Covalent Organic Frameworks" Chem Comm. 2016, 52, 3690.
Smith, B.J., *Hernández Gallegos, P.A. Butsch, K., Stack, T.D.P "Metal complex assembly controlled by surface ligand distribution on mesoporous silica: Quantification using refractive index matching and impact on catalysis" J. Catal. 2016, 335, 197.
Alsbaiee, A., Smith, B.J., Xiao, L., Ling, Y., Helbling, D.E., Dichtel, W.R. "Instant Removal of Organic Contaminants From Water by a Porous β-Cyclodextrin Polymer" Nature. 2016, 529, 190.
Smith, B.J. and Dichtel, W.R. "Mechanistic Studies of Two-Dimensional Covalent Organic Frameworks Rapidly Polymerized from Initially Homogenous Conditions" J. Am. Chem. Soc. 2014, 136, 8783.
Rosenfeld, D.E., Gengeliczki, Z., Smith, B.J., Stack, T.D.P., Fayer, M.D. "Structural dynamics of a catalytic monolayer probed by ultrafast 2D IR vibrational echoes" Science. 2011, 334, 634.
Further Information
Contact Details
Location
208 Rooke Chemistry Building

Contact