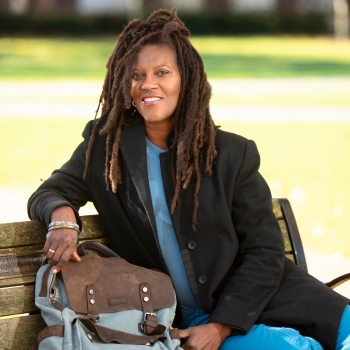 Carol White
(2018-2021) Presidential Professor of Religious Studies
Affiliated Faculty in Critical Black Studies
About Carol White
Educational Background
Ph.D., University of Denver, Iliff School of Theology
Research Interests
Philosophy of religion
Religion and critical theory
Process philosophy
Religious naturalism
Animal and human connections in Western thought
Teaching Interests
Philosophy of religion
Religious naturalism
Theories of religion
Recent Awards
Presidential Professor, 2018-21
Selected Publications
BOOKS
White, Carol Wayne. 2016. Black Lives and Sacred Humanity: The Emergence of an African-American Religious Naturalism. Fordham University Press. [Choice Award for Outstanding Academic Titles.]
White, Carol Wayne. 2009. The Legacy of Anne Conway (1631-1679): Reverberations from a Mystical Naturalism. State University of New York Press.
White, Carol Wayne. 2002. Poststructuralism, Feminism, and Religion: Triangulating Positions. Humanity Books.
JOURNAL ARTICLES, ESSAYS, AND BOOK CHAPTERS
"Black Lives Matter and the New Materialism: Past Truths, Present Struggles, and Future Promises." In Race, Religion, and Black Lives Matter: Essays on a Moment and a Movement. Edited by Christopher Cameron and Luke Sinitere. Nashville, TN: Vanderbilt UP,  2021: 89-124.
"Religious Naturalisms." In Bloomsbury Religion in North America. London: Bloomsbury Academic, 2021. Accessed August 20, 2021. http://dx.doi.org/10.5040/9781350971097.006.
"The Process of Animalization, Human Exceptionalism, and The Racialization of Myriad Nature: A Response from Religious Naturalism." Critical Essay in  Syndicate's Symposium on Karen M. Morin's Carceral Space, Prisoners and Animals (New York, NY, 2018). August 2021. https://syndicate.network/symposia/philosophy/carceral-space-prisoners-and-animals/
"Humanism in the Americas." In The Oxford Handbook of Humanism.  Edited by Anthony B. Pinn. New York: Oxford University Press, 2020: 1-39.

"Anna Julia Cooper: Radical Relationality and the Ethics of Interdependence." In African American Political Thought: A Collected History. Edited by Jack Turner and Melvin Rogers. Chicago: University of Chicago Press, 2020: 330-363.

"Big Miracle and Religious Naturalism: Rescuing Myriad Nature from Popular Fantasies of Nature Rescue." In Natural Communions, Reflections on Ecospirituality (Faith in Nature: Religion and Public Life) Volume 40. Edited by Gabriel R. Ricci. NY: Routledge, 2019: 176-192.

"Re-Envisioning Hope: Anthropogenic Climate Change, Learned Ignorance, and Religious Naturalism." In Zygon: Journal of Science and Religion, Vol. 53, no. 2 (June 2018): 570-595.

"African American Religious Naturalism and the Question of the Human." In Handbook of Religious Naturalism. Edited by Donald Crosby and Jerome Stone. New York: Routledge, 2018: 156-168.

"Polyamorous Bastards: James Baldwin's Opening to a Queer African-American Religious Naturalism." In Unsettling Science and Religion: Contributions and Questions from Queer Studies. Edited by Whitney Bauman and Lisa Stenmark. Lanham, MD.: Lexington Books, 2018: 107-128.

"Stubborn Materiality: African-American Religious Naturalism and Becoming Our Humanity." In Entangled Worlds: Science, Religion, and Materiality. Edited by Catherine Keller and Mary-Jane Rubenstein. Bronx, NY: Fordham University Press, 2017: 249-273.

"Religious Naturalism, Race and Ethnicity." In Grounding Religion: A Field Guide to the Study of Religion and Ecology: 2nd Edition. Edited by Whitney Bauman, Richard R. Bohannon II, and Kevin J. O'Brien. New York: Routledge, 2017: 77-93.
"Black Lives, Sacred Humanity, and The Racialization of Nature, or Why America Needs Religious Naturalism Today." In American Journal of Theology & Philosophy, Vol. 38, No. 3, September 2017: 109-122.
Further Information