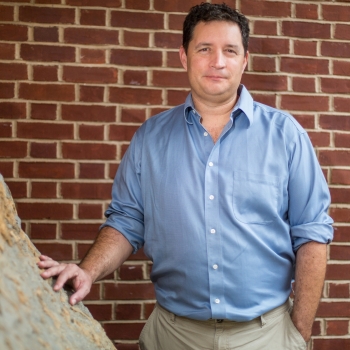 Christopher Daniel
Professor of Geology
About Christopher Daniel
Educational Background
Harry Hess Research Fellow, Department of Geosciences, Princeton University, Princeton, NJ
Ph.D. Geology, Rensselaer Polytechnic Institute, Troy, NY
M.S. Geology, University of New Mexico, Albuquerque, NM
B.S. Geology, Southwest Missouri State University, Springfield, MO
Research Interests
igneous and metamorphic petrology
interaction of metamorphic, plutonic and deformational processes in the lower crust
3-D visualizations and interpretations of metamorphic minerals
compositional zoning and deformational fabrics
crustal evolution of the southwest U.S., New England and the Himalayas
Courses
GEOL 103 The Dynamic Earth
GEOL 104 Evolution of the Earth
GEOL 217 Crystallography and Mineralogy
GEOL 312 Igneous and Metamorphic Petrology
Undergraduate Research Students
Aubri Jenson '07: Aubri's project to begin this summer is entitled Effects of radioactive decay and chemical alteration on the chemistry and crystalline structure of accessory minerals from the Harding Pegmatite, Taos County, New Mexico.
R. Daniel Heuer '07: Dan's project to begin this summer is entitled Relative and Absolute Timing of Partial Melting and Regional Deformation in Proterozoic Migmatites of the Santa Fe Range, North-Central New Mexico.
Emily Short '06: Emily just completed her undergraduate honors thesis entitled Evidence for 1.40-1.35 Ga Regional Metamorphism and Deformation in the Thompson Peak Area, Santa Fe County, New Mexico.
Ben Hallett '02: Ben's project was to document the relative and absolute timing of metamorphism and deformation in Proterozoic migmatites from the Rincon Range, northern New Mexico. Click here for the results of his research.
Selected Publications
Daniel, C. G. & Pyle J. M. (2005). Monazite-xenotime thermochronometry and Al2SiO5 reaction textures in the Picuris Range, northern New Mexico: new evidence for a 1450-1400 Ma orogenic event. Journal of Petrology. doi:10.1093/petrology/egi069
Pyle, J. M., Spear, F. S., Wark, D. A., Daniel, C. G. & Storm, L. C. (2005). Contributions to precision and accuracy of chemical ages of monazite. American Mineralogist 90, p. 547-577.
Daniel, C. G., Hollister, L., Parrish, R. & Grujic, D. (2003). Exhumation of the Main Central Thrust Zone from lower crustal depths, eastern Bhutan Himalaya. Journal of Metamorphic Geology, v. 21, n. 4, p. 317-334.
Further Information