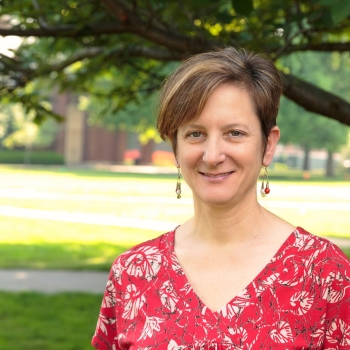 Coralynn Davis
Professor of Women's & Gender Studies
Educational Background
B.A., Wesleyan
M.A. and a Ph.D., Michigan University at Ann Arbor
Research Interests
Women's and Gender Studies
Anthropology
Feminist Theory/Method
Folklore Studies
Transnational Studies
Critical Development
Expressive Practices (folklore)
South Asia
Nepal
Courses
WMST 150 (Introduction to Women's and Gender Studies)
WMST 220 (Introduction to Feminist Theory in Practice)
WMST 251 (Women and Development)
WMST 270 (Gender in Culture, Power in Identity)
WMST/SOCI 332 (Women and the Penal System)
WMST/ANTH 273 (Women Writing Culture)
Selected Publications
Maithil Women's Tales: Storytelling on the Nepal-India Border  University of Illinois Press, 2014.
"Transnational Marriage: Modern Imaginings, Relational Realignments, and Persistent Inequalities." Ethnos Journal of Anthropology (2013), special guest-edited issue on Tracing Sexualities and Intimacies in Out-of-the-Way Places, web published: 1-25.
"How Porous are the Walls that Separate Us? Feminist Pedagogy, Incarceration, and Disseminating Knowledge." Co-author, Carol Wayne White. Humboldt Journal of Social Relations(special issue on Social Justice Action, Teaching and Research) (2012), vol 34:85-104.
"Talking Tools, Suffering Servants, and Defecating Men: The Power of Storytelling in Maithil Women's Tales." Journal of American Folklore (2009) vol. 122 (485): 267-296.
"Im/possible Lives: Gender, Class, Self-Fashioning, and Affinal Solidarity in Modern South Asia." Social Identities: Journal for the Study of Race, Nation and Culture (2009) vol. 15 (2): 243-272.
"Pond-Women Revelations: The Subaltern Registers in Maithil Women's Expressive Forms." Journal of American Folklore(2008) vol. 121 (481):286-318.
"Can Developing Women Create Primitive Art? and Other Questions of  Value, Meaning and Identity in the Circulation of Janakpur Art." Tourist Studies (2007) vol. 7 (2): 193-223.
"'Listen, Rama's Wife!': Maithil Women's Perspectives and Practices in the Festival of Sāmā Cakevā." Asian Folklore Studies(2005) vol. 64 (1): 1-38.
"Feminist Tigers and Patriarchal Lions: Rhetorical Strategies and Instrument Effects in the Struggle for Definition and Control over Development in Nepal." Meridians: Feminism, Race, Transnationalism (2003) vol. 3 (2): 204-249.