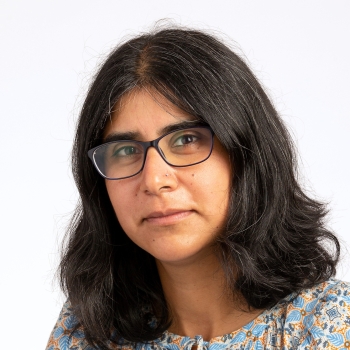 Darakhshan Mir
Associate Professor of Computer Science
About Darakhshan Mir
Darakhshan Mir is an Assistant Professor of Computer Science. Her area of scholarship spans the broad field of privacy, from exploring technical and mathematical models of data privacy to considering the human experiences of (the lack of) privacy, their relationship with societal inequalities, and how we can begin to engineer systems and frameworks of privacy that are cognizant of societal factors. In general, she is interested in exploring the societal implications of computing, whether in the form of studying privacy or exploring ethical implications of technology or examining issues of fairness, justice, and bias in machine learning and other automated systems. She is also interested in helping students from diverse (disciplinary and demographic) backgrounds locate their interest in computing.
She is heavily invested in collaborating with students across all these scholarly and pedagogical projects, and has worked with students from all across the liberal arts and engineering disciplines. She especially welcomes students from underrepresented backgrounds (in college and computing) to reach out to her, and get involved in high-impact activities like undergraduate research early in their college career. She frequently teaches introductory computing courses, including computing for non-STEM majors, a writing-intensive foundation seminar centered on examining the intersection of power, inequality and computing, and electives that examine machine learning and other data analyses systems for notions of bias, fairness, and justice.
Pronouns
She, her, hers, herself
Educational Background
Ph.D. in Computer Science, Rutgers University.
M.S. in Computer Science, The George Washington University.
Bachelor of Technology in Computer Science & Engineering, National Institute of Technology, Silchar, India.
Research Interests
Privacy
Societal Implications of Computing
Fairness and Bias when Learning from Data
Making Computing Education Accessible
Further Information