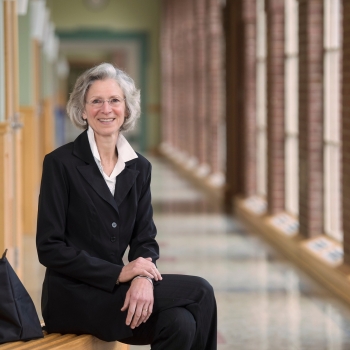 Elizabeth Armstrong
Adjunct Professor of East Asian Studies
About Elizabeth Armstrong
Focus
Elizabeth Armstrong teaches all levels of Japanese language as well as courses in Translation Studies. Prior to joining the faculty at Bucknell, she was a free-lance interpreter/translator of the Japanese language, working in fields ranging from jet engines to amino acids.
Recent Activities
She has translated two books written by the Japanese author Terayama Shuji: The Crimson Thread of Abandon (2014) and When I Was a Wolf (2018).
The crimson thread noted in the title of The Crimson Thread of Abandon aptly describes the nature of Terayama's stories and the interstitial webbing joining them together thematically by the metaphorical twisting together of unrequited love, abandonment, irremediable separation, and disappointment. Told in the manner of fantasy and magic realism, the stories are populated with characters who face the vagaries of fortune, happiness always just out of their reach. Terayama is a realist speaking through the medium of fantasy. The stories are "tales for adults," and indeed they are written in such a way as to mimic and sometimes parody classic fairy tale style. Yet, these tales are far from traditional in content; rather, they turn our conventional thinking and expectations upside down.
When I Was a Wolf is a collection of essays and rewrites and reinterpretations of such well-known and canonical Western stories as Grimm's Fairy Tales, Mother Goose stories, and Aesop's fables done from a thoroughly nonconformist perspective. Like Angela Carter's The Bloody Chamber, the author "breaks open classic fairy tales to find new things in them." Both Carter and Terayama give the tales a radical twist laced with dark taboo-violating undertones. The first half of this book includes Terayama's subversive analysis of such stories as The Emperor's New Clothes, The Bremen Town Musicians, Pinocchio, and Puss in Boots. In the latter half, he offers his own rewrites of Thumbelina, Little Red Riding Hood and Cinderella. In every case, he turns the story on its head, and then having thrown the reader off balance, asks them to follow him into new territory of unorthodox interpretation, arguing that the conventional interpretation of a story we have read for pleasure since childhood is ill-conceived and thoughtless.
Further Information