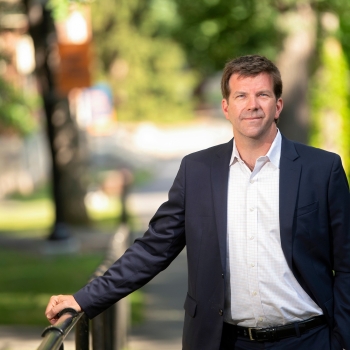 Eric Martin
Professor of Management & Organizations
About Eric Martin
Education
Ph.D., Public Administration and Policy, University at Albany, 2001.
M.P.A., Indiana University, 1997.
B.S., University of Vermont, 1992.
Research Interests
International development assistance
Post-conflict transition
Disaster and response
Cross-sectoral and interorganizational relationships
Public, private and nonprofit collaboration
Community development
Transitioning Europe
Balkans
Civil society
Refugees
Recent and Representative Publications
Nolte, I. M., & Martin, E. C. (2021). Learning and crisis coordination: Experiences from the Balkan refugee route. Nonprofit Management and Leadership, 31(4), 783–804. https://onlinelibrary.wiley.com/doi/abs/10.1002/nml.21457
Boyd, N. M., & Martin, E. C. (2020). Sense of Community Responsibility at the Forefront of Crisis Management. Administrative Theory & Praxis. Published. doi.org/10.1080/10841806.2020.1765288
Martin, E. C., & Nolte, I. (2019). Might Less Accountability Be More? INGO-Volunteer Relationships in the European Refugee Response. Public Management Review. Published. doi.org/10.1080/14719037.2019.1599057
Boyd, N. M., Hendry, J. R., Hiller, T. B., & Martin, E. C. (2017). Managing for Sustainability: Designing a Successful Undergraduate Program. In J. A. Arevalo & S. Mitchell (Eds.), Handbook of Sustainability in Management Education: In Search of a Multidisciplinary, Innovative and Integrated Approach. Edward Elgar Publishing.
Krasynska, S., & Martin, E. C. (2017). The Formality of Informal Civil Society: Ukraine's EuroMaidan. Voluntas, 28, 420–449.
Hendry, J. R., Hiller, T. B., Martin, E. C., & Boyd, N. M. (2017). Context and Pedagogy: A Quarter-Century of Change in an Introductory Management Course. Journal of Management Education, 41(3), 346–384. http://dx.doi.org/10.1177/1052562917697758
Martin, E. C., Nolte, I., & Vitolo, E. (2016). The Four Cs of disaster partnering: communication, cooperation, coordination and collaboration. Disasters, 40(4), 621–643. https://onlinelibrary.wiley.com/doi/abs/10.1111/disa.12173
Comas, J, Shrivastava, P and Martin, E. (2015) Terrorism as Organization, Network and Social Movement. Journal of Management Inquiry 24: 47-60.
Millesen, J. and E. Martin (2014). Community Foundation Strategy: Doing Good and the Moderating Effects of Fear, Tradition, and Serendipity. Nonprofit and Voluntary Sector Quarterly 43, 832-849. doi:10.1177/0899764013486195.
Nolte, I, Martin, E. and Boenigk, S. (2012). Cross-Sectoral Coordination of Disaster Relief. Public Management Review 14(6): 707-730.
Martin, E. C. (2004). Privatization in Bosnia and Herzegovina: Insights from and into the craft of interorganizational process analysis. Organization Studies, 25(7), 1115–1157. https://doi.org/10.1177/0170840604046313
Recent Courses Taught
MGMT 101, Introduction to Organization and Management.
MSUS 400, Consulting for Sustainability.
GLBM 200, Managing in a Global Environment.
MSUS 320, Sustainable Development Management.
MGMT 100, Exploring Management.
MORS 200, Responsible Management, Sustainable Values.
Awards and Honors
Forrest D. Brown Award, Bucknell University (2018).
Maxwell Award, Bucknell University, Coal Region Field Station. (2017).
Distinguished Dissertation Award, Rockefeller College Graduate School of Public Affairs and Policy, State University of New York, University at Albany. (2002).
Further Information