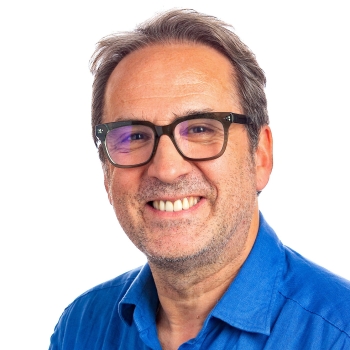 Fernando Blanco
Professor of Spanish
Director of Latin American Studies
About Fernando Blanco
Educational Background
B.A. Hispanic Literature and Linguistics. University of Chile
Ph.D., The Ohio State University
Teaching Interests
20th and 21st-century Latin American literature, culture and film
Sexuality and Queer Studies
Memory Studies
Trauma Studies
Research Interests
Memory narratives in the Southern Cone and Central America within the framework provided by Trauma and Holocaust Studies
Sexuality studies focusing on the textual representation of sexual minorities and the struggle for sexual citizenship in the Latin American region
Award
Sylvia Molloy Award to the best article published in 2017-2018 in the field of Sexuality Studies (Humanities) by the LASA Sexuality Section for: Blanco, Fernando A. "'La Frida no envejeció, Yo soy la Frida envejecida'. La última performance de Pedro Lemebel". Cuadernos de Literatura 21.42 (2017): 67-78. https://doi.org/10.11144/Javeriana.cl21-42.feys

Selected Publications
RECENT ARTICLES
"La pasión del Aceitunita: Variaciones literarias del amor oscuro en La Pasión del Cura Deusto." Edición Crítica de la novela Pasión y Muerte del Cura Deusto. (Eds.) Daniel Balderston y Daniela Buksdorf. Colección Biblioteca Chilena de la Editorial de la Universidad Alberto Hurtado. (forthcoming)
"Young and Queer: Politics of Memory and Sexuality in Contemporary Chilean Cinema." Estudios LGBTIQ+, Comunicación y Cultura. Vol. 2 Núm. 1 (2022): Dossier Temático: Memorias, espacios y masculinidades disidentes. https://revistas.ucm.es/index.php/ESLG/article/view/81992
"Lemebel en el 18/0. Todos somos estallido: utopía, temporalidad y revolución" en Pedro Lemebel, belleza indómita. Luciano Martínez (editor). Serie ACP ( en Homenaje a Antonio Cornejo Polar) volumen 10. Instituto Internacional de Literatura Iberoamericana. University of Pittsburgh, 2022.
"Desde el futuro: El archivo Lemebel" in Revista de Estudios Hispánicos XXIX . Memorias disidentes en las literaturas y culturas hispánicas.
Coordinadores, Jorge Luis Peralta y Lukasz Smuga. Wroclaw 2021.
"Vínculos Amorosos/Lazos Virtuales: De los Cuartos Oscuros a Grindr en las narrativas de Jorge Marchant-Lazcano, Alberto Fuguet y Pablo Fernández." Revista Iberoamericana. LXXXVII/275 (abril-junio 2021). Special issue on "Cono Sur: didascalias para un segundo acto", ed. Cristián Opazo and Jeffrey Cedeño Mark.
"La desmemoria del pacto neoliberal: la narrativa chilena del tercer milenio" in Novísimas. Las narrativas latinoamericanas y españolas del siglo XXI. Ana Gallego Cuiñas (Ed.) Colección Letral, 9. Iberoamericana Vervuert Press, 2021. Open Access.
https://www.iberoamericana-vervuert.es/FichaLibro.aspx?
"Homo-marinas en el armario. Homosexualidad y clase en la novela chilena del siglo XX" in Dislocaciones de la modernidad iberoamericana: Escrituras de los márgenes en el primer tercio del siglo XX Cora Requena y Alejandra Botinelli (editoras). Peter Lang Press, 2021.
BOOKS
Los futuros de la memoria en América Latina: sujetos, políticas y epistemologías en disputa. A Contracorriente. North Carolina University Press. (Co edited with Michael Lazzara), June 2022.
https://uncpress.org/book/9781469671970/los-futuros-de-la-memoria-en-am…
La vida imitada. Narrativa, Performance y visualidad en Pedro Lemebel. Editorial Iberoamericana-Vervuert/Rice University, 2020. (Editor)
https://www.iberoamericana-vervuert.es/FichaLibro.aspx?P1=175636
Democracias Incompletas. Actores, demandas e Intersecciones. Santiago de Chile: Cuarto Propio, 2019. Edited by Blanco Fernando and Opazo, Cristián.
Políticas del Amor. Derechos Sexuales y Escrituras Disidentes en el Sur. Santiago de Chile: Cuarto Propio, 2018. (co-edited with Pecheny, Mario and Pierce, Joseph)
Neoliberal Bonds. Undoing Memory in Chilean Art and Literature, Fernando A. Blanco, 2015, The Ohio State University Press: Columbus, 2015.
Desmemoria y Perversión. Privatizar lo Público, Mediatizar lo Intimo, Administrar lo Privado, Fernando A. Blanco, 2010 [*second edition 2014], Cuarto Propio: Santiago de Chile.
Desdén al Infortunio. Sujeto, comunicación y público en la narrativa de Pedro Lemebel (Eds.) Blanco, Fernando A. y Poblete, Juan. 2010, Cuarto Propio: Santiago de Chile.
Reinas de Otro Cielo. Modernidad y Autoritarismo en la Obra de Pedro Lemebel (editor)
Introduction of Chilean Poet Raul Zurita's during The Granada International Poetry Festival
Further Information