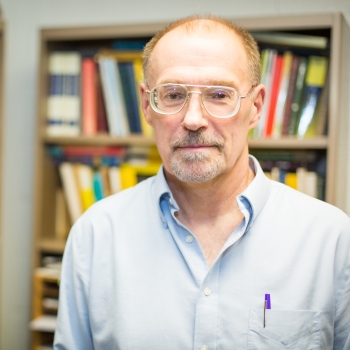 George Exner
Professor of Mathematics
Hilbert space operator theory
About George Exner
Educational Background
Ph.D., University of Michigan Ann Arbor
M.S. Operations Research Case
Western University B.A. Carleton College
Research interests
I study various sorts of weak subnormalities (and related properties) for Hilbert space operators and their relationships. I also study operators on directed graphs and directed trees.
Selected Publications
Chalendar, Isabelle; Exner, George R. Subnormality of weighted shifts associated to composition operators. Comput. Methods Funct. Theory 19 (2019), no. 2, 193–225.
Benhida, Chafiq; Curto, Raúl E.; Exner, George R. Moment infinitely divisible weighted shifts. Complex Anal. Oper. Theory 13 (2019), no. 1, 241–255.
Exner, George R.; Jung, Il Bong; Stochel, Jan; Yun, Hye Yeong A subnormal completion problem for weighted shifts on directed trees. Integral Equations Operator Theory 90 (2018), no. 6, Art. 72, 36 pp.
Further Information