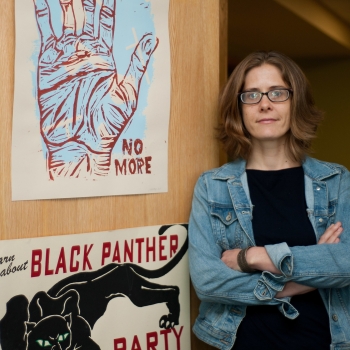 Jennifer Thomson
National Endowment for the Humanities Chair in the Humanities and Associate Professor of History
Programming Fellow AY 22/23
About Jennifer Thomson
Educational Background
Ph.D., Harvard University, 2013
BA, University of California, Berkeley, 2002
Teaching Specialties
Professor Thomson specializes in the post-1945 history of the United States, with particular concentrations in leftist politics, health and the environment, and structural inequality.
Research interests
Environmental history; post-1945 American politics; health activism.
Podcast & Links
The toxic tale of the Love Canal fail
Interview at the New Books Network
University of Washington Earth Day 2020 Lecture
Selected Publications
Books
The Wild and the Toxic: Health and American Environmental Politics, University of North Carolina Press in May 2019.
Peer Reviewed Articles and Book Chapters
"Civil Rights Enforcement and Fair Housing at the Environmental Protection Agency," Environmental Justice, 2021.
"FORUM: Discovering the Environment. The Fallout from Residential Segregation," Modern American History 1, 3 (Fall 2018): 1-4.

"Surviving the 1970s: The Case of Friends of the Earth," Environmental History 22, 2 (2017): 235-256.

"Toxic Residents: Health and Citizenship at Love Canal," Journal of Social History 49, 5 (2016): 204-223.

"A History of Climate Justice," Solutions Journal Volume 5, Issue 2 (March-April 2014): 89-92.
"Health and Environmental Politics in the United States: A Historical Perspective". In Maya K. Gislason, (Ed.) Ecological Health: Society, Ecology and Health (United Kingdom: Emerald Group Publishing Limited, 2013): 127-146.
Further Information