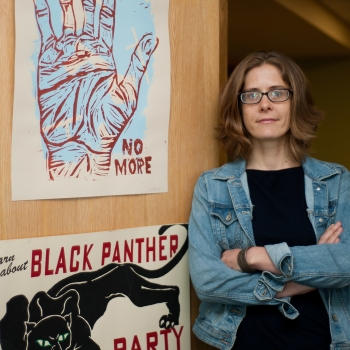 Jennifer Thomson
Associate Professor of History
Educational Background
Ph.D., Harvard University, 2013
BA, University of California, Berkeley, 2002
Teaching Specialties
Professor Thomson specializes in the post-1945 history of the United States, with particular concentrations in leftist politics, health and the environment, and structural inequality.
Research interests
Environmental history; post-1945 American politics; health activism.
Professor Thomson also has a radio show on WVBU called Bucknell: Occupied, and it airs at 6 p.m. on Thursdays on 90.5 WVBU. Each week she interviews a faculty member, student, or campus guest about current events.
Podcast & Links
The toxic tale of the Love Canal fail
Interview at the New Books Network
University of Washington Earth Day 2020 Lecture
Selected Publications
Books
The Wild and the Toxic: Health and American Environmental Politics, University of North Carolina Press in May 2019.
Peer Reviewed Articles and Book Chapters
"FORUM: Discovering the Environment. The Fallout from Residential Segregation," Modern American History 1, 3 (Fall 2018): 1-4.

"Surviving the 1970s: The Case of Friends of the Earth," Environmental History 22, 2 (2017): 235-256.

"Toxic Residents: Health and Citizenship at Love Canal," Journal of Social History 49, 5 (2016): 204-223.

"A History of Climate Justice," Solutions Journal Volume 5, Issue 2 (March-April 2014): 89-92.
"Health and Environmental Politics in the United States: A Historical Perspective". In Maya K. Gislason, (Ed.) Ecological Health: Society, Ecology and Health (United Kingdom: Emerald Group Publishing Limited, 2013): 127-146.