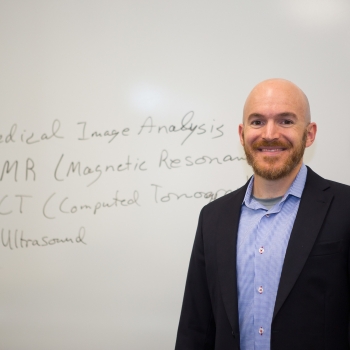 Joshua Stough
Assistant Professor of Computer Science
About Joshua Stough
Joshua Stough is an Assistant Professor of Computer Science at Bucknell University. He teaches systems courses (Organization, Operating Systems, Architecture) as well as an elective in Image Processing with Machine Learning.
In research, Dr. Stough leverages machine learning and high-performance computing to help automate medical image analysis. Examples include planning prostate radiation treatment in computed tomography (CT), and analyzing sub-cortical brain structures in magnetic resonance and diffusion tensor imaging (MR-DTI). Recently his group, including talented Bucknell students, has worked on quantifying heart structure and function in cardiac MR and echocardiography, in partnership with the regional Geisinger Health hospital system. The group is focused on the development of machine learning and image processing techniques to advance precision medicine in the study of cardiovascular disease. 
Please visit Dr. Stough's department site eg.bucknell.edu/~jvs008 for more information.

Educational Background
B.A. Computer Science, B.A. Mathematics, Carleton College
Ph.D. in Computer Science, The University of North Carolina at Chapel Hill
Research Interests
Medical Image Analysis
Machine Learning
Computer Vision
Image Analysis
Professional Experience
Technica Corporation, Sterling, VA: database software engineer, internal research and development
Further Information